94. ALPHABET BOOK.: New Scripture Historical Alphabet London, Dean and son, circa 1845. Large 8vo, pp [16], including paste-down wrappers, hand-coloured wood-engravings throughout, original stiff card flush wrappers, a near fine copy,
FIRST EDITION, the issue on untearable cloth, very scarce. COPAC lists only the Blamires Manchester copy. Remarkable condition. £75.00
95. BIBLIOGRAPHY. WEISS, HARRY B.: Bound volume of 8 separately published studies of early American children's books by Harry B Weiss. New York Public Library, 1932- 51. 8 separately published articles, viz: on William Charles, Mahlon Day, Solomon King, Hannah More, Nancy Sproat, Samuel Wood, Joseph Yeager and New York Children's Book publishers. Neatly bound up with tabs in buckram cloth with leather label, fine, FIRST EDITIONS. £30.00
96. BOHNY, NICHOLAS.: The New Picture Book being Pictorial Lessons on Form, Comparison and Number, for Children under Seven Years of Age. With Explanations by Nicholas Bohny. Edinburgh, Edmonston and Douglas, 1858. Oblong tall folio, with letterpress title page and 36 finely hand-coloured plates each one composed of two or three strips of images showing all aspects of science and life, for educational instruction, bound in contemporary calf backed marbled boards, lower board with marbling part missing, title page frayed and laid down, several plates whit old repairs or laid down on cloth, some stains affecting the versos, though the plate images are generally quite bright and clean, a reasonable copy that could be improved with some work on it.
FIRST EDITION IN ENGLISH, from the original German of 1848. There were numerous reprints of this popular educational title, but the first printing is rare and shows the hand-colouring of the plates to best advantage. £100.00
97. BROWNE, HABLOT KNIGHT [ILLUSTRATOR].: A Toy Book by 'Phiz' containing 'The Baby Sweethearts' 'Merry Hours' Funny Stories' 'Funny Alphabet' engraved and printed by Edmund Evans. London, George Routledge, [1883]. 4to, comprising title page and four separately published toy books by Phiz, with coloured wood engravings throughout, bound in original cloth backed pictorial colour boards, light browning to endpapers with traces of staple rust, but a fine copy throughout,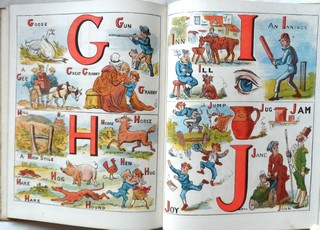 FIRST EDITION; very scarce, especially in this condition. The artist himself had died the previous year and his style of work was starting to look old-fashioned as put beside the more modern style of Kete Greenaway and her imitators. A remarkable copy. £85.00
98. GRANDPA EASY.: Grandpa Easy's Countires of Europe. London, Dean and co, circa 1845. Large 8vo, pp [16], including paste downs to covers, 8 pages printed on rectos only, illustrations hand coloured throughout, original fawn printed pictorial wrappers, sewn as issued, a little worn or bent at corners but a good sound clean copy,
FIRST EDITION; the long series of Dean's Grandpa Easy books is listed on the lower wrapper but all are rare, only 2 of them in COPAC, plus 2 in the Osborne Colletcion, none including this one. £150.00
99. HALL, CLARA.: Singularity, Patriotism and Artifice Instructive and Entertaining Stories. BOUND WITH: Pedentry, Superstition & Temperance... London, Edward Lacy, circa 1840. 2 works in one [as issued], small 8vo, pp 72; 71, engraved frontispiece, title vignettes, wood-engraved plates, original blindstamped cloth, spine gilt and slightly faded, but a very nice copy, FIRST EDITION COLLECTED THUS, comprising stories 34 to 39 in Clara Hall's long series of 'Parlour Stories', available in a variety of formats, and whit very charming wood-engraved illustrations by various artists. Scarce in such nice condition. £35.00
100. LIMERICKS. ROSS, CHARLES [ATTRIB].: Rummical Rhymes with Pictures to match set forth in fayre prospect Alphabetically & Geographically. London, Dean & Son. [1864]. 8vo, 24 leaves printed on rectos only, conjoint, with wood-engraved illustrations printed in red and black and limerick underneath, original pictorial stiff boards, spine slightly rubbed and cracked but still legible, a good sound clean copy,
FIRST EDITION, a very scarce early collection of nonsense verse. 'Each letter of the alphabet has a nonsensical limerick involving the name of a town beginning with the particular letter (I and J, U and V are combined two to a page).' £90.00
101. LIMERICKS. WOODHOUSE, S.C.: Crude Ditties. A Collection of Limericks by S C Woodhouse with 24 coloured illustrations by Augustine J Macgregor. London, Swan Sonnenschein, 1903. 32mo, pp 103, printed on retcos only, 24 colour plates by A J Macgragor, bound in original pictorial sandy-cream cloth, slightly dulled to spine, but a fine copy,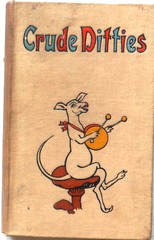 FIRST EDITION; no 3 in the Ooogly OO series of tiny children's books, and a very scarce Limerick collection, especially in this condition. One of several children's titles written by this Oxford professor. £65.00
102. UNCLE BUNCLE. [?ROBERT EDGAR, POSSIBLE AUTHOR].: Uncle Buncles ABC. London, Dean and Mundy, circa 1841. Square 8vo, pp [16], including wrappers, 7 hand coloured full page lithographed plates, original pictorial yellow wrappers, the upper wrapper torn with old stitch repair, one plate torn with loss to lower edge end loss of a repeated alphabet text on version, loose, else complete, FIRST EDITION. dated to circa 1841 by BL for other titles, this one not recorded in COPAC although Opie has a later issue from 1857 in the 'Heart-Ease' series. An extremely rare and sought after ABC, though slightly defective to one leaf. £75.00
103. UNCLE BUNCLE. [?ROBERT EDGAR, POSSIBLE AUTHOR].: Uncle Buncles Good Little Boy. London, Dean and Mundy, circa 1841. Square 8vo, pp [16], including wrappers, 7 hand coloured full page lithographed plates, original pictorial green wrappers, printed in black, sewn as issued, generally a good clean copy,, FIRST EDITION. dated to circa 1841 by BL for other titles, this one not recorded in COPAC. £120.00
104. UNCLE BUNCLE. [?ROBERT EDGAR, POSSIBLE AUTHOR].: Uncle Buncles Funny Boys. London, Dean and Mundy, circa 1841. Square 8vo, pp [16], including wrappers, 7 hand coloured full page lithographed plates with texts top and bottom, original pictorial fawn wrappers, printed in black, sewn as issued, sewing weak, generally a good clean copy,, FIRST EDITION. dated to circa 1841 by BL for other titles, this one not recorded in COPAC. £120.00
105. UNCLE BUNCLE. [?ROBERT EDGAR, POSSIBLE AUTHOR].: Uncle Buncle's 1 2 3. London, Dean and Mundy, circa 1841. Square 8vo, pp [16], including wrappers, 7 hand coloured full page lithographed plates, original pictorial pink wrappers, printed in black, sewn as issued, sewing weak and spine worn, clean repairable tear in one leaf else good else good, FIRST EDITION. Other titles dated to circa 1841 by the BL but this title not listed in COPAC £120.00
106. UNCLE BUNCLE. [?ROBERT EDGAR, POSSIBLE AUTHOR].: Uncle Buncles Story Book. London, Dean and Mundy, circa 1841. Square 8vo, pp [16, including wrappers, 7 hand coloured full page lithographed plates, text lithographed, original pictorial green wrappers, printed in black, sewn as issued, a few ink spots and fruit stains, but generally a good copy with no major faults, FIRST EDITION. The story featured here is called 'The Bird's Nest.' Dated to circa 1841 by the BL, only recorded copy. £120.00
107. UNCLE BUNCLE. [?ROBERT EDGAR, POSSIBLE AUTHOR].: Uncle Buncles Grand Children. London, Dean and Mundy, circa 1841. Square 8vo, pp [16, including wrappers, 7 hand coloured full page lithographed plates, text lithographed throughout, original pictorial green wrappers, printed in black, sewn as issued, sewing now weak, a few ink spots and stains, one short marginal tear without loss, but generally a good copy with no major faults, FIRST EDITION. The story featured here is called 'Idleness.' Dated to circa 1841 by the BL, only recorded copy. A printer's error has been corrected in a child's hand - giving a whole new purpose to 'errata'. £120.00
108. UNCLE BUNCLE. [?ROBERT EDGAR, POSSIBLE AUTHOR].: Uncle Buncles Stories about Birds. London, Dean and Mundy, circa 1841. Square 8vo, pp [16], including wrappers, 7 hand coloured full page lithographed plates, text lithographed, original pictorial green wrappers, printed in black, sewn as issued, slight wear to spine, minor soiling only, no major faults, FIRST EDITION. Dated to circa 1841 by the BL, only recorded copy. £120.00
109. UNCLE BUNCLE. [?ROBERT EDGAR, POSSIBLE AUTHOR].: Uncle Buncle's Comical Playmates.. London, Dean and Mundy, circa 1841. Square 8vo, pp [16], including wrappers, 7 hand coloured full page lithographed plates with texts top and bottom, text lithographed, original pictorial pale yellow wrappers, printed in black, sewn as issued, sewing weak, one marginal chip without loss of image, pages numbered in ink, light soiling else a good copy, FIRST EDITION. Dated to circa 1841 by the BL, this and Guildhall only recorded copies. £120.00
110. UNCLE BUNCLE. [?ROBERT EDGAR, POSSIBLE AUTHOR].: Uncle Buncles Lord Mayors Show. London, Dean and Mundy, circa 1841. Square 8vo, pp [16], including wrappers, 7 hand coloured full page lithographed plates, 2 images per plate, original pictorial green wrappers, printed in black, sewn as issued, sewing weak, else a very good copy, FIRST EDITION. Dated to circa 1841 by the BL, this and Bishopsgatel only recorded copies. A nursery number learning book. £120.00
111. UNCLE BUNCLE. [?ROBERT EDGAR, POSSIBLE AUTHOR].: Uncle Buncles Young Friends London, Dean and Mundy, circa 1841. Square 8vo, pp [16], including wrappers, 7 hand coloured full page lithographed plates, original pictorial pink wrappers, printed in black, sewn as issued, sewing weak and spine worn else good, FIRST EDITION. Dated to circa 1841 by the BL, this and Bodelian only recorded copies. . £120.00
112. UNCLE BUNCLE. [?ROBERT EDGAR, POSSIBLE AUTHOR].: Uncle Buncles Walk in the Garden. London, Dean and Mundy, circa 1841. Square 8vo, pp [16], including wrappers, 7 hand coloured full page lithographed plates, original pictorial pink wrappers, printed in black, sewn as issued, sewing weak and spine worn, slightly soiled and spotted else good,, FIRST EDITION. dated to circa 1841 by BL, only COPAC copy. £120.00
113. UNCLE BUNCLE. [?ROBERT EDGAR, POSSIBLE AUTHOR].: Uncle Buncles Stories about Beasts. London, Dean and Mundy, circa 1841. Square 8vo, pp [16], including wrappers, 7 hand coloured full page lithographed plates, original pictorial pink wrappers, printed in black, sewn as issued, sewing weak, else a very good copy,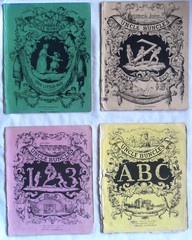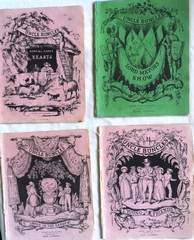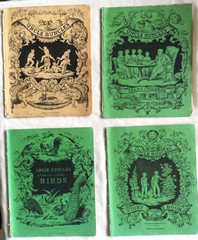 FIRST EDITION. Dated to circa 1841 by the BL , the only recorded copy.. £120.00