67. ALEMAN, MATEO.: Vida y hechos del picaro Gvzman de Alfarache : atalaya de la vida humana por Mateo Aleman. Antwerp, Jerome Verdussen, 1681. 2 volumes in one, 8vo, PP [14], 299, [5]: [16], 396, [4], woodcut printer's device on title pages, 16 lively engraved plates by G & F Boutatts after Lamorlet and Bouttats, bound without the half title in early boards, neatly rebacked retaining original endpapers but with an a label 'The Rouge' [? the Rogue], a few leaves with light stains, very light pencil translations of words into English by an early translator, bookplate of Francis Williams Wynn, a good sound copy with excellent impressions of the plates,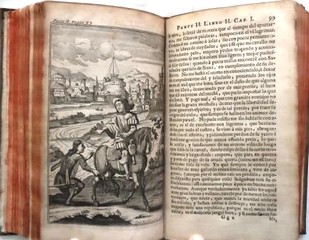 FIRST EDITION THUS, though a popular Spanish Picaresque novel, many times reprinted from its first appearance 1599-1604. This Belgium printing by Verdussen, who did a number of attractive Spanish language publications, is notable for its 16 illustrations which depict in lively, sometimes coarse, manner the events of the story. The owner of this volumes, who probably supplied the pencil translations from a dictionary, was the well-connected diarist and continental traveler Frances Williams Wynn who may have picked up this volume in the course of her travels; her largely published diaries from the end of the 18th century may be revealing on this point. £450.00
68. BEWICK, THOMAS [ILLUSTRATOR]. SOMERVILLE, WILLIAM.: The Chase. A Poem by William Somerville Esq. London, W Bulmer, Shakespeare Printing Office, 1796. 4to, PP xv, [1], xii, [1], PP xxiii, [1], 126, 12 wood-engravings by Thomas Bewick and drawn by John Bewick, end woodcut by Charlton Nesbit, bound in contemporary half morocco, spine gilt ruled with raised bands, endpapers lightly browned, minor rubbing to joints, but a very good copy,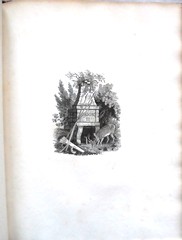 FIRST BEWICK EDITION. £120.00
69. BOOKBINDING. WOOD, ESTHER [ET AL].: Modern Bookbindings & Their Designers. London, The Studio, 1899. Small folio, PP 82, colour plates, text illustrations throughout, adverts, finely bound in contemporary French three quarter ultramarine cloth by Champs-Stroobants, marbled sides, spine floral gilt with red morocco label, original wrappers bound in, slight rubbing to head and foot of spine, else in fine state,
FIRST EDITION; this fine account of contemporary bookbinding was the Christmas special number of The Studio; it is bound here with the 1898 number, 'Modern Book-Plates and Their Designers', also with original wrappers and adverts bound in. Both also contain the supplementary French translations, the volume having been bound with 2 other contemporary issues of the Studio for Comte E Du Tetre, who bookplate is at the front. £60.00
70. CAULFIELD, JAMES [PUBLISHER.: Memoirs of the Celebrated Persons composing the Kit-Cat Club; with a prefatory account of the origin of the association: illustrated with forty-eight portraits from the original paintings by Sir Godfrey Kneller. London : Hurst, Robinson & Co, 1821. Tall folio, PP x, 261, [1], with 48 engraved portraits, untrimmed, finely bound by Pitcher of Manchester in slightly later half black morocco, spine gilt with raised bands, a fine copy throughout,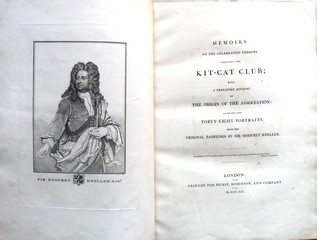 FIRST EDITION THUS, reprinting the original set of 18th Century plates, here in a large paper printing. An impressive copy of an impressive book. £185.00
71. CLARK, JOHN.: Elements Of Drawing And Painting In Water Colours; Being A Supplement To The Elements Of Drawing And Perspective, Published In Chambers' Educational Course. London, William S Orr, 1841. Small square 8vo, PP xii, 212, with 24 engraved plates including 10 in colour or partial colour, contemporary half calf, spine gilt with red label, bottom panel chipped away else a fine clean copy,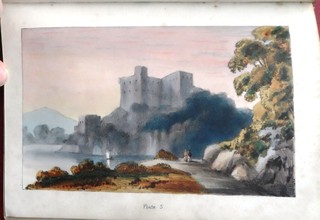 NEW EDITION, the second, expanding on the first of 1838, a charming and attractively illustrated primer of the period. £35.00
72. COMPTE-CALIX,FRANCOIS CLAUDIUS.: Six Tableaux de Compte Calix Scènes coloriées de la Bonne Compagnie Parisienne. Paris: Au bureau du Journal les Modes Parisiennes, rue Bergere, 20. [1865] Oblong folio, comrpising title page and six steel-engraved and hand-coloured plates by Portier after Calix, interleaved, in good clean state, bound in contemporary half morocco, joints rubbed,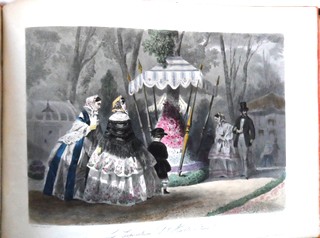 FIRST EDITION, bound with 20 plates from contemporary fashion caricature work by Grevin. An attractive series of scenes from fashionable Second Empire life. £35.00
73. COSTUME. ELOFFE, MADAME.: Modes et usages au temps de Marie-Antoinette par le comte de Reiset. Livre-journal de Madame Éloffe, marchande de modes, couturière lingère ordinaire de la reine et des dames de sa cour. Ouvrage illustré de près de 200 gravures... Paris, Firmin-Didot et Cie, 1885. 2 volumes, 4to, PP [4], 479, [5] [4], 540, [4], 2 errata laves, 200 plates including 68 in colour, some mounted photographic reproductions, uncut in contemporary half morocco, spines gilt with raised bands, spine worn and repaired at heads, slight corner wear, internally sound and clean, FIRST EDITION, a monumental reference for the costume of the Court of Louis XVI in the last days of the Ancient Regime, detailing the records of the Queen Marie-Antoinete's dressmaker. £125.00
74. CUTTS, EDWARD.: An Essay on Church Furniture and Decoration. London, John Crockford, 1854. 8vo, PP [8], 143, [1], [8, adverts], with 10 wood-engraved plates, several in colour, numerous wood-engravings in text, original blue blindstamped cloth, lettered in gilt, worn at joints and spine ends, else a good copy,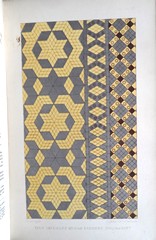 FIRST EDITION, an influential style manual for neo-Gothic decoration in the Victorian church. £45.00
75. D'HARNONCOURT, RENE.: Mexicana. A Book of Pictures. New York, Alfred A Kopf, 1931. 4to, PP [104], with 49 full page reproductions of drawings by Rene d'Harnoncourt in black and white, with facing texts and introduction by the artist, patterned endpapers, bound in original pictorial coloured boards, slight wear to corners and spine ends, minor spoiling, a very good copy,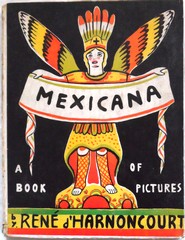 FIRST EDITION; one of two publications, the other a children's book, from d'Hrnoncourt's early years as a dealer in antiquities and folk-art in Mexico City and where he came into contact with contemporary Mexican art of Diego Rivera and others who influenced his own work. He would later give up art and return to America to become one of the most distinguished curators of ethnic art. This attractive publication demonstrates well his early immersion in the working-class social life of the country. £35.00
76. EGAN, PEIRCE.: The Pilgrims of the Thames in Search of the National. London, Thomas Tegg, 1839. 8vo, PP iv, 375, with 24 etched plates including frontispiece, 1 woodcut portrait, text wood-engravings, all by Piece Egan the Younger, bound in later 19th century half brown morocco, spine gilt with raised bands, a little rubbed at joints, the plates evenly browned and sometimes foxed, else a sound copy,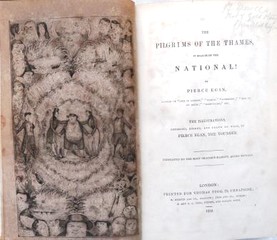 FIRST EDITION; the browning to the plates endemic to this title was often removed by later binders' cleaning but here sadly not. A popular and musing satire on Bulwar Lytton's earlier best-selling Pilgrims of the Rhine. £25.00
77. ETCHING. CAVE, HENRY.: Antiquities of York. Drawn and Etched by H Cave. London, Ackermann, 1813. Large 4to, PP iv, with printed and etched title pages, 40 etched plates or York buildings and antiquities, bound in original quarter red roan over marbled boards, spine gilt, rubbed but sound, heavy offsetting from plates onto the facing text, the plates themselves clean, occasional foxing, but a very good copy of a title that is usually foxing in some way,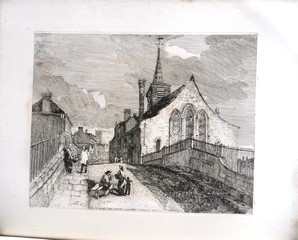 FIRST EDITION, a valuable example of the early 19th Century fashion for depictions of English vernacular architecture, whether ruined or not. The engraved title is actually 'The Picturesque Buildings of York' suggesting its artistic as well as historical intent. The City of York provides Cave, a local artist, with huge scope for depiction of whole streets as well as architectural features, especially doors. £200.00
78. FRASER, C LOVAT [ILLUSTRATOR]. HODGSON, RALPH.: The Bull. London, A T Stevens, for 'Flying Fame', 1913. Small 8vo, PP 20, pictorial decorations by Lovat Fraser, original pictorial stiff wrappers, a good copy, FIRST EDITION. A famous neo-Georgian poem which won the Polignac Prize in 1914. £25.00
79. FRASER, LOVAT [ILLUSTRATOR]. HODGSON, RALPH.: The Song of Honour. London, Flying Flame, [1913]. Small 8vo, PP 24, decorations in text by Lovat Fraser, original pictorial stiff pictorial wrappers, a good copy, FIRST EDITION. significant neo-Georgian poetry from the press of poet and illustrator before they joined up in the Great War. £25.00
80. FULLERTON, WILLIAM MORTON.: In Cairo. London, Macmillan, 1891. 8vo, PP vii, [1], 70, [2], uncut in original white buckram cloth with red decoration to upper board, cloth soiling but internally sound,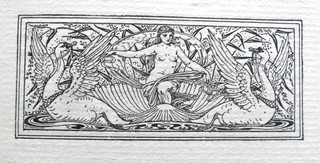 FIRST EDITION, a distinctive book design distinguished by the remarkable series of 10 headpieces to the chapters, unsigned but in the arts and crafts style of Paul Woodroffe [but too early for him]. £25.00
81. GERMAN CARICATURE.: Simplicissimus 19 Jahrgang Sweites Halbjahr [October 1914 bis Marz 1915] Munich, Semplicissimus, [1915]. Folio, PP [4], 381 -678, illustrated in colour and black and white caricature throughout, original cloth with image of bulldog on upper board, worn at corners, spine part missing, first few leaves frayed at fore edge, else a reasonable working copy,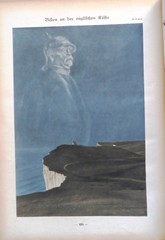 FIRST EDITION; By this first year of the War Semplicissimus, famed for its political and social satire, had become no more than a propaganda tool of the German military machine. Many of the anti British cartoons have, however, become well-known through later reproduction. £65.00
82. HUGO, VICTOR.: Notre-Dame de Paris...illustree de Soixante-Dix Desins par Brion. Paris, Hetzel, 1871. 4to, PP 272, [8, frontispiece, text wood-engravings, folding engraved birds-eye map of mediaeval Paris, contemporary half roan, joints cracked but holding, map creased where misfolded, else in good clean state,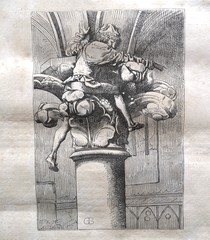 EARLY ILLUSTRATED EDITION. Brion's classic illustrations first appeared in a Hetzel edition a few years earlier. The attractive map of Paris, with 8 page description at the end, is unusual and not found in other editions. £25.00
83. LIE, JONAS.: Weird Tales from Northern Seas from the Danish of Jonas Lie. London, Kegan Paul, 1893. 8vo, PP vi, [4], 201, [1], title page in red and black, 12 black and white plates by Laurence Housman, original pale blue cloth, uncut, a very good clean copy,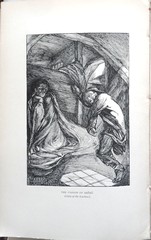 FIRST EDITION IN ENGLISH, a collection of 11 weird tales first translated here into English, mainly from Lie's 'Trold, an important contribution to 19th Century supernatural literature. The fine illustrations by Houseman are among his best, and the book itself is a fine production. £85.00
84. LONDON. SAGE, FREDERICK [PUBLISHER].: Regent Street, 1825 - 1925 : a series of plates indicating the magnitude of the reconstruction [London, Frederick Sage, 1927].. Oblong small folio, comprising covering letter of 1927 [signed by managing director of Sage], 28 plates, mainly Regent Street shop fronts as contracted by Sage, with some plans and historical reproductions, contained within the original portfolio with coloured map, externally rather stained and soiled, internally sound,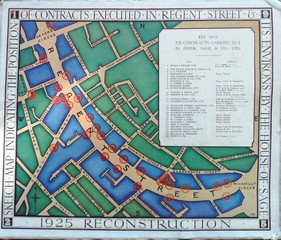 FIRST EDITION, the trade catalogue of Sage documenting their commercial improvements to Regent Street in the 1920's, and a valuable record of the period. £25.00
85. MERYON, CHARLES [ETCHER].: Eaux-Fortes sur Paris. Paris, Edition Mazarine, 1926. Large folio, PP [20], with 20 fine window mounted heliogravures after Meryon's 1852 set of original etchings, printed on plain and tinted paper, uncut in contemporary full bevel-edge brown calf, simply lettered in gilt to upper board, the boards a little marked and scratched in places, but internally fine, a handsome and attractive volume,
FIRST EDITION THUS, superb reproductions of Meryon's originals, limited to 636 sets of which this is no 436. Usually found as a loose portfolio, this finely bound up copy is certainly more convenient way to view Meryon's work. £350.00
86. NORMAN LINDSAY [ILLUSTRATOR]. PETRONIUS.: Petronius, A revised Latin text of the Satyricon with the earliest English translation (1694) now first reprinted with an introduction together with one hundred illustrations by Norman Lindsay.
London : Privately printed by Ralph Straus 1910 ii, xv, 8-303 p., 100 leaves of plates : ill. ; 32 cm. £75.00
87. PHOTOGRAPHY. GERNSHEIM, HELMUT AND ALISON.: L.J.M. Daguerre. The HIstory of the Diorama and the Daguerreotype. London, Secker & Warburg, 1956. Small 4to, PP xx, 216, 116 photographic illustrations, original cloth, slightly frayed used dust-wrapper, a very good copy,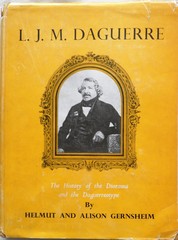 FIRST EDITION, a pioneering study of early photographic history. £25.00
88. PHOTOGRAPHY. MOOR, REV J.F.: The Birth-Place, Home, Churches, and other Places connected with the author of 'The Christian Year' illustrated in Thirty-two Photographs by W Savage. With Notes by the Rev J F Moor, jun. Winchester, William Savage/London, James Parker, 1866. 4to, PP [145], erratum leaf at end, printed in red and black with red ruled borders to pages, 32 mounted albumen photographic prints by William Savage, with accompanying text descriptions, including a portrait after a painting, the rest being views, bound in original bevel-edged cloth, decorated in gilt, spine part lacking or detached, corners worn, large contemporary inscription on half title [Buckland St Mary], else a good clean copy internally with good impressions of the images,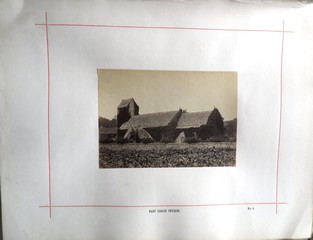 FIRST EDITION, a well produced example of early photographic illustration in England. £45.00
89. PHOTOGRAPHY. NEWALL, BEAUMONT.: A Catalogue of the Epstean Collection on the History and Science of Photography and its applications especially to the Graphic Arts. Vermont, Helios, 1972. 8vo, unpaginated, with index and 1942 accessions at the end, original cloth, a very good copy, FIRST EDITION THUS, valuable reprint of the 1937 original with later index and accessions added. £20.00
90. REACH, ANGUS B.: The Natural History of 'Bores'. . London, D. Bogue, 1847. 16mo, PP 112, [12, adverts], wood engravings including a frontispiece & title vignette by H G Hine, original pictorial grey wrappers, slightly dusty and chipped at spine ends, but a very good copy of this fragile item.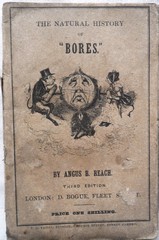 THIRD EDITION, a title in the famous 'social zoologies' series. £25.00
91. SEABY, ALLEN W.: Pattern without Pain. London, B T Batsford, 1948. 8vo, PP vi, 120, frontispiece, numerous colour plates and text illustrations showing contemporary pattern designs, original cloth, near fine in frayed dust-wrapper, FIRST EDITION, signed presentation copy with letter from the author A practical manual of postwar English pattern design. £25.00
92. SHAW, HENRY.: The Hand Book of Mediaeval Alphabets and Devices. London, Bernard Quaritch, 1853 4to, PP [10], 36 plates, mostly single woodblock colours, bound in contemporary blue blindstamped silked cloth, minor rubbing and foxing at the start but generally a fine bright and tight copy.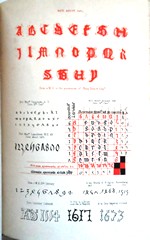 FIRST EDITION an influential work from 'the architect, the decorator, and the student of ornamental design...' The edition also appeared under William Pickering's imprint, and was reissued by Bohn in 1856. £75.00
93. SMITH, ALBERT.: The Natural History of 'Stuck-Up' People'. London, David Bogue, 1847. Small 8vo, PP viii, 112, [16, illustrated catalogue]. frontispiece and wood-engravings in text, original printed wrappers. a little dusty and chipped to spine, still a good copy in original state of a fragile item,
FOURTH EDITION, a popular title in Smith's series of 'Social Zoologies'; editions can only be identified from the wrappers. £25.00
94. STRANG, WILLIAM [ILLUSTRATOR].: The Surprising Adventures of Baron Munchausen. London, Lawrence and Bullen, 1895. 8vo, PP li, 299, frontispiece, 29 plates, numerous text illustrations, all by William Strang and J B Clark, bound in original pictorial cloth, slightly faded to spine, free endpapers lacking else a good sound copy,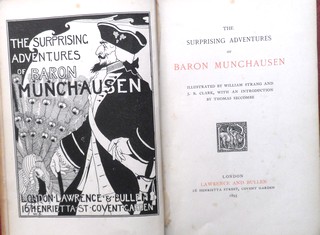 FIRST EDITION THUS, an interesting and distinctive book production matching the fantasy nature of the subject. The binding is a complex design by Clarke. Altogether one of the most pleasant editions of this title. £25.00
95. TWO RIVERS PRESS. BOBRINSKOY, COUNT.: Peacock from Heaven. A Kurdish Yesidi Tale. Aurora, Two Rivers Press, 1983. Square 12mo, original patterned cloth, fine, FIRST EDITION, limited to 400 copies. £10.00
96. WHISTLER, J.M. THE STUDIO.: The Studio an Illustrated Magazine of Fine and Applied Art Volume Thirty. London, The Studio, 1904. 4to, PP [12], 364, colour and black and white plates and text illustrations throughout, contemporary binder's cloth, a fine copy,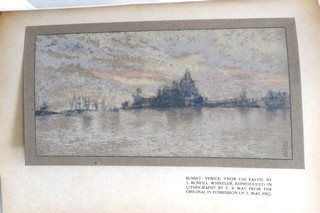 FIRST EDITION, including several interesting Whistler related contributions, including Way's lithography' Baby Leyland' after the artist, accompanying Oswald Sickert's article, and Way's lithograph 'Sunset Venice' also after Whistler. £15