27. BIBLIOTHEUQE DE CARABAS. JACOBS, JOSEPH.: The Earliest English version of the Fables of Bidpai : "The Morall Philosophie of Doni" by Sir Thomas North ... edited and induced by Joseph Jacobs. London, David Nutt, 1888. 8vo, PP lxxx, 257, [1], frontispiece, double-page pedigree, 1 etched plate, text woodcut, uncut in original pictorial cream yapped paper boards, lightly browned to spine as usual, but a very good copy, FIRST EDITION THUS, limited to 550 copies, a reprint of North's rare original printing of 1570, which introduced the Indian fable to the English language. £25.00
28. BIBLIOTHEUQE DE CARABAS. JEVONS, J.B.: Plutarch's Romane questions translated A.D. 1603 by Philemon Holland ; now again edited by Frank Byron Jevons ; with dissertations on Italian cults, myths, taboos, man-worship, Aryan marriage, sympathetic magic, and the eating of beans. London, David Nutt, 1892. 8vo, PP cxxviii, 170, 3, uncut in original pictorial cream yapped paper boards, lightly browned to spine as usual, but a very good copy, FIRST EDITION THUS, limited to 550 copies, £20.00
29. BIBLIOTHEUQE DE CARABAS. LANG, ANDREW, [EDITOR].: Euterpe: being the second book of the famous History of Herodotus. Englished by B. R. 1584. Edited by Andrew Lang. London, David Nutt, 1888. 8vo, PP xlviii, 174, [2], uncut in original pictorial cream yapped paper boards, lightly browned to spine as usual, but a very good copy, FIRST EDITION THUS, limited to 550 copies. The Barnaby Rich translation. Cover image £20.00
30. BUNYAN, JOHN.: The Pilgrim's Progress from This World to That Which is to Come. London, RTS, sold by J Davis and J Nisbet circa 1820. Small 8vo, PP 140; 122, in 2 parts as issued, wood-engravings throughout, bound in original roan backed printed boards, rubbed and worn at edges, but a good copy of this fragile item. There may have been several RTS cheap editions of this title from about this time, but it is unusual to find one still in original state with printed boards intact. £15.00
31. COBBETT, WILLIAM.: No 1 [-3]. Cobbett's Poor Man's Friend; or Useful Information and Advice for the Working Classes. London, W Cobbett, 1826. Issues 1 to 3 only, small 8vo, unpaginated, bound with several issues of Cobbett's Monthly Sermons in contemporary half cloth, worn with boards detached, FIRST EDITION, a collection of Cobbett's cheapest tracts for the working classes. £15.00
32. COLERIDGE, S.T. GILLMAN, JAMES.: The Life of Samuel Taylor Coleridge. Vol I. London, William Pickering, 1838. 8vo, Volume one only [all published], PP x, 362, [1, errata], bound without half title, contemporary half calf, spine gilt with raised bands, light browning but a very good copy,
FIRST EDITION, the first attempt at a biography of Coleridge, by the physician with whom he resided for many years; his physical and emotional support for the author were a decisive factor in his declining years, and it is to be regretted that the present work was never complete with its second volume. £75.00
33. CORNWALL. HOGG, THOMAS.: The Fabulous History of the Ancient Kingdom of Cornwall. London, Longman, Rees, Orme and co, 1827. 8vo, PP 507, [1], contemporary binders' cloth, spine slightly chipped in places, but a good clean copy,,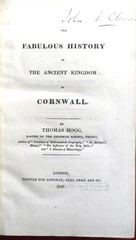 FIRST EDITION; a scarce poem on Cornish legend, with copious prose notes, printed in Truro, the work of a Truro school teacher, who had many years earlier written a poem on the subject of St Michael's Mount. The present work includes chapters on Cornish wrestling and witchcraft, with large parts dealing with the legends of King Arthur and his circle. £60.00
34. CORY, WILLIAM JOHNSON.: Ionica. London, Smith, Elder and co, 1858. Small 8vo, PP iv, 116, original pale olive rubbed cloth, spine worn and chipped, boards marked, name cut from front endpaper, internally sound,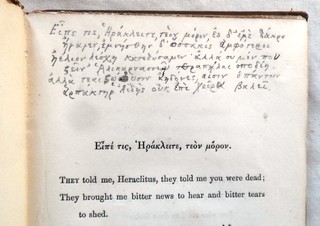 FIRST EDITION, HERBERT W PAUL'S COPY, inscribed on the title page 'To Herbert W Paul 1886 from ?J S C.' The donor of this copy remains a mystery, but it is almost certainly Cory himself or one of his close circle. During his last years in Hampstead Cory was regularly visited by friends including his former Eton pupil author and journalist Herbert W Paul. Paul would later write a chapter on Cory and his relationship with the author up to the end of his life in a volume of essays in which he recounts reading to Cory, possibly from his copy which bears some faint but telling pencil markings. Two lengthy quotations [presumably poetic originals] in Greek may be by Paul or Cory himself. Other annotations in a freer hand are almost certainly Paul's e.g. 'A Nearly perfect translation' [here the Greek is given], and against the militaristic 'A Chobham Song 'he dislikes this himself.' An interesting association copy of this scarce and important volume of Victorian poetry, though the binding has suffered somewhat from use. £75.00
35. DIALECT DICTIONARIES. SKEAT, WALTER W [EDITOR].: Series B Reprinted Glossaries. Viii [-XIV]. BOUND WITH: Series B ...XV-XVII, BOUND WITH: A Bibliographical List of the works that have been published....illustrative of the various dialects of the English. London, Trubner for the English Dialect Society, 1874-77. Parts 2 and 3 plus bibliography only, separate paginations, contemporary roan backed cloth, spine detached, internally sound, FIRST EDITIONS, the most valuable reference tool on English dialects published to that date, including reprints of many of the scarcer collections. Lacking volume one with the first 7 titles, but all parts have separate status. £25.00
36. DICKENS, CHARLES.: Sketches by Boz, Illustrative of Every-Day Life and Every-Day People. London, Chapman & Hall, 1839. 8vo, PP viii, 526, bound without half title, etched frontispiece, extra title and 38 plates by George Cruikshank, bound in contemporary tan calf, spine gilt with raised bands and black label, binding rubbed but sound, many but not all plates browned or foxed, some just at edges, a good, half-decent, copy,

NEW EDITION, the first one volume edition, issued originally in parts, reprinting the text of the original two volumes or series which were in smaller format; for this edition Cruikshank enlarged the original plates, and added 13 new ones, for which reason this edition has always been popular amongst collectors. £100.00
37. DUNCAN, CHARLES WILLIAM [TRANSLATOR].: Horace. The Odes and Secular Hymn with selections from the Epodes...renered into English Verse. Chester Phillipson and Golder, 1886. 8vo, PP [12], 226, [2], text within red rule border, original bevel-edged cloth, gilt, a very good bright tight copy, FIRST EDITION. £15.00
38. ELIOT, T.S. [CONTRIBUTOR]. BAGGULEY, W.H. [EDITOR].: Andrew Marvell 1621-1678 Tercentenary Tributess...edited...by Wm H Bagguley. OUP, 1922. Small 8vo, PP 131, [1], 12 plates, original cloth, dust-wrapper, a fine copy, FIRST EDITION; includes T S Eliot's famous essay on Marvell, reprinted from the TLS of the previous year and later published in 'Selected Essays.' £25.00
39. GERMAN POETRY.: Lyrische Dichtung deutscher Juden. Berlin, Welt, 1920. Small 8vo, PP 124, [4, adverts], original paper backed printed boards, slightly browned due to pare quality else a very good copy, FIRST EDITION, anthology of Jewish poetry in German including Brod, Birnbaum Caspari etc. £10.00
40. GILLIES, R.P. [TRANSLATOR].: German Stories: Selected from the Wrosk of Hoffmann, De La Motte Fouque, Pichler, Kruse, and others. Edinburgh, William Blackwood [and t Cadell, London], 1826. 3 volumes, 12mo, bound in contemporary half calf, spines worn and chipped, a good clean set for rebacking, FIRST EDITION,; the sudden short lived vogue for German literature in English translation produced several notable publications during the 1820's including Grimm's popular tales, and in 1826 this collection of 11 short stories and novellas, including several with supernatural or gothic themes to them, translated by the highly competent Edinburgh based German scholar R P Gillies. Gillies would subsequently seek his fortune in London, but fell upon hard times, but during the preparation of this work, originally published in Blackwood's, he was intimate with Thomas De Quincy, also a German scholar, and who himself wrote a revealing review of this work for the magazine. The influence of De Quincy as well as the fantasy zeitgeist of the period may be found in choice of stories here, including 'The Specre Bride' 'The Chrystal Dagger' and 'Scharfenstein Castle.' £50.00
41. GRAHAME, KENTH.: First Whisper of The Wind in the Willows.. Edited with an Introduction by Elspeth Grahame. London, Methuen, 1944. Small 8vo, PP 89, [1], frontispiece, original cloth, dust-wrapper, a fine copy of the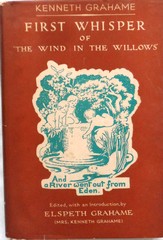 FIRST EDITION. £35.00
42. HAGGARD, H RIDER.: Ayesha : the return of She London, Ward Lock, 1905. 8vo, PP 384, 32 plates including frontispiece, original decorated blue cloth, gilt, light rubbing, but an excellent bright unfaded copy,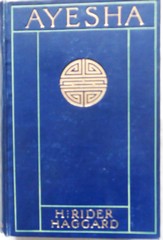 FIRST EDITION. £45.00
43. HARDY, THOMAS.: Selected Pomes of Thomas Hardy with Portrait & Title page Design engraved on the wood by William Nicholson. London, Medici Society, 1921. Square 8vo, PP x, 144, [4], sepia frontispiece and title page by Nicholson, uncut in original Holland backed boards with paper labels, that for spine slightly discoloured but a fine copy,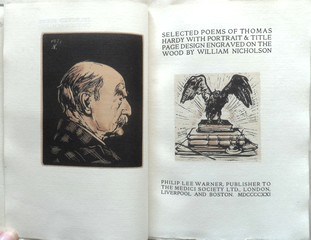 FIRST EDITION THUS, beautifully printed edition, a selection first printing in 1916. £75.00
44. HARDY, THOMAS.: Time's Laughing Stock and Other Verses. London, Macmillan, 1909. 8vo, PP x, 207, [1], [4, adverts], uncut in original cloth, gilt, spine a little discoloured as usual, else a very good copy, FIRST EDITION; from the library of Joy Finzi, with the signature of her aunt, L.A Black at the front. £35.00
45. HOLTHAUS, P.D.: Wanderings of a Journeyman Taylor through Europe and the East During the Years 1824 to 1840...Translated from the German...by William Howitt. London, Longman, 1844. Small 8vo, PP xv, [1], 286, frontispiece, original blind stamped cloth, rodent nibbled to lower edges of binding, slightly touching margins of a few leaves, a good reading copy, FIRST EDITION IN ENGLISH, a scarce and curious 'artisan' biography. £12.00
46. HOWITT, WILLIAM.: The Book of the Seasons or the Calendar of Nature. London, Colburn and Bentley, 1831. Small 8vo, PP xxviii, 404, with wood-engraved vignette plates, original brown linen cloth with green label, a little rubbed and bumped, minor foxing to frontispiece else a very good copy in original state, FIRST EDITION, one of the most enduringly popular of Howitt's books, subsequently reprinted many times, 'a work resulting naturally from his habits of observation and his genuine love of nature' £25.00
47. HUME, ETHEL DOUGLAS.: The Globular Jottings of Griselda. Edinburgh, William Blackwood, 1907. 8vo, PP [8], 468, frontispiece and 5 plates, original pictorial cloth, slightly rubbed but a very good copy, FIRST EDITION; an amusing collection of fictional tales of travel. £15.00
48. KEYES, SIDNEY.: The Collected Poems of Sidney Keyes edited with a memoir and Notes by Michael Barker. London, Routledge & Kegan Paul, 1951. Small 8vo, PP xxiv, 123, original cloth, very good,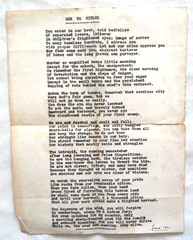 FOURTH IMPRESSION. A loosely inserted typescript poem, dated in manuscript June 1941 is entitled 'Ode to Hitler', 1 page, with note on the flyleaf 'including unpublished poem' - implying it is by Keys. Also included is a brief note from Anthony Smith, headmaster of Dartford Grammar School - which Keyes attended in the 1930's - 'Dear Professor Porter, I am returning the three items we borrowed from you....' this in reference to the Keyes Conference held at the school in that year. Sadly there is no way now of knowing if this typescript is one of the items lent. £25.00
49. LONGFELLOW, HENRY WADSWORTH.: The Golden Legend; illustrated in a Series of 18 exquisite designs by V R D. London, Dickinson Bros, 1853. Folio, pictorial title page and 18 leaves of plates etched in outline, some India paper proofs, calligraphic text facing each plate, contemporary half calf, rubbed, free endpaper detached, internally with foxing especially effecting the India proofs including the title page, else sound,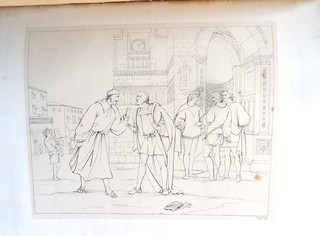 FIRST EDITION, possibly the first set of illustrations for this popular Longfellow title first published in 1851, and despite the heavy foxing a rare item, the artist 'V R D' not identified. The illustrations are outlines in the style of Retzch. Not in COPAC, this copy from the Edward Law collection with notes of comparison with the Bowdoin College, Longfellow Collection copy. £35.00
50. MACLEOD, FIONA [WILLIAM SHARP].: The Isle of Dreams [from 'Iona']. Edinburgh, Foulis, 1913. Small 8vo, PP 65, [5, adverts], uncut in original pictorial wrappers, fine, FIRST UK EDITION THUS, the author's own extract from his larger book. £12.00
51. MILTON TRANSLATED COWPER.: Latin And Italian Poems of Milton. Translated Into English Verse., And A Fragment Of A Commentary On Paradise Lost, By The Late William Cowper, Esq. With A Preface By the Editor, And Notes Of Various Authors Chichester, J Seagrave for J Johnson, 1808. Large 4to, PP xxvii, [1], 328, 3 outline plates by Flaxman, one bound as frontispiece, bound in contemporary mottled calf, spine gilt with red label, a little rubbed but a very good sound clean copy,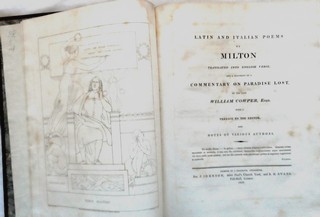 FIRST EDITION, Cowper's final work, hi translation of Milton posthumously edited by William Hayley. The Wrest Park copy, with Earl de Grey bookplate. £120.00
52. MITFORD, MARY RUSSELL.: Our Village: Sketches of Rural Life and Scenery. London, G & W,B. Whittaker, 1825. Small 8vo, PP viii, 292, disbound, a clean binding copy,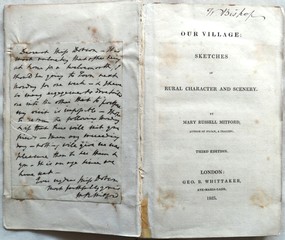 THIRD EDITION, with autograph letter signed mounted on the half title opposite the title page, to a 'Miss Dobson' apologizing for having to put off their meeting. £45.00
53. MONKSHOOD, G.F. [EDITOR],: Woman and The Wits. Epigrams on Woman, Love and Beauty. London, Greening, 1907. Small 8vo, PP 174, green page borders throughout, contemporary half green calf, spine gilt with raised bands, evenly faded to spine, else a nice copy, FIFTH EDITION. £10.00
54. NOVEL. TOLMAN, MARTHA DOWNE.: Fabrics: A Story of Today. London, Ward , Lock and Tyler, [1873]. Small 8vo, PP 242, disbound, a very good binding copy, FIRST EDITION, a scarce novella of the period, but lacking the wrappers. Author's sole publication. £10.00
55. OXFORD MOVEMENT. FISH, HENRY.: Conferences of the reformers and divines of the early English Church on the doctrines of the Oxford tractarians ... Edited by a member of the University of _. London, Seeley and Burnside, 1841. 8vo, PP viii, 256, uncut in original cloth, paper label rubbed, joints and spine ends worn, else a good tight copy, FIRST EDITION, a presentation copy of an editor; bookplate of the Law Society. £15.00
56. RUSKIN, JOHN.: The Queen of the Air: Being A Study of the Greek Myths of Cloud and Storm London, Smith Elder, 1869. Small 8vo, PP viii, 199, [1], uncut in regional bevel-edged green cloth, slight rubbed and foxed, inner joints slightly cracked but a good copy, FIRST EDITION.' he attempted to express his old concept of a divine power in Nature in new terms calculated for an age in which assent to the Christian faith was no longer automatic or universal.' Scarce in first edition. £45.00
57. SITWELL, EDITH.: Street Songs. London, Macmillan, 1942. 8vo, PP vii, [1], 33, [3], original cloth, fine, SECOND IMPRESSION, INSCRIBED ' Presented by Edith Sitwell.' £10.00
58. SKENE, WILLIAM F.: Celtic Scotland: a History of Ancient Alban. Edinburgh, David Douglas, 1886-80. 3 volumes, 8vo, 1 map frontispiece, original cloth, volume 2 a little worn and shaken else a good set, SECOND EDITION OF VOLUMES 2-3, FIRST EDITION OF VOLUME 3. £25.00
59. TAYLOR, ROBERT.: Syntagma of the evidences of the Christian religion. Being a vindication of the Manifesto of the Christian evidence society, against the assaults of the Christian instruction society through their deputy J.P.S. [in An answer to a printed paper London, Printed for the author, reprinted William Dugdale, 1828. Small 8vo, PP 128, portrait frontispiece, plain flush cloth boards, very good, one of several issues of this notorious anti Christian work, this one with the scarce and rather glamorized lithographic portrait of The Rev Robert Taylor, one of the most controversial of early 19th century radical freethinkers. His near contemporary Darwin may have referred to him as 'the devil's chaplain' and clearly detested his atheistic leanings. .Another contemporary issue of this work, put out by the Christian Evidence Society, has name of Taylor's confederate Richard Carlisle in the imprint. 'His ill-arranged writings are of no original or scientific value... expound Christianity as a scheme of solar myths. His philology is helpless wordplay.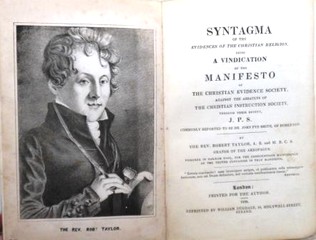 The attraction of his discourses was in his jocose manner; they exhibit no real humor, but his taunts are smart. His drollery, though of a low type, is never impure' - DNB.. £60.00
60. TENNYSON, ALFRED.: Idylls of the King. London, Moxon, 1859. Small 8vo, PP [8], 261, 8 page publisher's catalogue dated July 1859 at the front, untrimmed, original sage green blind stamped cloth, slight fading and chaffing to spine ends, but a very good copy indeed, FIRST EDITION, the scarce first issue without the publisher's name on title verso [see Wise 87]. No longer easy to find in nice condition. £25.00
61. TRIAL.: Report of the proceedings in the case of Fitzgerald v. Northcote and another : together with an introductory narrative and other documents. London : Burns, Lambert, and Oates ... 1866 8vo, PP ix, [1], 269, disbound, with 2 other tracts relative to the case of the behavior of students at St Mary's seminary college, Oscott. [Birmingham]. £15.00
62. TURKISH FOLK-LORE. SHEYKH-ZADA.: The History of the Forty Vezirs : or, the Story of the Forty Morns and Eves written in Turkish by Sheykh-Zada. Done into English by E.J.W. Gibb. London, George Redway, 1886. 8vo, PP xl, 420, [40, publisher's catalogue], uncut in original decorated yellow cloth, gilt lettered, a very good copy,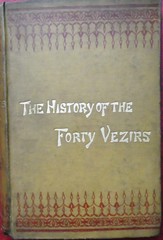 FIRST EDITION, a scholarly first introduction for English readers of these Turkish folk and fairy tales presented as a collection in the style of the Arabian Nights. The Selborne copy. £45.00
63. TYTLER, PATRIC FRASER.: LIfe of Sir Walter Raleigh: founded on Authentic and Original Documents, some of them never before published...a vindication of his character... Edinburgh, Oliver & Boyd, 1833. Small 8vo, PP 468, frontispiece portrait, extra title, wood-engravings in text, bound in pleasant contemporary romantic style half calf, sides rubbed and small abrasion to the spine but a pleasing copy,

FIRST EDITION; Tytler's work represented a considerable review of the historical perspective on Raleigh. 4. TitleTraitté des scrupules, de leurs causes, de leurs especes, de leurs suites dangereuses, de leurs remedes généraux & particuliers £25.00
64. WARD, MARY [MRS HUMPHREY].: England's Effort. Six Letters to an American Friend...with a Preface by the Earl of Rosebery. London, Smith, Elder and co, 1916. Small 8vo, Pp xiii, [3], 192, original cloth, paper labels, a very good copy, FIRST EDITION, a propagandist work addressed to an American lawyer in the face of US neutrality in the First World War. £20.00
65. WELLS, H.G.: Mr Belloc Objects to 'The Outline of History.' London, Watts, 1926. Small 8vo, PP 54, [2], original printed wrappers, slightly rubbed, small repair to head of spine, FIRST EDITION. £10.00
66. WILDE, OSCAR. RANSOME, ARTHUR.: Oscar Wilde. A Critical Study. New York, Mitchell Kennerley, 1912. 8vo, PP 212, [2], [2, adverts], frontispiece, uncut in original cloth, slightly worn at head of spine else a very good copy, FIRST EDITION, New York issue from the sheets of the London printing. A frank assessment of Wilde's writings, companion volume to Ransome's study of Poe. £15.00