LITERATURE PRINTED BEFORE 1800.
1. BETHEL, SLINGSBY.: The Interests of Princes and States. London, for John Wickens, 1680. Small 8vo, pp [16], 354, [4, adverts], complete with A1 blank before the title, bound in contemporary plain ruled calf, ruled, spine chipped at head and slightly holed, upper joint broken and restored, endpaper unpasted and with small red wax seal of ownership at the end, early manuscript comment on the section regarding Geneva, a clean tight copy, generally unsophisticated,
FIRST EDITION, the sole printing of this in part commercial, in part political survey of the states of Europe, based largely upon Slingsby Bethel's earlier continental travels. The anonymous publication of this tract at the time of the Popish Plot may well have aroused suspicions in the Royalist camp, considering Bethel's known Republican sympathies, and for this reason he left England again shortly after for an extended Continental your. He returned later to England but not to this book which never reached a second edition. It remains a fascinating pseudo Republican view of the European 'state' in the mid 17th Century. £250.00
2. DAVENANT, CHARLES.: Essays upon Peace at Home, and War Abroad. In Two Parts. Part One. London: James Knapton, 1704 8vo, pp [24], 425, [5, adverts], bound in contemporary paneled calf, spine rubbed, upper board detached, s very good clean tight copy internally,
FIRST EDITION, 'Davenant's important work on the political and economic consequences of flawed leadership, commissioned by Queen Anne and drawing on Machiavelli to develop principles of wise governance'. THE COMPTON VERNEY COPY, with bookplate of John Peyto Verney [1738-1816], who famously remodeled this distinguished architectural edifice during the 18th Century. It suffered, like many, a 20th Century decline, at which time, no-doubt, its library was disbursed. The building has enjoyed a revival of fortunes in recent years as a public art gallery. £160.00
3. DENINA, CARLO.: An Essay on the Revolutions of Literature. Translated from the Italian...by John Murdoch. London, T Cadell [and others], [1771]. 12mo, pp [4], viii, 299, [1, adverts], disbound in later plain wrappers, a good clean working or binding copy,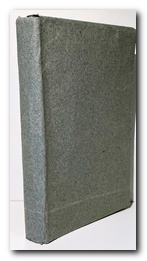 FIRST EDITION IN ENGLISH; Denina's work has been described as 'a pioneering study of comparative literature... including emphasis on modern vernacular literature...' £45.00
4. FENELON.: The Lives and Most Remarkable Maxims of the Antient Philosophers. London, B. Barker & R. Francklin 1726 Small 8vo, pp [4], 282, [2], bound in contemporary unlettered paneled calf, spine with raised bands, slightly rubbed, worn to head of spine, light cracks to joints, endpapers lightly foxing, but a very good copy,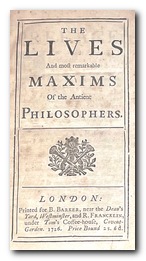 FIRST EDITION IN ENGLISH, an anonymous translation, according to the preface from a manuscript of Fenelon's prepared for the education of the French Dauphin. Scarce. £150.00
5. FERGUSON, ADAM.: An Essay on the History of Civil Society. London, T Cadell and W Creech [and J Bell, Edinburgh], 1782. 8vo, pp vii, [1], 468, contemporary polished calf, spine gilt ruled with black label, upper joint lightly cracked, light foxing to text but a very good sound clean copy,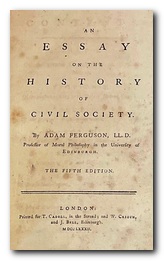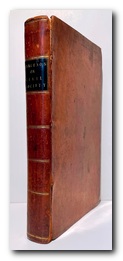 FIFTH EDITION, a landmark work in the Scottish Enlightenment from its first publication in quarto in 1767, providing the foundation of the study of sociology in the British Isles. Octavo editions followed almost immediately, all in the same format this fifth printing, £150.00
6. HARRIS, JAMES.: Three Treatises. The First Concerning Art. The Second Concerning Music, Painting and Poetry. The Third Concerning Happiness. By J.H. London, H Woodfall jun. for J Nourse and P Vaillant, 1744. 8vo, pp [4], 357, bound in contemporary polished calf, spine gilt ruled with raised bands and red label, marbled endpapers. lightly faded to spine, but a fine copy,
FIRST EDITION; as usual with several leaves in cancelled state. Best remembered as the author of Hermes, this is Harris''s first work, much influenced by the writings of his uncle, the 3rd Earl of Shaftesbury, author of 'Characteristicks'; although Dr Johnson was quite derisory about Harris, the music historian Charles Burney thought highly of him, and the present work, of which this is an excellent and attractive copy, exemplifies his early writings on aesthetics. "The thesis that imitation is the common and distinguishing feature of the arts was put forward by James Harris in Three Treatises (1744) and subsequently made famous by Charles Batteux in a book entitled Les Beaux Arts réduits à un même principe (1746).' -Ency. Britannica. £150.00
7. JOHNSON, SAMUEL.: The Lives of the English Poets; and a Criticism on Their Works. Dublin, Whitestone, [and others], 1779-81. 3 volumes, 8vo, pp [4], 144,143-144,145-536: [4], 496; [4],32,399, bound in contemporary half calf, the spines with plain gilt ruled bands, red labels, a little rubbed and worn at heads, one leaf of text with a few ink splatters, corner torn of lats leaf in volume 2 with loss of a few words, else internally very clean and fresh, a good set overall,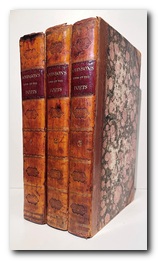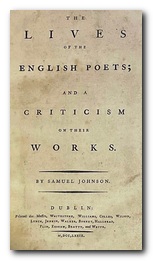 FIRST DUBLIN EDITION, unauthorized printing of the lives in course of publication in the series of 68 volumes of Works and lives of the English Poets. the second issue of the first volume with 'posterity' on page 4, but 'Butler' on Q8v..The first volume was published on its own without volume number in 1779. Vols 2 & 3 were published together in 1781 well before the first London printing of that year. £250.00
8. KEITH, ROBERT.: A Large New Catalogue of the Bishops of the Several Sees Within the Kingdom of Scotland, Down to the Year 1688: Instructed by Proper and Authentic Vouchers: Together with Some Other Things Necessary to the Better Knowledge of the Ecclesiastical State Edinburgh, T and W Ruddiman, 1755. 4to, pp [6], xx, 296, bound in contemporary calf, spine gilt with raised bands, rubbed and chipped at spine ends, lacking label, joints cracked but holding, wear to corners, 3 small marginal wormholes to first 80 or so pages, not touching text, else internally very clean and fresh,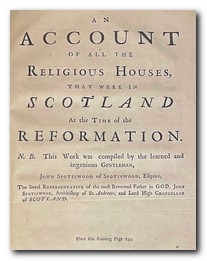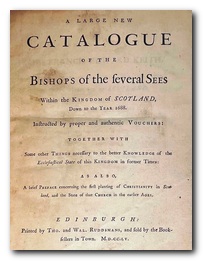 FIRST EDITION, a valuable and comprehensive overview of the Scottish Church in a geographical survey based on comparative views of the sees before and after the Reformation. with Spotiswood's account of the Religious Houses at the time at the end. With early Skene Library bookplate. £135.00
9. MARANA, GIOVANNI PAOLO.: The Eight Volumes of Letters Writ by a Turkish Spy, Who liv'd Five and Forty Years undiscover'd at Paris; Giving an Impartial Account to the Divan at Constantinople of the most remarkable Transactions of Europe. London, Printed by A Wilde for S and E Ballard [and others], 1748. 8 volumes, 12mo, engraved frontispiece in volume 1, bound in contemporary calf, spines gilt decorated with raised bands and red labels, wear and occasional chipping to spine ends, sides rubbed, some joints cracked but holding, a couple of conjoint leaves slightly proud but not loose, minor browning but essentially tight and clean throughout, a good sound set,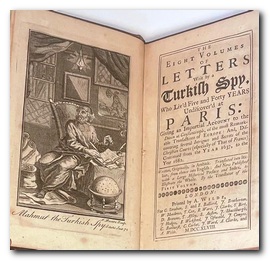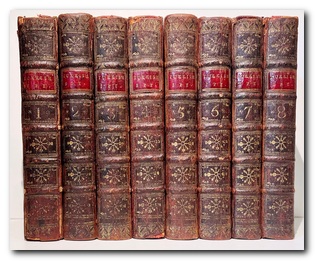 TWELFTH EDITION, a great publishing success of the Eighteenth century, with new editions called for every few years. Marana' s famous satire was first published in anonymous English translation in separate parts from the late 17th Century, not completed however until well into the 18th. LEsploratore turco ..  by G.P. Marana originally appeared in Paris in 1684. but subsequent parts are variously attribute and probably edited by Robert Midgley from William Bradshaw's translation of the original Italian MS.' This very sound set bears the contemporary bookplate of one Robert Clavering dated 1748, not, however, the Bishop of Llandaff of that name who was probably hardly into such light reading, and in any case dead. A more modern booklabel is present of Edward John Kenney, the late cat-loving Latinist of Peterhouse, Cambridge. £285.00
10. MAURY, L'ABBE JEAN SIFFEIN.: The Principles of Eloquence : adapted to the pulpit and the bar by the Abbe´ Maury; translated from the French; with additional notes, by John Neal Lake, A.M. London, T Cadell and C Dilly, 1793. 8vo, pp xvi, 242, [2, errata], [16, publisher's catalogue dated 1793], uncut in original boards, without label [as issued], lower portion of spine paper lacking, the rest slightly soiled but sound, slight marginal worming to the catalogue at the end, just touching text without disturbing it, and not into the main text, overall a remarkably fine clean unsophisticated copy,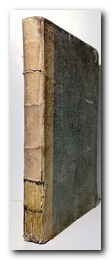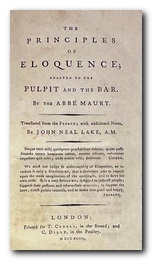 FIRST EDITION IN ENGLISH. Maury established his literary reputation with this work in its original French of 1777, subsequently revised. 'Stressing nature and good-sense it was written for a 'philosophical' audience, and praised eloquence - - not just in the church but in Rousseau and Voltaire. It became something of an Old Regime classic, and was reprinted many times in this English translation well into the 19th century. A remarkably nice fresh copy, ours has the 16 page catalogue at the end of Strahan and Cadell dated 1793, commencing 'The History of England...'. This is a separately published catalogue which we have not encountered in library held copies. ESTC lists 2 remarkably similar issues of this catalogue, both described as duodecimo which it clearly is not. £120.00
11. OLDMIXON, JOHN OR MANLEY, MRS DELARIVIER [ATTRIB].: The Court of Atalantis. Containing, a four years History of that famous Island, Political and Gallant; intermixt with Fables and Epistles in Verse and Prose. By Several Hands. London : printed and sold by J. Roberts, 1714. 8vo, pp [2], vi, [2], 310, contents leaf bound in prelims rather than at the end, neat modern half calf, over marbled boards, spine with blind raised bands and red label, minor browning or signs of use, but a good sound copy,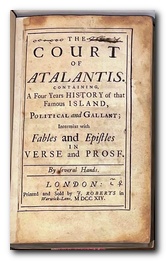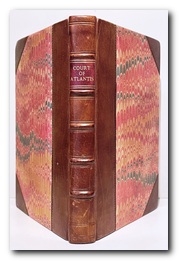 FIRST EDITION. Manley's association with the 'New Atalantis' type of fiction is well established, but since 1714 was also the year of publication of her autobiographical Rivella, it seems at least doubtful she was the main hand in this collection. Later versions of this collection of tales are attributed to Oldmixon under the title of Court Tales. £250.00
12. PITT, CHRISTOPHER [TRANSLATOR].: Vida's Art of Poetry, Translated into English verse By Mr Pitt. London, John Hughs for Robert Dodsley, 1742. Small 8vo, pp 82, [2, adverts], contemporary calf, spine ends worn, upper joint cracked, held on cords, else a very good clean copy,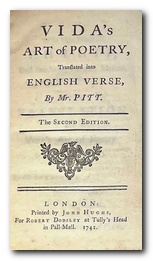 SECOND EDITION; the advert leaf at the end reproduces as 'just published' the title page of Baker's The Microscope Made Easy.' Christopher Pitt first issued his translation of this celebrated 16th Century poem in 1725, but this small format second edition is far more uncommon that the first. £60.00
13. THEOCRITUS.: The Idylliums of Theocritus with Rapin's Discourse of Pastorals. Done into English. Oxford, L Lichfield for Anthony Stephens, 1684. 8vo, pp [8], 68, 160, engraved frontispiece, bound in contemporary ruled calf, old but slightly later black label, spine a little rubbed and worn at head with short cracks to joints, front endpaper removed, slight fraying to fore-edge of frontispiece and title page, minor soiling or spotting, but a generally good sound copy internally,
FIRST EDITION IN ENGLISH TRANSLATED THOMAS CREECH, a classic printing that would not appear again until Tonson's edition of 1713. 'I thought once how Theocritus had sung...' - Sonnet number one. E B Browning. The Robert J Hayhurst copy, with his bookplate. £185.00
14. FLAUBERT, GUSTAV.: Madame Bovary. A Story of Men and Women...Translated from the French Edition Definitive by Eleanor Marx-Aveling. London, Maclaren and co, circa 1890. 8vo, pp [2], 383, bound in original dull green pictorial cloth blocked in red and black, dulled and chaffed to spine, slight ring-mark on lower board but a very good clean tight copy,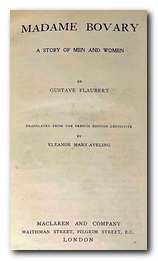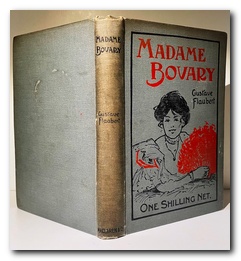 EARLY EDITION of the classic Marx translation first issued by Vizitelly in 1886, here reissued in one shilling format that retains the quaint typography with its classical headpieces of the original,, but without the introduction. It has, however, by standards of the time, a rather alluring new cover design showing the sinful Madame with her fan. Whether or not this was a book you would give to your servants, it was certainly at an affordable price, designed for the multitudes of curious readers. £60.00
15. HYMNS. BURNHAM, RICHARD.: Hymns Particularly Designed for the Use of the Congregation , meeting in Grafton Street, Soho. London, Printed for the author, 1803. Small 12mo, pp xix, [2[, 406, contemporary polished calf, gilt, cracks to spine and upper joint, but a good sound copy,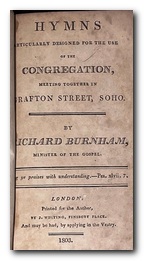 FIRST EDITION THUS; Richard Burnham [1749-1810] was a distinguished Baptist minister of High Wycombe and later Soho. his volume of 'New Hymns' first published in 1783, enlarged here to 452; both editions are quite rare. DNB mentions a portrait 'in some copies' but none is present here. £65.00
16. LOCKHART, JOHN GIBSON.: The History of Matthew Wald. Edinburgh, William Blackwood, 1824. Small 8vo, pp [2], 382, without half title if required, bound in contemporary half calf, rubbed but sound, gilt dulled, a very good clean copy,
FIRST EDITION. The novels of Lockhart, despite a great deal of critical attention, have been consistently underestimated over the years, often by Scottish booksellers; Matthew Wald is Lockhart's last, and generally accepted, most significant novel. His books were read and admired by the young Bronte sisters, which has led to speculation of the possible influence of Matthew Wald upon Wuthering Heights. 'Contains matter sufficiently like Wuthering Heights to be included as a source... the early history of Wald and Katherine has several resemblances to the childhood of Heathcliff and Catherine Earnshaw...'[ Joseph Kestner]. Whether there will be a revival of interest in Lockhart, in Scotland at least, is still rather doubtful, however. The Reniers' copy, with their booklabel. £65.00
17. MEYNELL, ALICE.: Poems. London, Elkin Mathews and John Lane, 1893. Small 8vo, pp ix, [3], 72, [2], [2, adverts], uncut in original pale olive bevel-edged buckram cloth, gilt, endpapers lightly browned, but a fine, clean copy,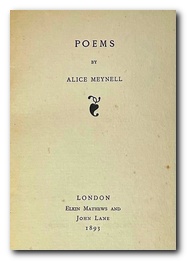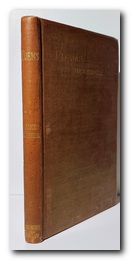 FIRST EDITION, LIMITED TO 550 COPIES; nice copy of this compilation from her earlier volume 'Preludes' and later poetry, the work for which Meynell is bets remembered. £30.00
18. WILLIAMS, HELEN MARIA [TRANSLATOR]. SAINT-PIERRE, B.: Paul and Virginia translated from the French...by Helen Maria Williams. London, John Sharpe 1819 [frontispiece dated 1820]. Small 12mo, pp viii, 168, frontispiece and 4 plates by Westall, finely bound in contemporary Regency paneled reddish brown polished calf, with gilt and blind paneling to the sides and spine, slightly rubbed, the plates foxed to margins, but a good copy,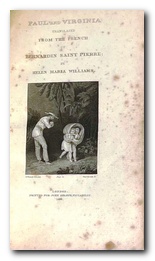 FIRST EDITION THUS, in Sharpe's series of well printed pocket classics, produced at Chiswick by Whittingham. Of the many translations of Paul and Virginia from this period this one of 1795 by Williams is the most interesting. 'written at Paris amidst the horrors of Robspierre's tyranny' where she 'sought to cheat the days of calamity of their weary length.' Nice turn of phase, and deservedly her most celebrated work. £25.00
ILLUSTRATED, ART AND ARCHITECTURE.
19. FIREWORKS.: Account of Firework displays celebrating the end of the War of Austrian Succession 1749 IN: The Gentleman's Magazine for May 1749. London, E Cave. 1749. May issue only, 8vo, pp [3], 196-240, folding engraved plate of multiple scenes, disbound, plate with clean tear where bound in but complete and easily repairable,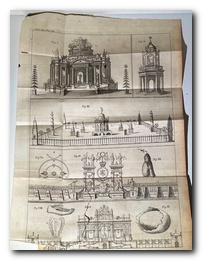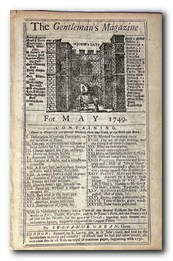 FIRST EDITION; the plate is described thus on the title page 'a View of the several Edifices for the Fireworks at Paris, Dublin, Worcester, and in St James's Park, for the Peace; and of that on the Thames, for the Peace of Utrecht with letterpress descriptions covering 6 columns. At the end the article comments on the April 27 London event 'The two adjoining arches took fire - see...p 186, 187. This account form the Daily advertiser of April 29 is also included loose with this issue. The music is referred to without mention of Handel by name, though the sensational fire clearly stole the show. This single issue, though an extract for the yearly volume, includes the large fireworks plate which is usually absent. £50.00
20. IRISH/SCOTTISH PEERAGE.: Supplement to the Gentleman's Magazine For the Year 1749. Containing...List of the Peerage of Scotland and Ireland, with their titles at large, blazon of their arms. London, E Cave, 1749. Supplement for 1749 only, 8vo, pp [577]-599, [21], with 12 engraved plates of multiple arms of the Scots and Irish peers, with descriptive letterpress, disbound, in very good state,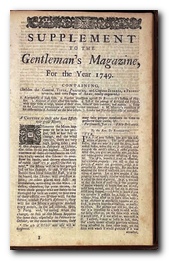 FIRST EDITION; a curious blazon compilation for the Gentleman's Magazine, the plates original issued two a month, here put together to make an integral whole. £25.00
21. NOAH'S ARK.: 'Explanation of the Plate of Noah's Ark' IN: Gentleman's Magazine February 1749. London, E Cave, 1749. 8vo, pp [3], 52-96, issue of Feb 1749 only, woodcut title page, woodcuts in text, one folding plate, disbound, in very good clean state,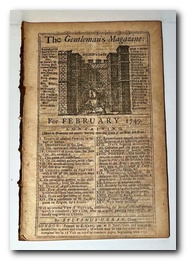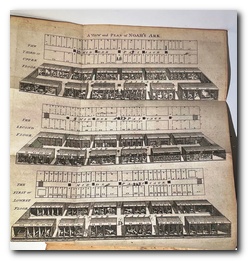 FIRST EDITION; a rather bizarre fundamentalist interest in finer constructional details of Noah's ark permeated the late 17th and early 18th century, promoted in England by the detailed description of Bishop Wilkins, never one to pass up curious speculation. This particular image, in the form of a multi-folding plate, derives from a Dutch source, we are told, and is accompanied by no less than nine columns of explanatory notes, including feeding tables etc and the engraver of the plate has gone to excessive lengths to illustrate the variety of animals housed in dozens of mini cabins. £35.00
22. CHATELAIN, MADAME DE.: The Silver Swan. A Legendary Tale....with illustrations by John Leech. London, Griffith and Farran, [?1847]. Square 16mo, pp 143, [1], [16, publisher's catalogue], text within rustic borders, with 4 hand-coloured plates by John Leech, wood-engraved by Linton, bound in original blue rubbed cloth, decorated in gilt and blind, spine a little rubbed an dulled, chaffed at spine ends. all edges gilt, fine clean copy internally,
FIRST EDITION, SECOND ISSUE, undated and with change of imprint from Grant and Griffith. ISSUE WITH THE PLATES COLOURED, issued in both coloured and uncoloured state. See Grolier 153-154, where this undated issue is given as 1847, same year as the dated one, though it may be a little later in fact, and this copy has an inscription dated 1858. In any case the charming coloured issue of this classic fairy tale, retold by Clara de Chatelain. £60.00
23. COLLINS, JOHN.: The Chapter of Kings by Mr Collins. London, J Harris, Aug 1st 1818 [but later] . Square 16mo, vignette title page, 37 etched plates with captions, original blue cloth titled in gilt to upper board, neatly rebacked, and with new endpapers, light foxing but in generally good sound state,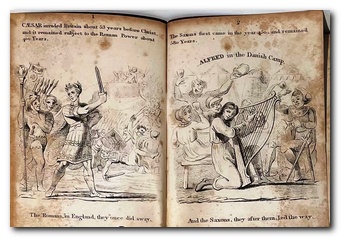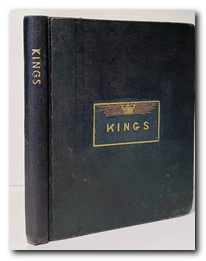 FIRST EDITION, LATER ISSUE, an uncoloured version of this child's pictorial guide to British history of considerable charm; Moon points out that it was reissued many times without change of date, but on later watermarked paper. £75.00
24. CROWQUILL, ALFRED.: Tales of Magic and Meaning. Written and illustrated by Alfred Crowquill. London, Grant and Griffith, 1856. Small square 8vo, pp x, [2], 175, [1], with four charming wood-engraved vignette plates by the author, all hand-coloured, bound in contemporary textured binders' cloth, a little rubbed, light occasional soiling to text, one small marginal tear, but a good copy,
FIRST EDITION, a generally underestimated collection of nine fairy stories showing the influence of magic and folk lore, surely inspired by Grimm and others. It marks the early stages of a genre of folk lore fiction that would ultimately find expression in the work of Tolkien in the twentieth century. £60.00
25. CUPPLES, ANNE JANE.: The Children's Voyage; or, a Trip in the Water Fairy. London: Marcus Ward & Co, 1873 Small 4to, pp 126, [2, adverts], with 14 mounted chromolithograph plates after paintings by Edward Duncan, bound in original bevel-edged pictorial redish-brown cloth blocked in black and gilt, all edges gilt, minor rubbing, a few minor spots, but a very good bright clean copy,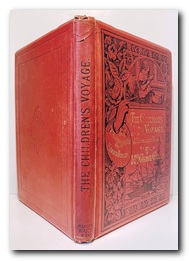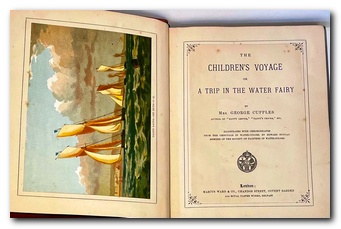 FIRST EDITION, an expensively produced Marcus Ward production employing the talents of a distinguished marine painter, Edward Duncan. He illustrates a typically Victorian upper middle class family sea voyage on a private sailing yacht sailing from London to Scotland, full of rather dramatic maritime adventure halfheartedly reflected in Mrs Cupples text. The plates, however, rather beautifully convey the rugged yet elegant aspects of Victorian sea life. £65.00
26. FORREST, GEORGE [PSEUD J G WOOD].: The Playground. Or the Boy's Book of Games. London, G Routledge, 1858. Small 8vo, pp x, 265, [3], wood-engraved frontispiece and text wood-engravings, bound in original blind stamped textured blue cloth, spine pictorial gilt, minor rubbing only, inner joints lightly cracked, but a fine clean, bright copy throughout,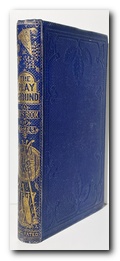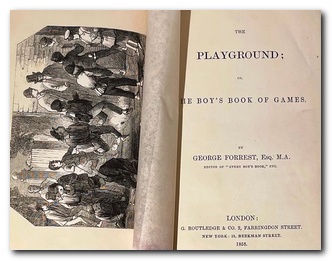 FIRST EDITION, rare in this condition - or any condition, in fact - an early work of J G Wood who would become one of the most popular of Victorian educational writers for children. By the 1850s the importance of games in children's mental and physical development was being appreciated, and for boys the cultivation of team and other sports in school had become an essential part of male development. In this litte book, apparently never reprinted, Wood attempted to portray a year in the life of one boy through his school games, serving both educational and recreational purpose. £60.00
27. HASTINGS. PARSONS, F.J.: 30 Views of Hastings , St Leonards and Neighbourhood. Summer and Winter Health Resort. Hastings, Parsons 'Observer' Office, circa 1898. Oblong small folio, 4 pages of letterpress description, followed by 30 half-tone photographic views of Hastings and neighborhood, original decorative coloured wrappers enclosed in original red cloth binding decorated in gilt and blind, patterned endpapers with light cracks to the joints, a very good bright clean state,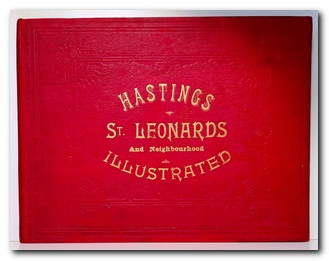 FIRST EDITION; This glossy up-market publicity brochure for the late Victorian town would be unremarkable, even in its superior cloth binding were it not for the double page panorama view by Blomfield of the Central Cricket Ground, a match in progress, captioned 'The Hastings Cricket Festival.' We are not aware if this was in all copies, but it suggests this album might have been prepared especially for that annual event. Residents can no enjoy the benefits of a shopping center where W G Grace once batted [or at least was photographed]. £45.00
28. KENT. VAUGHAN, HERBERT .S.: The Way about Kent....with a comprehensive County Gazeteer. London, Iliffe and son, circa 1895. Small 8vo, pp 190, [6, adverts], frontispiece, folding map - which is NOT torn, numerous line drawings throughout by the author, original decorated brown flexible cloth, gilt, rounded corners, a fine clean copy throughout,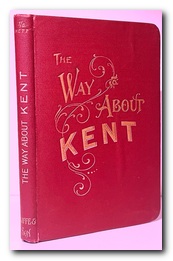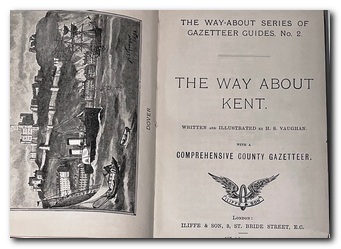 FIRST EDITION, No 2 in 'The Way About Series', a long series of cycling guides to the counties of England which commenced with Surrey in 1891, mostly written and illustrated by H S Vaughan. Published by Illiffe they were intended as convenient sized additions to the cyclist's or photographer's carrying bag, consequently not always found in pristine condition like this one, even rarer in the de luxe cloth binding. £30.00
29. LONDON AND MIDDLESEX. COOKE, C. [PUBLISHER].: Topographical and statistical description of the county of Middlesex, containing an account of its situation, extent, towns...to which is prefixed a copious travelling guide... forming a complete county itinerary... London, C Cook, circa 1820. Small pocket 12mo, pp [2], 334, [2], folding map frontispiece, 8 views on 4 engraved plates [these lightly foxed, bound in contemporary dark blue calf, spine decorated in blind and lettered in gilt, a fine clean copy,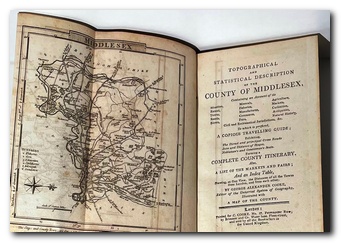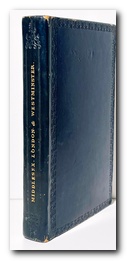 FIRST EDITION, a charmingly bound neat volume in the series The Modern British Traveller or Tourist's Pocket Directory, which covered all the counties of England and is sometimes dated to circa 1800, though the actual date is probably a little later. These little pocket guides were extremely popular at that time, and often appear separately in commerce, although this is a particularly nice example. £45.00
30. DARWINIAN THEORY. ANON.: The Darwinian Theory Examined. London, Bickers and son, 1878. Small 8vo, pp viii, 131, bound in original brown cloth, decorated in black and gilt, slightly rubbed, with hostile marginal annotations throughout in a near contemporary hand in ink pencil or blue crayon, some pencil underlining, a very good copy,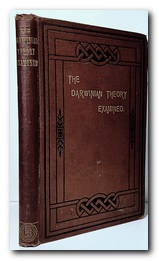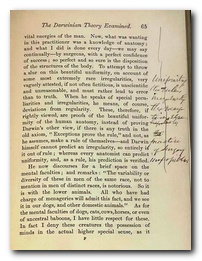 FIRST EDITION, the sole printing of the this virulent attack upon Darwin's theory of the Decent of Man, by a clear advocate of the fundamentalist theological school of thinkers. There were several such following Pusey's famous sermon attack, and this present author writes of Darwin as 'atheistical', and so far more pernicious to humanity, its refutation is the more to be desired.' The anonymous author goes on to link Darwin's works with suicide and it is unknown whether Darwin ever saw the book. He was then reaching the height of his scientific fame and is unlikely to have taken it at all seriously. The annotations in this copy, suggesting derision more than anything else, are typical of the rationalist scientific standpoints of Darwin's advocates, but there is only a later ownership label of one H W Clement from 1924, and a stamped monogram on the title page, to indicate provenance. £75.00