LITERATURE PRINTED BEFORE 1800.
1. BATES, WILLIAM.: The Speedy Coming of Christ to Judgment, represented in a funeral sermon, on the death of Mr. Benjamin Ashurst, who deceased the 11th of September, 1687. By William Bates, D.D. London, J Robinson, 1687. Small 8vo, pp [14], [2, adverts/errata], 95, [1], title within black border, bound in contemporary plain calf, joints worn but sound, a little splayed to the boards and with occasional marginal finger stains, but generally a good unsophisticated copy,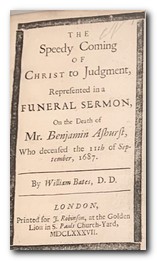 FIRST EDITION, a scarce funeral sermon by this eminent Presbyterian minister. Benjamin Ashurst, [1659-1687] was son of Henry Ashurst [1615-80], a family closely associated with the Merchant Taylors Company of the City of London, and Benjamin, according to this sermon was 'placed in the family of a Turkey merchant......he after some time went to Smyrna....return'd to England after some years spent beyond Sea...' . The sermon was published at Henry Ashurst's request following, as the dedication explains, his late brother's decease 'by the advice of his dear friends perswaded to submit to the dangerous Remedy of Cutting...did he yield himself to the Will of God.' Bates follows this with unnessesary sordid detail of the failed operation... 'an open passage for death to enter...' £150.00
2. BROWNE, SIR THOMAS.: Religio Medici...with Notes and Annotations...The Life of the Author.... Also Sir Kenelm Digby's Observations. London, J Torbuck & C Corbett, 1736. Small 8vo, pp xxxvi, 253, [1, adverts], [6], [4, adverts], engraved frontispiece, neatly bound in contemporary polished calf, spine gilt with raised bands and red label, upper joint cracked but holding, text lightly browned, slight rounding to upper outer corners [perhaps where damp], else a very good sound copy,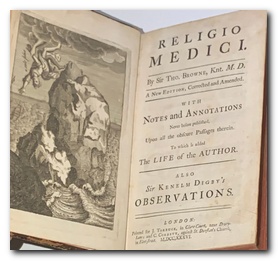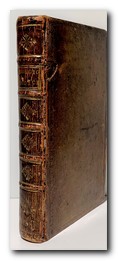 NEW EDITION, 'Corrected and Amended', with the usual annotations by Thomas Keck. £85.00
THE CAVENDISH-BENTINCK COPY
3. CELLINI, BENVENUTO.: The Life of Benvenuto Cellini: a Florentine artist. ... Written by himself in the Tuscan language, and translated from the original by Thomas Nugent, London : printed for T. Davies, 1771. 2 volumes, 8vo, pp x, 512:[46, including contents of both volumes, one gathering in duplicate], 403, [1, errata], portrait frontispiece in volume one [very slightly waterstained], bound in contemporary full polished calf, spines richly gilt with raised bands and red/black labels and library location numbers [see below], a little rubbed and marked, very light minor cracks to joints, internally browned to endpapers, only slightly to text, a very good set,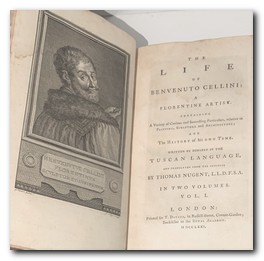 FIRST EDITION IN ENGLISH, CAVENIDISH-BENTINCK, 6TH DUKE OF PORTLAND'S COPY, with his bookplate in each volume. First translation of perhaps the first great autobiography of a European artist, a landmark publication in the history of art. Important also as the copy from Welbeck Abbey, home to one of the great art collections, that of Arthur Cavendish-Bentinck, Cellini no doubt on view in the grounds. Though this set has suffered from careless storage it remains attractive and of fascinating provenance. £250.00
4. FORBES, DUNCAN.: Reflexions on the Sources of Incredulity with regard to Religion. Edinburgh, Hamilton and Balfour, 1752. Small 8vo, pp [2], 122, bound in neat contemporary calf, spine gilt but missing label, upper joint lightly cracked, light wear at spine ends, but a nice copy,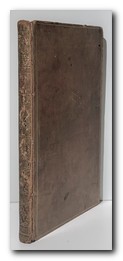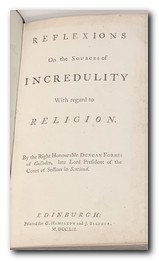 SECOND OR THIRD EDITION, following several in 1750, each with different pagination. A posthumously published tract by Forbes, written in support of Hutchinson and against the 'incredulity' of the freethinkers who were gaining some ascendency in Scotland as the Age of Enlightenment took off. £75.00
5. JOHNSON, CHARLES.: Chrysal: or, the Adventures of a Guinea. Wherein are exhibited Views of several striking Scenes...In America, England, Holland, Germany, and Portugal...By an Adept. London, J Watson [and others], 1784. 4 volumes, 12mo, bound in contemporary quarter calf, spines gilt with later replacement red labels, a little worn at some joints, but a very sound clean set,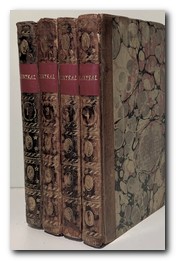 EARLY PIRATED EDITION, the imprint being spurious. The work as first envisaged in two volumes ended with the guinea's arrival in London, a suitable tongue-in-cheek moral ending 'content turn all your possessions into gold.' The continuation was published in two volumes later, with the complete novel as here in four. £75.00
6. LUIS DE GRENADA.: The Sinners Guide, containing a full and ample exhortation to the pursuit of virtue; with instructions and directions how to become virtuous. Written originally in Spanish, by the Reverend Father Lewis of Granada... [London] 'Printed in the Year 1702. 8vo, pp [10], 707, [3], without the final errata leaf reported in the Bodleian copy only, bound in near contemporary calf, lacking label, surface cracked and rubbed with small patches of insect damage to the leather, but still quite sound, front free endpaper removed, text lightly browned and trimmed slightly close to title page border, early signature of ?Nathaniel Johnson deleted on the title, else a good sound copy,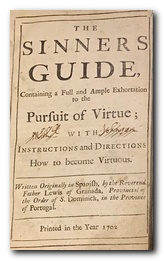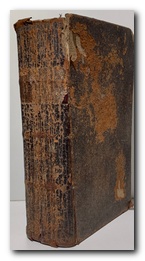 FIRST EDITION THUS, a re-translation of this great devotional treatise originally written in Spanish by Luis de Grenada, and previously published by Field in the Frances Meres translation of 1614 of which this does not appear to be a reprint. Both translations are fairly rare, Written originally in the 16th Century the work has been described as 'one of the most inspirational works of its era and remains a must-read for Catholics.' £295.00
7. PATTISON, SAMUEL.: Original Poems, Moral, and Satirical. London, printed for the author by Charles Paramore, 1792. Small 12mo, pp 228, bound in contemporary half calf, spine gilt, slight insect dame to the upper joint and surface leather, rub to marbling of lower board, corners a little worn, internally sound and clean,
FIRST EDITION, the author's second collection of poetry, including some revised versions of poems printed in his first collection in Manchester in about 1790. Both collections are very rare, this collection including many secular poems not included in the more overtly religious themed Manchester collection and with a long and interesting preface recounting the poets poet progress in life in a curiously naive manner. Pattison was clearly an evangelical inspired writer who would go on to write 'The Golden Lamp yet Burning' in 1798, and another collection of poems 'On Sublime Subjects' in 1801. £125.00
8. STEELE, RICHARD.: The Lover , to which is added The Reader by the Same Author. London, J Tonson [and 2 others], 1715. 12mo, pp [12], 297, [15], bound in contemporary panelled calf, spine gilt with raised band and, red label, a little rubbed, joints lightly cracked, corners very neatly restored , a very good neat sound copy,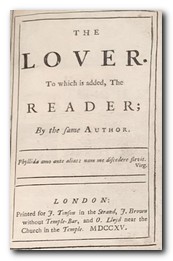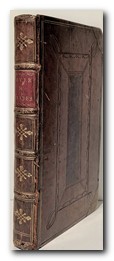 FIRST BOOK FORM EDITION, the duodecimo issue. Two 1714 periodical publications by Steele, dedicated to Garth, less commonly found than many of the period. The volume covers the 40 issues of The Lover and 9 issues of The Reader. A pleasing copy. £90.00
9. TERTULLIAN.: Q. Septimii Florentis Tertulliani Apologeticus et ad Scapulam liber. Accessit M. Minucii Felicis Octavius. Cambridge, Joan. Hayes, impensis Henr. Dickinson & Rich. Green, 1686. Small 12mo, pp [8], 135, (1), (2), 11(1), (66), 74, [2, bookseller's advertisements], bound in 20th Century full plain calf with title in blind to spine, light marginal browning but a very good neat copy,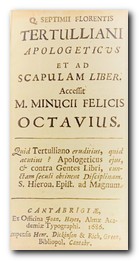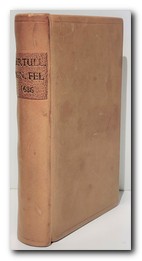 FIRST EDITION THUS, the first printing in England of any Latin text by Tertullian, the first of the great Church Fathers. His Apologeticus was written in Carthage in 197 AD; the shorter Ad Scapulam was composed shortly after 212. Also included, as often, is the slightly earlier Octavius of Minucius, a dialogue in the Ciceronian manner between a pagan and a Christian, and one of the earliest of all surviving Christian apologetic text. An excellent crisp copy internally, with ownership of the historian George C Book, and note that he purchased the volume from Arthur Page in 1981 for £15, and had it rebound the following year for £30, The bookplate is retained of its original owner, George Kenyon of Peel Hall, an eminent Lancastire Tory politician of the early 18th Century. £100.00
LITERATURE PRINTED AFTER 1800
10. ACROSTICS.: Acrostics. By the Hitchin Acrostic Club. London, Hodder & Stoughton, 1868. Small square 12mo, pp viii, 187, [1], title in red and black, bound in original bevel edged pictorial cloth, gilt, light crease in title else a bright near fine copy,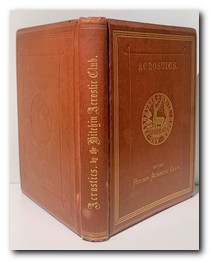 FIRST EDITION, with signature of John Gatwall, Hitchen, on the endpaper, presumed editor 'Some said John, print it; others said, not so...' In any case an extremely publication from the period of acrostic fanaticism in England. There was a 'Key' published to this volume which is even rare, but sadly we do not have it. £75.00
11. BELLOC, HILLAIRE.: The Servile State. London, T N Foulis, 1912. 8vo, pp [8], 189, [1], [4, adverts, uncut in original red paper boards, slightly faded to spine, minor wear to uper joint, but a very good clean bright copy,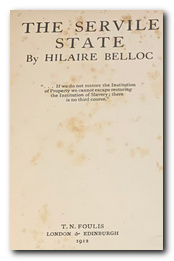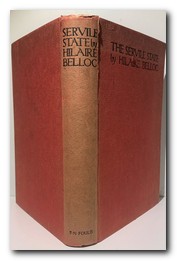 FIRST EDITION; a celebrated political polemic of the right advocating the establishment of compulsory labour legally enforcable...' £15.00
12. BRIDGES, ROBERT.: Eros & Psyche. A Poem in Twelve Measures. London, George Bell & sons, 1885. Small square 8vo, pp [6], 158, [2, adverts], title in red and black, uncut in original vellum backed boards, spine gilt, a little darkened and soiled, but a very good sound tight copy,
FIRST EDITION of the poem that made Bridges famous and ultimately Poet Laureate in 1913, this retelling of the Eros myth of Apuleius drew great critical praise at the time. Patmore predicting it would become the standard version of the story, which it did not, though it remains a high point in late Victorian English poetry £35.00
13. COLLINS, WILKIE.: The Dead Secret...New Edition. London, Sampson, Low and co, 1862. Small 8vo, viii, 317, [1], engraved vignette frontispiece dated 1861, bound in contemporary half calf, spine gilt with raised bands and black label, marbled endpaper, lightly rubbed but a nice neat copy,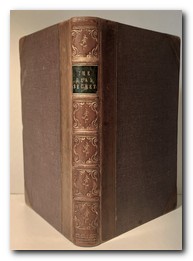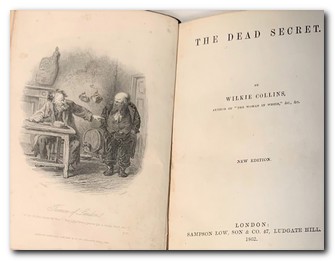 FIRST ONE VOLUME EDITION; Collins' fourth novel, originally published in Household Words during 1856, and in three volumes the same year. An early novel of mystery the preceded the more famous Woman in White. £75.00
14. DICKENS, CHARLES.: The Adventures of Oliver Twist; or, The Parish Boy's Progress. London, For the Author by Bradbury & Evans, 1846. 8vo, pp xii, 311, [1], half-title, 24 etched plates by George Cruikshank, contemporary polished half black calf, spine decorated in blind with flat gilt ruled bands and maroon label, a little rubbed, light foxing only to the plates, a little more to the last plate, but generally quite clean images throughout, a good copy overall,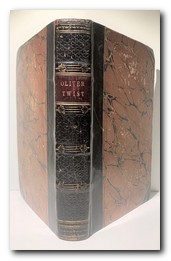 FIRST SINGLE VOLUME EDITION, issued from parts, and generally considered one of the scarce and desirable single volume firsts of Dickens; preceded by 3 three decker editions, the preface to the third being included here, with all Cruikshank illustrations re-engraved for the larger format printing. A good example in nice contemporary binding. £225.00
15. DRAMA. BALDWYN, CHARLES [PUBLISHER].: The Old English Drama. A Selection of Plays from the Old English Dramatists. Nos 1-IV [i.e. 5]. London, Charles Baldwyn, [1824]. 5 separately printed plays in one volume with a general title page to the first 4 and wood-engraved plate, bound in contemporary half calf, rubbed and with large chip to spine at head, internally fine.
Baldwyn usefully reprinted early quarto editions as follows: 1. Anon. The Second Maiden's Tragedy. From MS. 2. The Ball by Chapman and Shirley. 3. A Pleasant Conceited Comedy. Anon. 4. The Rape of Lucrece by Heywood. 5. Love;s Mistress by Heywood. Each play was separately printed with a title page dated 1824 and a historical introduction, an important collection in the 19th Century revival of English Jacobean drama. Baldwyn continued issuing these attractively printed reprints until 1827 £45.00
16. MUSIC IN GERMANY. HOLMES, EDWARD.: A Ramble among the Musicians of Germany, giving some account of the Operas of Munich, Dresden, Berlin etc with remarks upon the church music, singers, performers, and composers. London, Hunt and Clarke, 1828. 8vo, pp xii, 286, [4, adverts], 2 pages of music in text, uncut in original linen cloth, sometime neatly rebacked in cloth with paper label and new endpapers, a very good copy,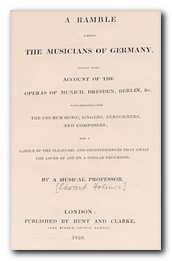 FIRST EDITION; advertised on the title as 'By a Musical Professor' and 'a sample of the pleasures and inconveniences that await the lover of art on a similar excursion' this was clearly designed as a sentimental rather than scholarly journey, and one of entertainment. Its dedication 'To the Members of the Philharmonic Society' suggests its original aimed readership, coming just one year after the death of Beethoven as well, though rather less noticed, year of the death of Schubert. Holmes was 31 at the time of writing and became a well known music critic on the strength of the book's success [it went through 3 editions], as well as a notable early biographer of Mozart. £120.00
17. PEGGE, SAMUEL.: Anecdotes of the English language: Chiefly Regarding the Local Dialect of London and its Environs...to which is added a Supplement to the provincial Glossary of Francis Grose. London, By and for J Nichols, 1814. 8vo, pp xvi, 428, bound in contemporary half calf, neatly rebacked in calf, spine gilt with raised bands, a very nice copy,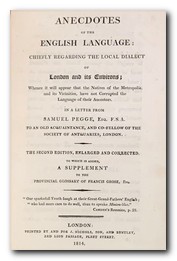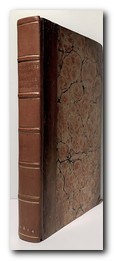 SECOND EDITION, 'enlarged and corrected' with the publisher's supplemental dictionary to Grose's Provisional Glossary added at the end, a substantial work of 65 pages. Pegge's work is an interesting ground breaking study of dialect usages here presented by Nichols in its definitive form. £125.00
18. ROSSETTI, DANTE GABRIEL.: Poems. London, F S Ellis, 1870. 8vo, pp xi, [1], 282, [2], [4, adverts], original decorated cloth designed by Rossetti, uncut, lightly cracked to inner joints, but an excellent bright copy,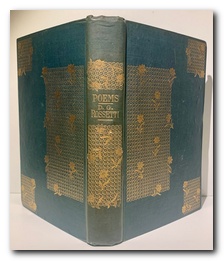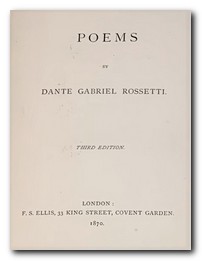 THIRD TRADE EDITION, the three editions of 1870 are identical in both content and presentation, this a nice example of the original binding design. £25.00
19. SCOTT, MICHAEL.: The Cruise of the Midge. Edinburgh, William Blackwood [and T Cadell, London], 1836. 2 volumes, small 8vo, half title in volume one, neatly bound in contemporary half calf, spine gilt with double maroon labels, minor rubbing only, else a fine clean set with green bookplates and name on title of John F Richards,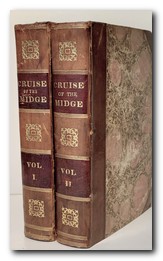 FIRST BOOK FORM EDITION IN UK, having appeared previously in Blackwoods Magazine and in book form in Paris. An attractive set of this collection of adventures of a West Indies sailor in the early 19th century based upon the author's own experiences in Jamaica, and written as a sequel to his 'Tom Cringle's Log.' This book form edition appeared shortly after the author's early death in 1835. £85.00
20. TOONE, WILLIAM.: A Glossary and Etymological Dictionary of Obsolete and Uncommon Words, antiquated phrases, proverbial expressions, obscure allusions...words which have changed their significations illustrative of the works of our early dramatic and lyric poets. London, William Pickering, 1832. 12mo, pp viii, 467, half title, bound in contemporary half morocco, a little rubbed at corners and joints but very sound, early etymological account of the word 'book' inserted from another dictionary at the front [an entomological one would have been useful also], a neat pleasing copy,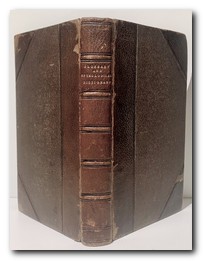 FIRST EDITION; little is known of the obscure miscellaneous writer William Toone, though he wrote on history and law, and was clearly widely read in the earlier English dramatists and poets. The present neatly printed and ordered compilation from early sources provides a fascinating and entertaining insight into Old and Middle English usages as perceived by an early 19th century philologist and lexicographer. £60.00
21. WOOD, MRS HENRY.: East Lynne. Copyright Edition. Leipzig, B Tauchnitz, 1861. 3 volumes bound in one, small square 8vo, bound in neat contemporary half tan calf, spine gilt with raised bands and red label, a little rubbed to joints and edges, inner joints lightly cracked, but a very good sound clean set,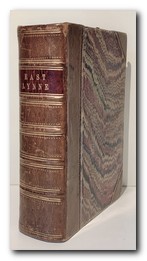 FIRST TAUCHNITIZ EDITION, from the first English edition of the same year. thus [perhaps correctly] designated second edition by some, first continental edition by others. Whatever, this edition represents a very close to first printing of a classic of the Victorian 'sensation' genre of novel, enlarged from its first serialisation in the new Monthly Magazine. £50.00
ILLUSTRATED, ART AND ARCHITECTURE.
22. BINDING. THOMSON AND GRAY.: The Poetical Works of Thomson and Gray. London, Thomas Nelson, 1858. Small 8vo, pp 425, with frontispiece portrait and plates, finely bound in contemporary full red morocco, richly gilt to sides and spine, edges gilt, inner gilt denteles, a fine bright copy,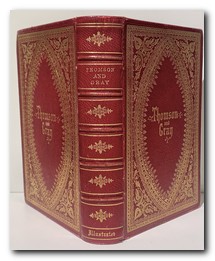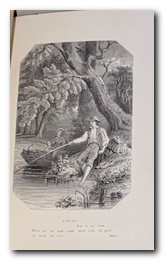 FIRST EDITION THUS, an inconsequential mid Victorian edition of these poets, in a period trade binding of quality; an excellent example. £25.00
23. BLAKE, WILLIAM. ALEXANDER.: Life of William Blake, "Pictor Ignotus." With Selections from his Poems and Other Writings. Illustrated from Blake's own Works, in facsimile by W.J. Linton, and in photolithography; with a few of Blake's Original Plates. London: Macmillan, 1863. 2 volumes bound in one [as issued], 8vo, pp xv, [1], 389; vii, [1], 268, portrait frontispiece in vol. 1, folding frontispiece of Canterbury Pilgrims in vol. 2, numerous illustrations from Job and Songs, bound in original roan morocco backed pictorial brown cloth, upper board stamped in gilt and black, lower board in blind, spine gilt lettered, slightly chipped and repaired at head of spine, inner front joint cracked but sound, else a very good clean bright copy of an unwieldy and fragile book,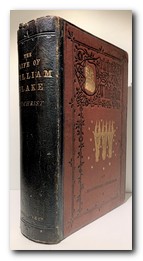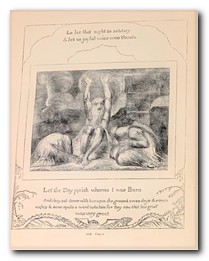 FIRST EDITION, SECOND ISSUE, for which the two cloth bound volumes of the first issue are united with the same binding design backed with a roan leather spine. Macmillan here reissued the sheets of the first issue in the new format at a reduced [but still substantial] price. WITH BOOKPLATE OF WILLIAM BRODIE, RSA, [1815-1881], the eminent Victorian Scottish sculptor whose public work may be seen throughout Scotland, some of it possibly influenced by William Blake's designs. Brodie was closely associated with the Royal Scottish Academy, becoming its secretary in 1876. A good and important copy of Blake's first full-scale biography, unfinished at Gilchrist's death and largely completed by Dante Gabriel Rossetti who wrote the final chapter from Gilchrist's notes, with help from his brother William Michael, and Swinburne whose own book on Blake was the result of his researches. Bentley, Blake Books, 1680A. £275.00
24. KING, JESSIE M [ILLUSTRATOR]. SPENSER, EDMUND.: Poems of Spenser Selected and with an Introduction by W B Yeats. Edinburgh, T C & E C Jack, [1906]. Small square 8vo, pp xlvii, [1], 290, half title, portrait frontispiece and vignette title, 8 plates by Jessie M King heightened in pink, uncut in original blue decorated cloth, a little faded to spine and darkened to lower board, and with light rubbing, else a very good tight clean copy,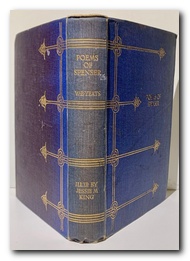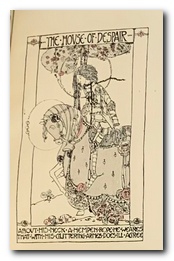 FIRST EDITION THUS, later printed by Caxton Press, a charming example of neat Edwardian book production, with characteristic Glasgow School illustrations of an elaborate Art Nouveau nature by Jessie M King, plus long introduction and [presumably] notes by W B Yeats written in equally characteristic high-flown prose ' Allegory and, to a much greater degree, symbolism are a natural language by which the soul when entranced...communes with God and the angels...', This may, in fact, have been designed as a rather upmarket school text of the period [the private and public school system could well support such publications when poetry was quite major on the curriculum] or at least a suitable gift for a young student of English poetry. £75.00
25. PROUT, SAMUEL [ILLUSTRATOR]. KENNEDY, [EDITOR].: The Continental Annual , and Romantic Cabinet for 1832. With illustrations by Samuel Prout. London, Smith Elder and co, [1832]. 8vo, pp ix, [1], 313, [1], engraved frontispiece, vignette title page, 11 plates [as called for], ALL FINELY HAND COLOURED, probably near contemporary, finely bound in 20th century full cerise deep grained morocco, spine gilt with raised bands and black label, a fine copy throughout with tissue guards in place before the plates,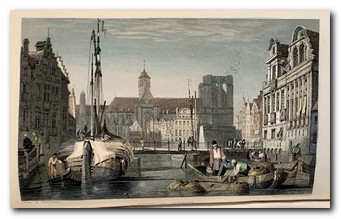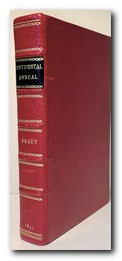 FIRST EDITION; The Continental Annuals were a popular series at this period, combining a selection of new short stories and novellas having European settings, with Continental views of cities by distinguished artists, in this case the ever prolific and popular Samuel Prout. His expert work is here presented through work of a series of highly competent engravers supervised by E I Roberts. This is a magnificent copy hand-coloured to the highest standard, and with views ranging from Antwerp to Nuremberg, Dresden to Prague, as well, of course, Italy. The literary contributions are not without interest, however, though annoyingly anonymous. They includes a three part novella 'The Prima Donna, a musical tale.' which is not the 1828 novel of that name attributed to one Richard Becke, but a story concerning Mozart and opera set in the 1770's, authorship untraced, but claimed to be the work of 'a musical amateur.' £175.00
26. SIXTIES ILLUSTRATION.: Our Life Illustrated by Pen and Pencil. London, RTS, [1865]. Large 8vo, pp 224, with wood engravings throughout by Noel Humphrys, Watson, Selous, Du Maurier, Pinwell and others, in original bevel-edged blue cloth, elaborately gilt decorated to spine and both boards, all edges gilt, a fine bright copy throughout, free of the usual foxing,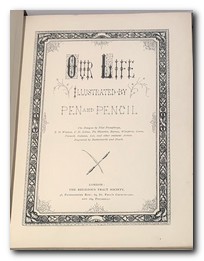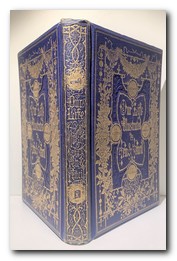 FIRST EDITION. A fine example of a Noel Humphrys design binding. £45.00
CHILDREN'S BOOKS
EARLY ENGLISH STRUWWELPETER WITH TWO EARLY IMITATIONS
27. HOFFMANN, HEINRICH -THEODORE HOSEMANN. - ALFRED CROWQUILL: The English Struwwelpeter or Pretty Stories and Funny Pictures. BOUND WITH: A Laughter Book for Little Folk. BOUND WITH: Funny Leaves for the Younger Branches by Baron Krakemsiyenoudelafen of Burs [Leipzig, Friedrich Volckmar, [circa 1848-53]/ Cundal & Addney, circa 1851/ Grant and Griffith, [ .1852]. 3 works bound in one volume, small 4to, comprising: 1. The English Struwwelpeter, 24 leaves printed on rectos only, lithographed illustrations throughout, all coloured by hand, last leaf restored to blank margin, light soiling only, a few small stains, but generally quite clean.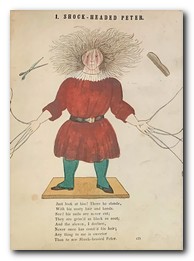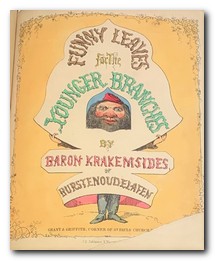 FIRST OR EARLY ENGLISH EDITION. 2. A Laughter Book for Little Folk. From the German of Ch. Hosemann. By Madame de Chaterlaine. 18 leaves numbered [2, title page with contents indexed on verso], 3-19 [1, colophon], hand coloured throughout including title page. light soiling only. FIRST EDITION. 3. Funny Leaves by Baron Krakemsides....' 16 leaves hand coloured throughout, title page restored at corner with slight loss of end of imprint, one leaf, one leaf with repaired teat, a few clean tears to inner margins without loss, else generally clean. FIRST EDITION, the three items bound together in modern neat calf backed marbled boards with red label, retaining the original front free endpaper with ownership inscription dated 1853. Early Struwwelpeters and their imitations are always problematic to date when wrappers or boards have been discarded in rebinding. This copy of The English Struwwelpeter cannot be later than 1853, and comparison with images online demonstrates that it is printed from Volkmar's plates of the original English edition of 1848. These were subsequently printed from a number of times before they were re-engraved for the more familiar common version with all its modifications and changes from Hoffmann's original. The Cundall Strewwelpeter imitation by Hosemann of 1851 is quite rare, complete with title, contents and 10 poems about naughty children as listed, and printer's colophon on final verso. The third item is Alfred Crowquill's attractive elephant story 'Funny Leaves.' of 1852, in similar format and design to the other two. A most attractive and rare collection. £350.00
28. TAYLOR, ISAAC.: Scenes in America, for the Amusement and Instruction of Little Tarry-at-Home Travellers. London, John Harris and sons, 1822. Small 12mo, pp viii, 120, [iv, catalogue], folding map frontispiece, 84 images on 28 plates, original red roan backed pictorial boards with minor soiling only, other minor faults but a fine clean tight copy,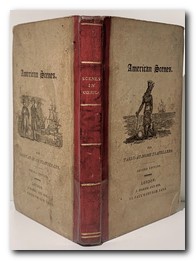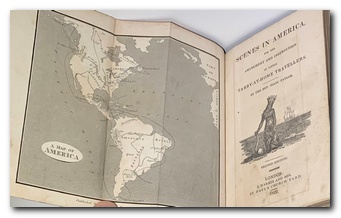 SECOND EDITION, with book plate of C Frost, stationer and binder of Bristol. Scarce in this condition. £120.00
TOPOGRAPHY.
29. KENT. SMITH, J.: Topography of Maidstone, and its Environs, and Directory of the Clergy, Gentry, Tradesmen, etc of Maidstone. And also a Correct Address of the Nobility, Clergy, Gentry etc residing in the Vicinity. Maidstone, Printed and Published by J Smith, 1839. Small 8vo, pp [4], iii, [1, errata], 108, 38, [26, trade advertisements], half title, frontispiece plan of the town, folding map of 'places adjacent'. and a plan of the Roman villa, bound in original blind-stamped cloth, lettered in gilt, rebacked in cloth, lacking front free endpaper else a good copy,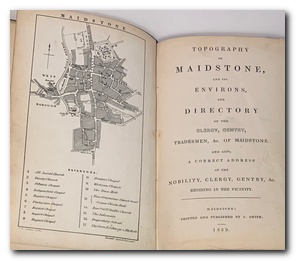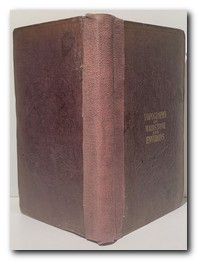 FIRST EDITION. £45.00
SCIENCE
30. FREUD, SIGMUND.: Wit and its Relation to the Unconscious... authorized English translation with an introduction by A A Brill. London, T Fisher Unwin, 1916. 8vo, pp vii, [3], 388, uncut in original cloth, minor sunning to spine, some light pencil underlining throughout [see below], else a very good copy,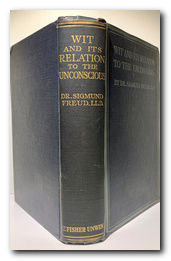 FIRST EDITION IN ENGLISH, one of the earliest of Freud's works to appear in English, in A A Brill's somewhat dubious, though authentic, translations. This copy with endpaper signature of Edward Roffe Thompson [E T Raymond 1891-1973] dated 1917, and judging by his pencil underlines of the incredibly humourless he clearly studied the work with care. Psychological insight evidently an asset for the future editor of John Bull and prodigious author of biographies of prime ministers such as Balfour, Lloyd George and Disraeli. His most successful publication 'The Human Machine, Secrets of Success' [1925-31] may well have been influenced by Freudian thought. £60.00