RARE COMPENDIUM OF GENERAL KNOWLEDGE FOR CHILDREN.
1. ADAMS, REV J.: The Elements of Useful Knowledge, in Seven Books; comprehending short systems of Astronomy and Geography, Mythology....Natural Philosophy and Metallurgy, Government and Jurisprudence. London, for C Law [and 3 others], 1799. 12mo, pp xi, [1], 329, [3, adverts], [12, 'A Catalogue of one hundred and thirty approved books...printed for Charles Law], bound in original polished sheep, spine gilt ruled with red label, spine worn and slightly chipped at ends, joints cracked but holding, a very sound clean copy in original state,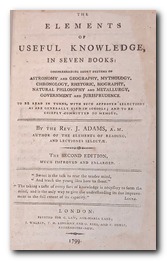 SECOND EDITION, 'MUCH IMPROVED AND ENLARGED' -as Rev Adams explains in his introduction. This extremely rare text book of general knowledge was deliberately cheaply produced and intended to encompass a wide range of learning for the poorer pupil. Law first published the book in 1793 with 333 pages, this second printing not recorded in ESTC; the first had a frontispiece but there is not evidence that this copy ever had one. and it is in remarkably well preserved original state for a cheap sheep schoolbook binding of the 18th Century. An interesting feature is Law's 12 page separately printed catalogue of text books bound in at the end, this, judging by quoted reviews, dating from 1800 [ESTC gives one location UK, one USA]. SOLD

AESOP IN LATIN AND ENGLISH

2. AESOP. H CLARKE.: Fabulae Aesopi Selectae or Select Fables of Aesop; with an English Translation, more Literal than any yet extant,Designed for the Redier Instruction of beginners in the Latin Language. London, W Strahan [and others], 1784. 12mo, pp [8], 155, bound in original brown plain hessian cloth, one leaf trimmed close just touching outer letters of lines, front free endpaper removed, else a remarkably clean tight sound copy,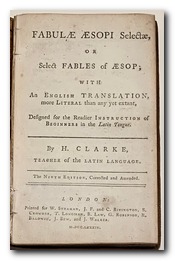 NINTH EDITION; Aesop was no-doubt one of the most popular texts for teaching Latin to children and Clark's edition with his own translation and morals was not-doubt one of the most popular during the second half of the 18th Century. Few copies, or editions, have survived as well as this one, however, which is recorded in ESTC Nottingham copy only, with 3 copies USA including Rosenbach's. Clarke's text was first printed in 1732, but all editions are rare.

SOLD

COLOUR WOOD-ENGRAVED ALPHABET BOOKK

3. 3. ALPHABET BOOK.: The Pretty Picture A.B.C. With rhymes to please my friends and me. London, Thomas Nelson, [1867. 4to, PP [2], 5-30, title page and 26 leaves printed on rectos only, each with a letter printed in red with a pictorial surround printed in black on a green tint background, below a rhyming text exhibiting the vocabulary of the initial letter, bound in original cloth backed pictorial colored glazed boards, corners worn, internally with signs of use and minor fault and tears only, but generally good and quite clean for this type of publication,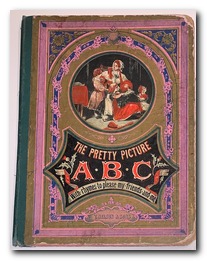 FIRST EDITION; a scarce and attractive Victorian pictorial alphabet wood-engraved by W G Mason, It is not clear if a leaf is required between the title and beginning of the alphabet but if so the only other copy examined had the same fault.

SOLD

EARLY ILLUSTRATED HANS ANDERSEN CLASSIC..

4. ANDERSEN, HANS CHRISTIAN ANDERSEN.: The White Swans and other Tales...illustrated by Alice Havers. London, Hildesheimer & Faulkner, [1885]. Oblong large 8vo, pp 48, illustrated throughout in alternate sepia and chromolithography, text on tinted backgrounds within decorative borders, original pictorial glazed cloth backed boards, slightly worn and with small marginal faults, one leaf of text slightly adhered to a plate, with loss of a few letters a little used but good,
FIRST EDITION; an early illustrated version of Andersen, the stories selected from Warne's collection as translated by Mrs Paull. Alice Haver's high Victorian style of illustration is amongst the most charming of the early versions. £45.00
EXTREMELY RARE COMPENDIUM OF POPULAR FICTION FOR SCHOOLCHILDREN.EXTREMELY RARE COMPENDIUM OF POPULAR FICTION FOR SCHOOLCHILDREN.
5. ANON.: The Polite Instructor, or, Youth's Museum. London, T Becket, 1761. 12mo, pp [6], 18, 244, with a letterpress title preceded by a title within engraved border and an initial blank, bound in contemporary plain sheep, rubbed and worn at corners and extremities, slight cracking to joints but quite sound, internally soiled and lightly browned, with light damp-marking and water-stains at the end, minor faults, but sound and tight,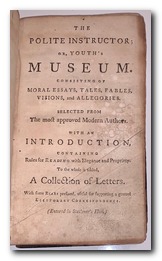 FIRST EDITION the extremely rare first printing of this anthology of short moral stories derived from a variety of largely fictional but unspecified sources, intended to instruct children in the art of prose writing, followed by a section of poetry and a final section of fairly standard letter-writing examples. This must have been a fairly popular work in its time, with a Dublin edition recorded in the Opie collection dated 1768, subsequent London editions in 1777 and 1783. All printed are excessively rare, however, and though in hardly the best of condition this copy is at least complete and tightly bound. ESTC records 2 copies UK, and 6 North America.
SOLD
6. ANON.: The Moral Miscellany: or, a Collection of Select Pieces, in Prose and Verse. For the Instruction and Entertainment of Youth. London, T Cadell, 1773. 12mo, pp [8], 376, contemporary, no-doubt original sheep, spine gilt ruled with raised bands, rubbed and cracked at joints which are holding well, front free endpaper removed, a few marks but generally a clean sound copy,
FOURTH EDITION ' corrected and enlarged.'. This anthology text of poetry and prose was hugely popular as a schoolbook throughout the 18th century, though it rarely survives in good clean original state. ESTC records 2 copies UK and 4 USA.
SOLD
RARE SEQUEL TO THE BOOK OF TRADES.
7. ANON.: The History of Discoveries and Inventions, chiefly Intended for Entertainment and Instruction of Young Persons: being a Sequel to the Book of Trades. London, Tabart and co, 1808. 24mo, pp viii, 144, original quarter roan, marbled sides rubbed and worn at edges, front free endpaper removed, light occasional soiling, and slight pulling of the gatherings, but basically a good sound copy,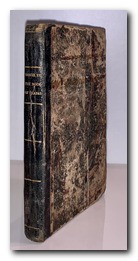 FIRST EDITION; the Book of Trades had been a highly successful children's title, essentially an introduction to modern technology for the young. This supplement, dealing more with the history of inventions like coffee, the steam engine, the magic lanthorn - bizarrely pitched before bayonets, was unillustrated and considerably less popular. Yet the anonymous author has tried to spice up a somewhat dry subject with such novelties as 'Machine for notating Music' which would have been very useful had it worked. Copies recorded at BL, Trinity and Welcome, this last viewable online.
SOLD
8. BEAUMONT, LE PRINCE DE.: The Young Misses Magazine: Containing Dialogues between a Governess and several Young Ladies of Quality her Scholars... London, J Nourse, 1767 Volume one only [of 2], 12mo, pp vi, [2], 316, half title, bound in contemporary polished calf, spine gilt with raised bands and red label, light spotting and soiling, but a good copy,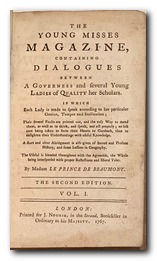 SECOND EDITION; though only the first part this is a very rare printing and a pleasing copy of this classic work for children, stories in dialogue form, between 'ladies and their governess.' which first appeared in French in 1757 and in English in 1759. There are several version of the translation, this one in two volumes issued by Nourse a scarce one. £50.00
GREAT CLASSIC OF CHILDREN'S VERSE.
9. BELLOC, HILAIRE.: Cautionary Tales for Children. London, Eveleigh Nash, [1907]. Small 4to, pp 79, [1], illustrations throughout by B.T.B., original pictorial grey boards lettered in brown and black, minor rubbing and fading to spine, light browning to endpapers as usual, but a near fine copy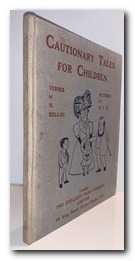 FIRST EDITION, 36 King Street issue, sometimes listed as the second issue, but nevertheless a remarkably nice copy of ; Belloc's best remembered book of children's verse and an all time classic juvenile title. £85.00
10. BELLOC, HILLAIRE.: The Bad Child's Book of Beasts. London, Duckworth, [1903] 4to, pp 47, [1].with illustrations throughout by Lord Basil Blackwell, original flush grey pictorial boards printed in black and red, slight wear to spine, enpapers a little foxed else a very good sound copy of a fragile title,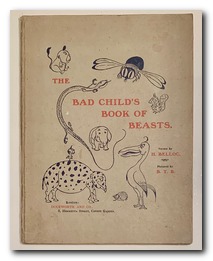 FIRST DUCKWORTH EDITION, previously issued in the same format by Alden in Oxford, one of the most famous of Belloc's children's titles. £30.00
RARE FIRST DUBLIN EDITION OF BOYER'S FRENCH MASTER.
11. BOYER, ABEL.: The Complete French Master. Containing 1. A New Method of French Grammer II. A Well Digested, and Copious Vocabulary...Familiar Phrases and Dialogues...List of Idioms... Collection of Letters. Dublin, John Exshaw, 1783. 12mo, pp [8], 423, bound in contemporary speckled plain sheep, a bit wormed to leather at joints but quite sound, if rubbed, light evidence of use, a few early manuscript alterations and deletions to the vocabulary, else a good sound copy for such an early textbook,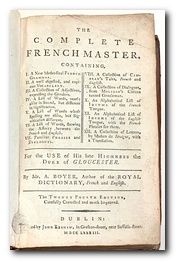 TWENTY FOURTH EDITION; although first published almost a century earlier Boyer's work held its place as the major textbook for learning French throughout the 18th Century. Dublin editions are ; this appears to be the only printing by Exshaw, ESTC recording the BL, Dublin City and NLI copies only and no earlier Dublin printing.
SOLD
SECOND PRINTING OF AN ILLUSTRATED VERSE AID TO HISTORY.
12. BROWN, LOUISA.: Historical Questions on the King of England, in Verse. By Louisa Brown. London, Darton, Harvey & Darton, 1815. Square 24mo, pp 33, [1], [2, adverts], with 33 oval wood-engraved portraits of English monarchs, each placed above the text on each page, original fawn printed wrappers, sewn as issued, minor external rubbing, soiling and marking only, but an excellent clean sound copy,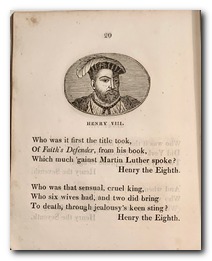 SECOND EDITION; The Renier copy in the V & A is dated 1813, but seems otherwise identical. A scarce and interesting historical text for children, teaching them to remember English monarchs though memorizing short verses prompted by a picture image. SOLD
RARE FIRST DUBLIN PRINTING OF CHAMBAUD'S FRENCH SPEECH.RARE FIRST DUBLIN PRINTING OF CHAMBAUD'S FRENCH SPEECH.
13. CHAMBAUD, LEWIS.: Exerrcies to the Rules of Construction of French-Speech. Consisting of Passages rextracted out of the best French Authors. With a Reference to the Grammar-Rules, to be turned back into French. Dublin, James Potts and Samuel Watson, 1762. 8vo, pp x, 166, page 1112 misnumbered, page x catchword incorrect as in ESTC and Alston XII 313, bound in contemporary unlettered sheep, a little rubbed and worn to corners and head of spine, a few early pen notes to the conjugations, but a very sound clean copy overall,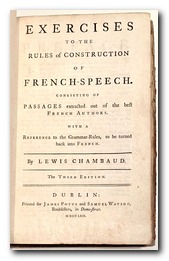 THIRD EDITION, but first Dublin printing. Very rare - ESTC records the BL and Cambridge copies only.
SOLD
CHARMING CHAPBOOK IN FINE STATE.
14. CHAPBOOK. KENDREW CHAPBOOK.: The History of Tommy and Harry Embellished with Engravings. York, J Kendrew, circa 1830. Small 24mo, pp 30 [0r 32 as wrappers are included in pagination], with wood-engraved frontispiece on paste-down, vignette title page, 6 charming wood-engravings in text, alphabet sheet on lower paste-down, original printed wrappers, a fine unused example,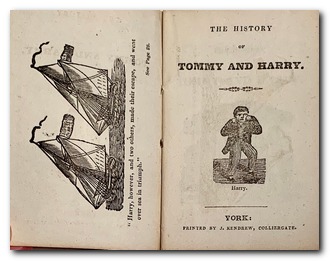 FIRST EDITION THUS, a very pleasing example of one of Kendrew's penny chapbooks as listed on the lower wrapper; the book traces the growing up of two boys, the 'bad' and 'good', the former at last torn to pieces by a wild animal [not visually depicted. Scarce in this fine condition. £75.00
VICTORIAN RETELLING OF NURSERY RHYMES IN STORY FORM.
15. CLARK, MARY SENIOR.: Lost Legends of the Nursery Songs. London, Bell & Daldy, 1870. Square 8vo, pp iv, 248, 16 wood-engraved plates after the author's designs, bound in original pictorial green cloth blocked in gilt and black, edges gilt, slight rubbing and chaffing to spine ends, front inner hinge strained, else a very good copy,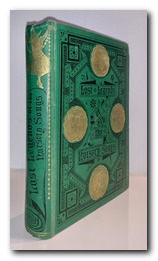 FIRST EDITION; prose retelling of 16 popular nursery rhyme stories for an older age group. The clever concept of Senior Clark gained some popularity and the book was later republished with illustrations by Alice B Woodward, though this original black and white production is itself an attractive offering. £60.00
FINE COPY OF MARY CLAUDE'S FIRST BOOK.
16. CLAUDE, MARY S.: Little Poems for Little people. By M.S.C. London, Chapman and Hall, [1847]. Small 8vo, pp 80, half title, wood-engraved frontispiece and vignette illustrations in text, bound in original dark green ribbed cloth decoratively stamped in gilt and blind, Maidstone bookseller's label, a fine bright copy throughout,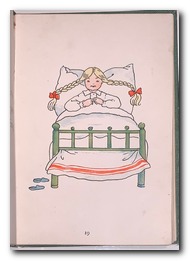 FIRST EDITION; Mary S Claude [1820-1912] is a Victorian author who has received some attention of scholars in recent years, previously remembered, if at all, as possible muse of the young Matthew Arnold who certainly had a romantic interest in her. A minor Lake poet Claude was inspired by the romantic literature of her original land of birth, Germany. This, her first book, is scarce in this condition.
SOLD
CHILDREN'S RELIGIOUS VERSE ILLUSTRATED WITH ETCHINGS.
17. COUSIN CLARA [PSEUD].: The Infant's Daily Sacrifice, a Book of Short Hymns for Children. London, Hatchard and son, 1830. Small 16mo, pp xx, 75, [1], with 22 etched plates including frontispiece, contemporary half calf, lacking label and worn to joints and spine ends, minor soiling only, repair to blank corner of one plate, 1960 ownership of Frank Lissauer on title verso, a sound copy internally if somewhat worn externally,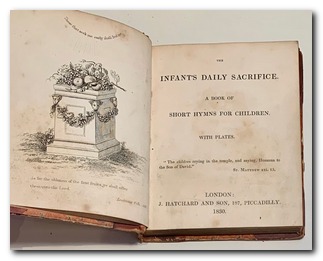 FIRST EDITION, a very rare illustrated collection of original religious poetry for children, combining naive sentiment with naively etched plates, authorship not recorded but an evident spiritual labor of love which was reprinted the following year. Copies are recorded at Oxford, Newcastle and Trinity only.
SOLD
GEORGIAN DOMESTIC LIFE IN DIARY FORM.
18. D., R.: My Children's Diary or The Moral of the Passing Hour. London, Sampson, Low, 1825. 12mo, pp vii, [1], 343, with engraved vignette frontispiece and extra engraved vignette title page with the Darton & Harvey imprint first, contemporary half calf, worn and lacking spine, boards detached, frontispiece and extra title foxed, occasional spotting, but a good copy for rebacking,
FIRST EDITION, a sequence of educational domestic scenes forming a continuous story, author known only by initials R D. The V & A has the Renier copy with detailed notes on the content, including critical notices of so-called 'blue stocking' women, when papa states he wouldn't want to be married to an intellectual 'lest my table should disgrace me'. An interesting and scarce work of Georgian children's literature written, says the author, for a ten to thirteen age group
SOLD
FINE FANTASY ILLUSTRATIONS OF PLANT FORMS.
19. FAUCONNET, GUY P.: Flower-Name Fancies Written & Designed by Guy Pierre Fauconnet. English Rhymes by Hampden Gordon. London, John Lane, 1918. 4to, pp 60, [6], pictorial endpapers, 32 black and white plates from pen-and-ink drawings by Guy Fauconnet verse in French [by the artist?] facing English 'translation' beneath, original pictorial sage green cloth, lightly rubbed but a very good copy,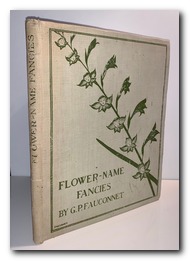 FIRST EDITION, scarce in this condition a remarkable collection of imaginative flower-inspired designs by the French modernist painter Fauconnet, produced during the First World War' at a period when the artist was turning more towards decorative art and stage design. His music association with 'Les Six' is documented but short lived, as he died in 1920 at the age of only 38. A very undervalued collection of his highly fantastical later graphic work. £85.00
BUSINESS ARITHMETIC FOR BOYS.
20. FENNING, DANIEL.: The British Youth's Instructor: or, a New and Easy Guide to Practical Arithmetic...mecessary to the Knowledge of Business...to which is added, a Compendious Method of Book-Keeping. London, J Johnson etc, 1799. 8vo, pp xii, 302, [20], [2, adverts], original sheep, neatly but plainly rebacked at some early date, internally with small minor faults but generally tight and sound,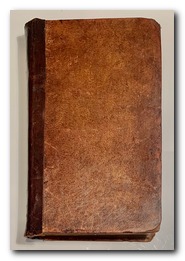 THIRTEENTH EDITION, of a very popular tutor for business and trades by Fenning first issued in 1767, and from the edition preceding this one of 1793 completely revised and brought up to date by Rev J Malham. Although a popular school text-book of practical maths, including bookkeeping, editions are scarce in complete state. ESTC records the 12th but not this 13th Edition.
SOLD
HANWAY'S GIFT FOR SERVANT GIRLS.
21. HANWAY, JONAS: Advice from Farmer Trueman to his Daughter Mary, upon her going to Service; in a series of discourses designed to promote the welfare and true interest of servants...of no less important to masters and mistresses. London, J Davis 1800. 12mo, pp viii, 232, original plain sheep, spine worn and with upper board detached, one corner chip with no loss of text else internally sound and clean,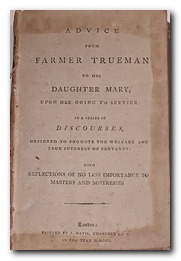 EARLY EDITION, one of several printings from 1789 onwards of this tract for servants abridged from Jonas Hanway's Advice from a Farmer to his Daughter. The title has not survived well, and few copies of any edition are recorded, this one BL and Harvard only. £65.00
FIRST EDITION OF A LONDON CLASSIC WITH JUVENILE LIBRARY PLATE.
22. KILNER, ELIZABETH. "S.W.": A Visit to London. Containing a Description of the Principal Curiosities in the British Metropolis. London, Tabart and Co, 1808. 16mo, pp [4], 188, [1], engraved frontispiece and 5 plates as required, bound in original red roan backed marbled boards, spine chipped at foot, boards very worn with loss of much of the paper, internally lightly soiled and used throughout, with two small holes in leaves with loss of a few letters only, else complete,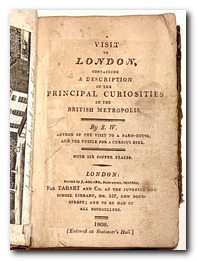 FIRST EDITION, a much reprinted London guide for children, but very scarce in its first printing. This is a very so-so copy, but generally complete, and with the famous chapter 'A Visit to the Juvenile Library' illustrated with a fascinating view of the interior of Tabart's shop. £75.00
GERMAN SONGS FOR CHILDREN
23. KOPETZKY, O.: Neue Kinderlieder...Componiert von M Eichhorn. Buchschmuck von O Kopetzky. Nurenberg, Th. Stroefer, [1907]. Oblong small folio, pp [20], lithographed throughout including 6 full page plates, music with pictorial surrounds, original pictorial cloth backed boards, lightly faded at edges, but a very good sound clean copy,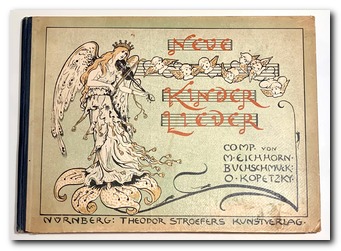 FIRST EDITION, a charming collection of German children's songs composted by Max Eichman with piano accompaniments, largely depicting social scenes and country life. A good example of the sentimental German style of children's book illustration at the turn of the century. £45.00
NEWBERY'S SIXPENNY BIBLE FOR CHILDREN.
24. NEWBERY BIBLE.: The Holy Bible Abridged, or the History of the Old and New Testament Illustrated with Notes, and Adorned with Cuts. For the Use of Children. London, T Carnan and F Newbery, 1778. Small 24mo, pp viii, [9], 176, 61 wood-engravings in text, bound in ?original plain boards with contemporary rough hessian loose covering, pages and binding generally soiled throughout, more especially the title page, one of two clean tears without loss, but a complete and legible throughout example of a rare Newbery title,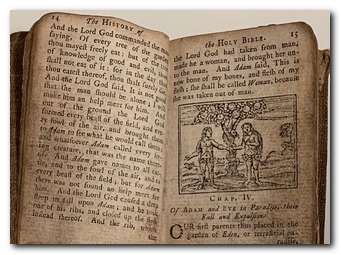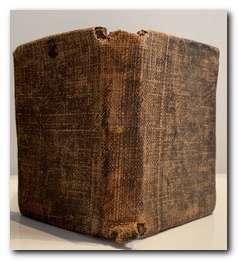 EARLY EDITION, first published in 1757, of Newbery's famous pocket Bible, abridged and illustrated for the use of children. Priced at sixpence it was easily affordable and a huge number of copies were issued during the second half of the 18th Century, though few survive, fewer still compete as this one. which despite heavy use by dirty fingers has survived remarkably intact in the same rough cloth covering it would have had at an early stage of its existence. Because this was certainly a poor child's Bible so leniency with regard to handling condition might be allowable. Roscoe J27.11 SOLD
BLUE BEARD FOR HOME THEATRICALS.
25. PETER THE FRIAR [PSUED].: Blue Beard or Fatal Curiosity Semi-Burlesqued for Private Theatricals by Peter the Friar. London, Chapman & Hall, 1855. Square 8vo, pp 24, text within rule, with 2 hand-coloured etched plates, including a frontispiece, original flush boards with hand-colured pictorial illustration repeating the second illustration inside, spine paper delicate and slight chipped at foot, but a a fine clean copy otherwise,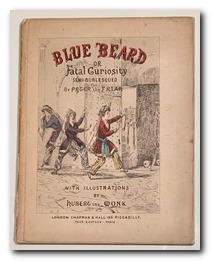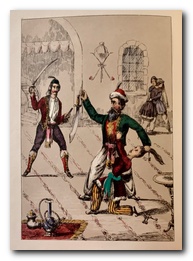 FIRST EDITION; Blue Beard was a popular chapbook story of the time, here turned into a children's Christmas charade by it's anonymous author. The Reniers had a copy, now in the V & A, which bears a presentation from 'F P D R', though the initials have not yet yielded up their secret, to us at least. The illustration on the front board, repeated inside, and by 'Hubert the monk' depicts the surprise discovery of [remains of] Blue Beard's former wives. Whether or not this would frighten or delight a Victorian child is uncertain; certainly the moral remains a bit unclear. £125.00
26. POTTER, BEATRIX.: The Tale of the Flopsy Bunnies. London, Warne, 1909. Square 16mo, pp 86, colour illustrations throughout, original green paper boards with pictorial on-lay, neatly but plainly rebacked, faint minor damp ripple to paper but an excellent clean copy internally,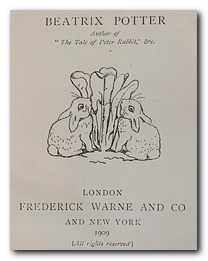 FIRST EDITION, with the notice board on page 14, which was removed from later issues.
SOLD
27. RILEY'S HISTORICAL LIBRARY.: A Biographical History of the Roman Empire: From its Foundation to the Final Overthrow....to which is added, Observations on the Increase, Purity and Decay ... London, G Riley [ and S Hazzard], 1793. Square 16mo, pp [8], 243, [1], [4, adverts], engraved frontispiece, circular wood-engraved portraits of emperors and rulers, bound in plain modern calf, , leather a bit faded and blotchy, but a good sound clean copy,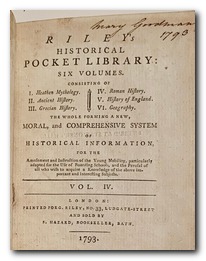 THIRD EDITION, first published in 1790, volume 4 in Riley's Historical Library series, all volumes also sold separately as well as part of the six volume set. This volume follows the usual 18th century approach to teaching children Roman history, with Plutarch style biographies and portraits, but adds at the end a section 'A Short Enquiry into the Fall and Decay of the roman Empire', clearly aiming to provide a short simple introduction to Gibbon's increasingly popular and wide read work for more adult readership.
SOLD
A STORY OF HAIR.
28. TEMPORAL, J.S.: Jane. A Tale of Hair. London, James Nisbet and co, 1904. Small 16mo, pp 95, [1], printed on rectos only, full page colour illustrations throughout with simple text facing, bound in original green pictorial polychrome cloth, a little rubbed, minor spots and singes of use only, a very good copy,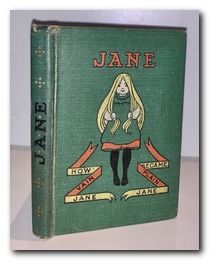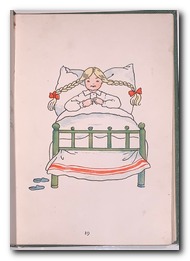 FIRST EDITION; a popular format for the turn of the century simple reading book, most famously adopted by Beatrix Potter, though her illustrations are photographically reproduced whereas these are photo-engraved by Edmund Evans in the style of Little Black Sambo and similar pocket-size stories. This charming title tells the story of 'How vain Jane became plain Jane' and is relatively uncommon. It apparently went through only one printing; COPAC records BL, Cambridge and Oxford copies only. £75.00
LOUIS WAIN'S BEAUTIFUL COLOUR IMAGES OF CATS.
29. WAIN, LOUIS AND MAY BYRON.: Cat's Cradle. A Picture Book for Little Folk. Cats by Louis Wain Rhymes by May Byron. London, Blackie and Son Ltd, [circa 1910] Small 4to, pp [48], illustrated in colour throughout by Louis Wain including 6 full page, bound in original dark grey boards, polychrome pictorial design to upper board,, spine paper a little cracked as usual with minor chipping and small join repairs, light wear to paper of lower corners and a few minor spots, without the silk tie. else generally a very good copy, remarkably fine and clean internally, and with a 1910 Christmas inscription on the front free endpaper verso,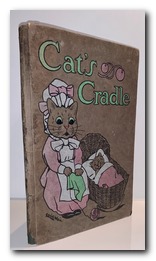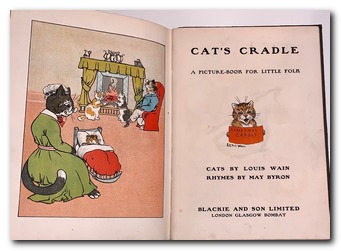 SECOND EDITION, often confused with the first of 1908 which had a slightly different binding but largely similar content; a very attractive and well-printed Wain title, notoriously difficult to find in acceptable condition such as this. The inscription establishes it as one of the early issues.
SOLD
PRESENTATION COPY OF A VERY RARE COVENTRY SCHOOL TEXT.
30. WOOLSTON, THOMAS [EDITOR].: The Young Gentleman and Lady's Poetical preceptor: being a Collection of the most Admired Poetry selcted from the best authors. Calculated to form the Taste to Classic Elegance ...to the whole is subjoined Notes. Coventry, Printed and sold by M Luckman, [ and Brooke and others, London, The Editor, Adderbury], [1795]. Small 12mo, pp xii, 310, [2, adverts], contemporary tree calf, spine worn with both boards detached, title page with internal tear but no loss, prelims lose, else internally sound and clean, quite restorable and suitable for rebacking,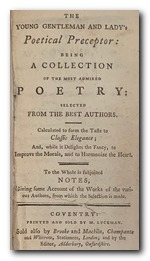 FIRST EDITION, PRESENTATION COPY FROM THOMAS WOOLSTON, inscribed on the front free endpaper 'The Gift of the Author April 24th 1795.' Dedicated to William Cowper, this is one of the rarest 18th Century anthologies of verse for the young, compiled by the Adderbury ''Master of a boys school' , originally from Olney and friend of Cowper; he evidently inherited an important library from his father, William, according to a note in a Hooker manuscript in the Bodleian. Something of a minor poet himself, Woolston's name appears naturally enough as subscriber to several contemporary poetical productions; in this little book, prepared, and no doubt presented, to his pupils at school he appends a section of hymns and religious verse, as well as brief notes on the poets, with 2 manuscript corrections perhaps in his own hand. He praises, of course, Cowper extensively 'This gentleman is a real poet...' Very rare; ESTC records only the BL and Bodleian copies, with one further copy at Canterbury [NZ]. SOLD