24. BEETON, SAMUEL, O.: The Boy's Own Magazine. An Illustrated Journal of Fact, Fiction and Adventure. Vol I.
London, S O Beeton, 1855. Volume one only, small 8vo, pp viiii, 376, with wood-engraved illustrations throughout, bound in contemporary half roan calf, spine gilt ruled, a little rubbed but a very good sound copy,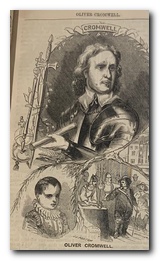 FIRST EDITION; this publication by S O Beeton marks a significant change in the publication of periodical publications for children, an explained by Kirsten Drotner in 'English Children and their Magazines .'the first juvenile publication to promote 'boy' as part of the title.' £25.00
25. ROBINSON, CHARLES [ILLUSTRATOR. FIELD, EUGENE.: Lullaby Land. Songs of Childhood by Eugene Field Selected by Kenneth Grahame and illustrated by Charles Robinson.
New York, Charles Scribner, 1897. Small 8vo, pp 229, [3], 204 illustrations including 14 full page by Charles Robinson, uncut in original pale maroon boards, pictorial gilt, a little marked and faded but a very good sound clean copy,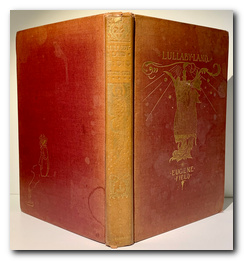 FIRST EDITION, produced by John Wilson in Cambridge and preceding John Lane's London imprint dated 1898 by a short time. Like its companion volume, Stevenson's Child's Garden of Verses, it is a masterpiece of what could be done creatively by combining text with illustration within the 1890's black and white tradition. A pencil note inside this copy by a sadly unidentified bookseller states 'Rarest of all four different first editions...identified by their binding variations...' £35.00
26. WINSLOW, FORBES E.: The Children's Fairy Geography, or, A Merry Trip Round Europe
London, Skeffington, 1881. Small 4to, pp xvi, 316, [4, adverts], wood-engraved frontispiece, decorative title page and text illustrations throughout probably by a variety of artists as none is mentioned singly by name, bound in original pictorial blue cloth, stamped in gilt and blind, patterned endpapers, minor chaffing at spine ends else a fine bright copy,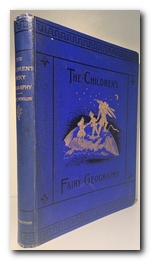 FIRST EDITION 'FIFTH THOUSAND'. A very successful attempt to make European geography of interest to children by means of a guided fantasy aerial voyage. The magical element involving electric boots and a 'wishing carpet' seemed to work, and the book was issued several times. Not a rare title but rare in this fine bright state. The author was rector of St Paul's Church, St Leonards on Sea, a church that exists to this day. £45.00