126. CARR, H WILDON.: The General Principle of Relativity in its Philosophical and Historical Aspect. London, Macmillan, 1920. Small 8vo, pp x, 165, [1], uncut in original cloth, a very good copy, FIRST EDITION. £12.00
127. DODD, GEORGE.: Dictionary of Manufactures, Mining, Machinery and the Industrial Arts. New York, Virtue and Yorkston, 1869. 8vo, pp [2], 446, bound in neat contemporary half black morocco, spine gilt with raised bands, a very good copy, FIRST US EDITION, comprising the sheets of the London edition with a New York title page. A useful handbook to the technological progress of the time. £10.00
128. EATON, MARY.: The Cook and Housekeeper's Complete and Universal Dictionary; including a system of modern cookery, in all its various branches, adapted to the use of private families: also a variety of original and valuable information... Bunny, J & R Chills, 1823. 8vo, pp xxxii, 495, with frontispiece and 4 engraved plates, contemporary binders' cloth, leather label, rubbed and slightly worn at joints, light spotting but internally sound, FIRST EDITION, a good working copy but lacking 4 leaves in the introduction; certain copies have an engraved title also, although this copy seems never to have had it. £20.00
129. GARDENING. MILLER, PHILIP.: The Gardeners' Dictionary containing the methods of cultivating and improving the kitchen, fruit and flower garden,. Also, The Physick Garden, Wilderness, Conservatory, and Vineyard...abridged from the Two Volumes in Folio. London, Printed for the Author, sold by John and James Rivington, 1748. 3 volumes, 8vo, a double column dictionary, with frontispiece, 1 plate in volume 2, 1 plate in volume 3, bound in contemporary calf, rubbed, and cracked at joints, with labels missing, but nevertheless a sound clean tight set, THIRD EDITION; a work that gains from this rather more handy format than the large folios of the original. The first edition in two volumes of 173 was completed with a third volume in 1740 before this third edition 'the whole digested into one alphabet.' With defaced bookplates of Philip Stanhope, one of the Earls of Chesterfield, we have not determined which. £120.00
130. INSECTS. SWAMMERDAM [ET AL].: The Natural History of Insects compiled from Swammerdam, Brookes, Goldsmith, & Co. ; embellished with copper-plates ; intended as a companion to Buffon's Natural history. Perth, R Morison and son, 1792. 8vo, pp [4], 210, 20 engraved plates of insects, multiple images, bound in contemporary half calf, spine gilt ruled, rubbed and without label but quite sound, light waterstains to the corners of some plates, but a very good copy overall,
FIRST EDITION; a scarce compilation, extensively illustrated for field guide purposes. £85.00
131. LICHENS. CROMBIE, REV JAMES M.: Bound volume of 61 contributions to periodicals regarding lichens of the world. [London] various periodicals, 1870-1885. 61 separately published papers in one volume, 8vo, varying in length from a single page to more extended pamphlets, including some plates, bound in contemporary half calf, rubbed and worn but sound, with manuscript title page 'Lichenological Contributions by the Rev James M Crombie F.L.S etc Vol I 1871-1885.' followed by 6 page manuscript list of contents and 2 pages of papers not received.
FIRST EDITIONS, a unique collection of offprints and extracts, presumably the author's own. James Mascall Crombie [1831-1906] was the father of British lichen studies, and gave his name to the standard lichen name abbreviation. He became a fellow of the Linnean Society in 1869 and commenced publishing these papers the following year, including information from travelers on exotic varieties. His standard monograph on British lichens was published in two volumes, 1894-1911. This unique volume is preceded by the 24 page 'Testimonials' for Cromie's [unsuccessful] application for the chair of botany at Glasgow in about 1880. £125.00
132. PHILLIPS, HENRY.: Floral Emblems. London, Saunders and Otley, 8vo, pp xvi, 352, hand coloured extra title page, dedication leaf, frontispiece and 17 finely hand-coloured floral plates with India paper interleaves, contemporary half calf, spine gilt with maroon label, spine a little chipped and cracked to lower joint, internally with foxing to the interleaves, the plates themselves remarkably clean, a very good copy need some restoration,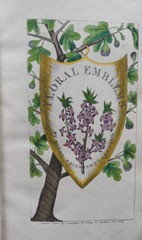 FIRST EDITION, one of the most famous and popular of the late Georgian flower books. £120.00
133. SALA, GEORGE AUGUSTUS.: The Thorough Good Cook. A Series of Chats on the Culinary Art and Nine Hundred Recipes. London, Cassell and co, 1895. Small 4to, pp xvii, [3], 492, all edges gilt, patterned endpapers, bound in 'art nouveau' style pictorial bevel-edged cloth, gilt, evenly faded to spine, else a fine copy, FIRST EDITION, scarce in this state. This was Sala's final literary offering; he died a few days after publication. It recounts his culinary experiences over a long lifetime, passed, it must be said, at the best and most opulent tables, a reflected in the recipes he has collected over the years. The binding is a charming example of 'fin de siecle' book design, unsigned. £45.00