75. ALMANAC.: Minerva. Taschenbuch fur das Jahr 1824. Leipzig, Gerhard Meischer, [1824]. Pocket 12mo, pp xxix, 448, frontispiece, engraved title page and 8 plates illustrative of 'Gallerie du Goethe's Werken.' edges gilt, bound in original flush patterned cloth, in slightly rubbed original paper covered slipcase with printed label on upper board, a well preserved example, FIRST EDITION; Minerva was one of the most popular German pocket literary almanacs of the early romantic period. This a well preserved copy. £25.00
76. ASHTON, JOHN.: Real Sailor Songs collected and edited by John Ashton. London, Leadenhall Press, 1891. Tall folio, pp [18], 129 leaves of broadside songs, with woodcut illustrations and decorations, some by Joseph Crawhall, some mounted on stubs to fit, 4 pages of adverts at end, uncut in original half vellum over printed boards, the vellum yellowed as usual, but a very good sound copy, FIRST EDITION, an ambitious Leadenhall production, this remains one of the most attractive sea song collections, made up of facsimiles of the original broadside publications. £95.00
77. BALDINUCCI [ET AL].: Sculpura Historico-Technica: or The History of Art of Engraving...III. Of Engraving, Etching and Scraping on Copper as now practiced. IV. An idea of a Fine Collection of Prints... London, J Marks, 1766. 12mo, pp xi, [1], 264, with 10 instructional plates, numerous engravers monograms and initials in text, bound in contemporary unlettered calf, spine gilt ruled with raised bands, a little rubbed and worn at spine ends, but a very good copy in original state,
THIRD EDITION, much altered and enlarged from the second edition of some twenty years earlier. An early attempt to provide a handbook for amateurs of the fashionable collecting of antique prints, a compilation from various authors, the highly interesting practical part from Fairthorne, the historical portions from Baldinucci. A title hard to find in good original condition. £150.00
78. BEWICK, THOMAS [ILLUSTRATOR]. RELPH, JOSIAH.: Poems by the Rev. Josiah Relph, of Sebergham. With the life of the author. Embellished with picturesque engravings on wood, by T. Bewick, of Newcastle. Carlisle, Printed by and for J. Mitchell, 1798. 8vo, pp xxiv, 147, [1, adverts], text wood-engravings by Thomas Bewick, bound in slightly later half calf, spine ends worn, joints cracked but sound, internally fine and clean,
FIRST EDITION THUS; a scarce and beautiful example of Thomas Bewick's illustrative work. This issue includes the glossary and adverts at the end which were included with A second printing in Newcastle following year. Confusingly the dedication refers to this as the second edition, as there was an unillustrated edition printed in Carlisle the previous year.. £145.00
79. BIANCO, PAMELA. [ILLUSTRAPR]. DE LA MARE, WALTER.: Flora. A Book of Drawings...with illustrative poems... London, Heinemann, [1919]. 4to, pp 45, 8 colour plates, numerous black and white full-page and text illustrations, original pictorial cream boards, as usual a little browned and worn at joints, internally foxed in places, also as usual, else a good copy,
FIRST EDITION; the work of the remarkable London born child-prodigee artist was show-cased here, co-inciding with her 1919 exhibition at the Leicester Gallery, London; a retrospective of her work has held as recently as 2004. The present book, patronised by the poet Walter De La Mare, shows off her earliest talents to the full. . £60.00
80. COMMON PRAYER IN ENGLISH AND FRENCH.: The Book of Common Prayer...Le Livre des Prieres Commune. [with: The Liturgy of the Church of England...with Fifty-Nine...Sculptures engrav'd by Mess Ravenett, Grignion, Scotin, Canott, Walker and Wryland...]. Oxford, John Baskett, 1717/ London, Edward Ryland, 1755]. 2 works interleaved in one volume, unpaginated Book of Common Prayer in English [pp 510], with the French verson facing, including a separate title page, the set of engravings with its own engraved title page and frontispiece, and 39 [of 57] engraved plates of mainly Biblical scenes within deorative cartouche borders, all interspersed throughout the text,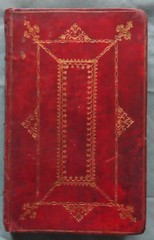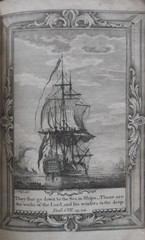 bound in contemporary red morroc,o, gilt paneled to sides and spine, neatly rebacked with the original spine laid down, edges gilt, inner joints strengthened, a little soiled and used in place, but a good well-restored copy, Baskett's Oxford parallel English/French Common Prayer is printed in double column, one English, one French, and is fairly scarce in itself, here bound up with a part set of plates to 'The Liturgy' as issued, with engraved title page, by Edward Ryland in 1755, this a very rare collection of plates, including one rather impressive one of a contemporary man-of-war with text 'They that go down to the Sea in Ships...' £150.00
81. CRANE, WALTER.: Queen Summer or the Tourney of the Lily & the Rose penned and portrayed by Walter Crane. London, Cassell, 1891. 4to, 40 pages printed on 20 conjoint leaves, [12, adverts plus 8 page publishers' catalogue dated 1891], colour wood-engraved by Walter Crane throughout, decorative endpapers, original cloth backed pictorial boards, minor disolouration and wear to corners ony, very sound clean copy throughout,
FIRST EDITION, one of CRane's most elborate allegorical depiction's. £95.00
82. GARDEN CITIES.: Garden City Houses and Domestic Details. London, Technical Journals Ltd [1913]. 4to, pp 104, viii, photographic illustrations and architectural details throughout, original cloth backed boards, owrn at corners, else a good copy, THIRD EDITION. £20.00
83. JEWITT, EDWIN.: Manual of Illuminated and Missal Painting...with an historical introduction by Llewellynn Jewitt. London, J Barnard, [1859]. Small 8vo, pp 47, 6 chomolthographed plates, including frontispiece [with light waterstain at lower edge], 2 plates of alphabets, text decoratons printed in colour, original blind and gilt stamped cloth, chipped at head of spine and corners, internally a a very good clean copy, FIRST EDITION, a charmingly presented practical manual, this copy strangely bound with numerous blanks at the end. £35.00
84. LA FONTAINE, JEAN: Contes et nouvelles, en vers. Londres (i.e. Paris, Cazin) 1780 Two volumes 16mo, portrait and 24 engraved plates after Desrais, mottled calf, gilt spine with double love labels, a liitle rubbed and cracked at joints, edges gilt, internally fine, a nice set of a very charmingly illustrated edition. £60.00
85. MEW, JAMES.: Types from Spanish Story or The Old Manners and Customs of Castile. London, J C Nimmo and Bain, 1885. Large 8vo, pp 80, publishers' catalogue for 1884 inserted at end, title in red and black, 36 Inida Proof etchings by R de Los Rios, uncut in original ruchly decorated linen cloth, elaborate impressed patterned endpapers, minor rubbing only, a fine bright example,
FIRST EDITION, a tour de force of late 19th Century de-luxe book design; the October 1884 catalogue at the end sumarises pending publication ' 'elegant and recherche binding after the 18th Century 31/6d.' A Moorish floral decorative design printed on black in gilt and red it is quite unique amongst trade bindings of the period, with remarkable hand-printed endpaper designs to match. Perhaps the somewhat ever-detailed etchings of De Los Rios are its only letdown. £120.00
86. PERIODICAL.: 5 issues of the London Magazine. London, Harmsworth, 1902-3. 5 issues, large 8vo, in original pictorial wrappers, a little used and dusty to spines, slight staple rusting, but very good, sound and complete examples, with adverts, inserts etc,
FIRST EDITIONS of numbers 49 [Aug 1902]; 51 [Octobert 1902]; 52 [Octoberr 1902, The Christmas Number]57 [April 1903]; 60 [July 1903]; featuring many short story writers of the period, a non-ction article by Conan Doyle, a Martin Hewitt story by Arthur Morrison, a ghost sory by L T Mead, Ambrose Pratt's Vigorous Daunt detective stories. etc etc. The London Magazine seemed a poor relation of the Strand, but made up for its lowly status with rather lurid cover designsof which these are 5 nice examples. £65.00
87. PHYSIOLOGIES.: A Bound collection of 5 French 'Physiologies', in one volume, each retaining original wrappers. Paris, Aubert/ Lavigne, circa 1840-45. 5 works in one volume, 16mo, comprising:1. Physiologie de la Femme la Plus Malheureuse du Monde par E Lemoine. Dessins par Valentin. Pp 127, [1]. 2. Physiologie des Rats d'Eglise Illustrations de Josquin et Maurisse. Pp 125, [3]; 3. Physiologie du Musicien, par Albert Cler. Vignettes de Daumer, Gavarni etc. Pp 126, [2]; 4. Physiologie de l'Ecolier par Edouard Ourliac. Dessins de Gavarni. Pp 124, [4]; 5. Physiologie de l'Homme a Bonnes Furtunespar Edouard Lemons Dessins de Alpha et Janet Lane. Pp Pp 127,[1]. Each item bound in original yellow pictorial printed wrappers, wood-engravings in texts throughout, the whole bound in contemporary polished calf, spine gilt with raised bands and maroon label which is slightly chipped, spine a little rubbed, internally fine and clean,
FIRST EDITIONS of five of the famous and much imitated series of 'Physiologies' which were so popular in the mid 19th century and illustrated by the best humorous artists of the period with finely cut wood-engravings. The series is not rare, but commonly found with the all important wrappers discarded in binding, where these are all present. £175.00
88. POUSIN. GRAHAM, MARIA.: Memoirs of the Life of Nicholas Pousin. London, Longman etc, 1820. 8vo, pp xvi, 286, with William Heath's 1853 catalogue of books bound at the end, portrait and one folding plate, contemporary half calf, worn and lacking spine, boards detached, internally sound and clean, a good binding copy,
FIRST EDITION, F G STEPHEN'S COPY, with his signature and date Sept 1876 on the title page; an interesting Pre-Raphaelite connection. Having begun as one of the brotherhood Stephen's became disillusioned with art and turned to criticism and art history; this pioneering monograph would be an obvious title to find in his library. £45.00
89. ROWLANDSON, THOMAS [ILLUSTRATOR]. COMBE, WILLIAM.: The Tour of Doctor Syntax, In Search of the Picturesque. A Poem. [London, Ackerman, 1812]. 8vo, pp [4] iii, [1], 276, [2], bound with leaf of binders' directions at end as often, colour vignette title page and 30 hand coloured aquatint plates by Rowlandson including frontispiece, bound in contemporary half calf, spine gilt ruled, rubbed to sides and worn to spine ends, joints cracking but sound, internally with just occasional minor browning to text only, and slight soiling to the title, but generally very good and clean throughout, overall a good copy in original state,
SECOND EDITION, issued very shortly after the first and with a few corrections only. As Toolley points out the first edition is rare and this second is the best of the numerous early ones in which the plates were necessarily recut as they wore out, and brighter colorings applied. £125.00
90. SONGS COLLECTIONS. WILLIAMS, THOMAS [PUBLISHER. DIBDIN, CHARLES [ET AL].: Williams' Selection of Comic Songs. WITH: A Selection of Dibdin's Songs dedicated..to...The Duke of Clarence. London, Thomas Williams, 2 Strand, circa 1820. 2 volumes, small square 8vo, apparently volume 1 of the first work and volume 2 of the second work, but comprising 20 parts either issued together or as parts of 2 separate works; the 'Comic Songs with title page, index and 80 pages of music, engraved throughout, 10 etched humorous plates by Thomas Jones, contemporary half calf, spine gilt, chipped to lower part, somewhat shaken but sound; comprising parts 1-10. Second volume of Dibdin songs with 2 engraved portraits, 4 pages of prelims, pages 85-168 of engraved music, 1 page of letterpress index, with 8 etched plates of caricatures by Thomas Jones [making 10 plates altogether including the portraits], contemporary half calf, spine gilt, a bit rubbed and shaken but sound.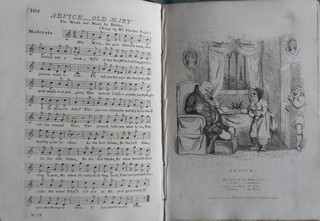 FIRST EDITIONS; although this pair fits together in collection rather nicely [the bindings similar but not identical] we assume them to be two odd volumes of four, though it has been impossible to substantiate this from any recorded locations in COPAC or elsewhere; even if somewhere recorded they are clearly excessively rare pocket musical publications, beautifully engraved and illustrated by a little known follower of the Cruikshanks Thomas Jones. £200.00
91. THYLMAN, KARL [ILLUSTRATOR].: Gulistan. Sezerchner von Karl Thylman von Septe,ber 1911 bis Februar 1912. Darmstadt, Joanna Thylmann, circa 1920. Large folio paper portfolio titled on upper wrapper, comprising title, content list and 14 fine mounted wood-engraved plates after Karl Thylmann, loose as issued, the portfolio a little worn and with spine taped, the plates fine,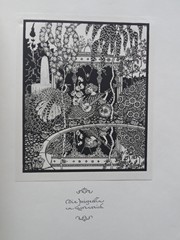 FIRST EDITION; the gifted art nouveau graphic artist Karl Thylman died young in the trenches of the First World Way and it was left to his widow to publish this set of masterpiece wood-engravings illustrating Sadi's Persian poem Gulistan, which was in vogue in Europe during the early years of the 20th Century. Thylman evidently worked on the set between 1911 and 1912, and contrived to produce a notable oriental style of fantasy illustration reminiscent of Beardsley and his followers, but quite distinctive in its way. His illustrations have been incorporated in a modern edition of Sadi's poem. £75.00
92. TRUTH: Bound volume of Truth Christmas Numbers from 1883 to 1889, WITH: Winter 1882 Number of Society at Home. London, 1882-89. 8 Christmas numbers bound in one volume, without wrappers, but with all full page colour and tinted colour lithographed plates, plus text wood-engravings throughout, bound in contemporary half binders' cloth, in fine state throughout,
FIRST EDITION; some of the best and most attractive political satire prints of the period, including many colour. £120.00
93. WHISTLER, JAMES MACNEILL.: Whistler v Ruskin. Art & Art Critics. London, Chatto & Windus, Dec 24th, 1878. Square 8vo, pp 17, [3], uncut in original brown printed 'butterfly' wrappers, frayed at fore-edges, spine taped and repaired, internally sound, FIRST EDITION, scarce in wrappers. Whistler here gives his own side of the question in the famous libel trial against Ruskin. £60.00