FIRST COMPLETE EDITION OF A CLASSIC GUIDE TO MANNERS.
1. BELLEGARDE, ABBE DE.: Reflexions upon Ridicule; or, What it is that makes a Man ridiculous, and the Means to avoid it. Wherin are Represented The Different Manners and Characters of Persons of the present Age. London, J Nicholson, B Tooke, D Midwinter [and others], 1717. 2 volumes in one, 12mo, pp [16], 298, [21], [1, adverts]: [12], 243, [32], neatly bound in 20th Century calf backed boards, spine gilt ruled with raised bands and red label, light browning and minor soiling to text but solid and without tears,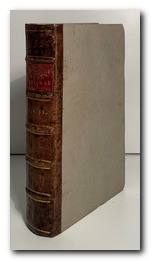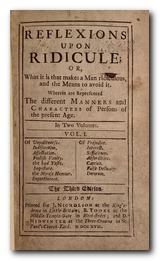 THIRD EDITION, BUT FIRST COMPLETE EDITION, the first volume was first published in 1706, and second as a treatise on politeness of manners the following year, with the two united here as one work for s first time and in smaller duodecimo format. In this form the work went through several 18th Century reprints, and remains one of the more lively and interesting approaches to the subject of social manners. One passage that vilifies women has been neatly crossed through in an early hand, but is still perfectly legible. £175.00
COLLECTION OF APHORISMS BY A GREAT FRENCH SATIRIST.
2. BORDELON, LAURENT.: The Management of the Tongue. Under these following Heads. 1 The Conversation. 2. The Babbler. 3. The Silent Man...26. The Complaining Man. 27. The Comforter. Done out of French. London, D L for H Rhodes, 1706. 8vo, pp [24], 272, bound in modern quarter calf over marbled boards, spine gilt with raised bands, title page and one leaf with brown stains where an early name has been removed, lightly browned else good,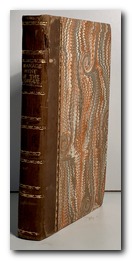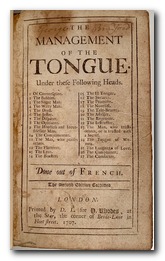 SECOND EDITION IN ENGLISH, a reissue of the first of the previous year,. One of the several entertaining satirical works of this French author, a very witty conduct book that was later reprinted into the 19th century and is fairly scarce in commerce. SOLD
RARE TRANSLATION OF THE ART OF POETRY BY HORACE.
3. BOSCAWEN -HORACE.: The Satires, Epistles and Art of Poetry of Horace, Translated into English Verse. London, for John Stockdale, 1797. 8vo, pp xix, [1], 559, [1], bound in contemporary tree calf, sides gilt paneled, spine gilt with raised bands and black label, lightly rubbed and cracked at joints but a very sound clean copy,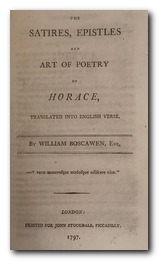 FIRST EDITION of Boscowen's translation, his second of Horace following his earlier translation of the odes published in 1793. Although issued quite separately they were often bound together, and this copy evidently originally accompanied the earlier volume although it is quite separate in ESTC. Attractive copy of a scarce translation which was not reprinted. £65.00
FAMILY ASSOCIATION COPY OF A MINOR IRISH POET
4. BOYD, HENRY.: Poems, chiefly dramatic and lyric, by the Rev. H. Boyd, A. M. Translator of Dantes Infermo, Containing the Following Dramatic Poems: the Helots, a Tragedy, the Temple of Vesta, the Rivals, the Royal Message. Prize Poems, &c. &c. Dublin : printed by Graisberry & Campbell, Back-Lane, 1793. 8vo, pp [9],ii,[1],viii,648,[1] with list of subscribers at the front, and 2 leaves of notes at the end, bound in modern quarter cloth over marbled boards, leather label, neat and tasteful but styleless, one leaf with natural paper flaw and loss of a few letters only, else internally sound and clean throughout,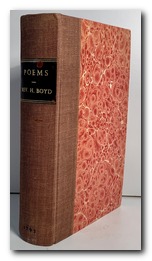 FIRST EDITION, FAMILY COPY, with ownership of the author's son Charles, and his obituary notice, a related typescript poem from another source tipped in at the front, a few minor notes in the text, overall a very good copy, FIRST EDITION; Boyd is best remembered as translator of Dante and was a graduate of Trinity Dublin as his son's obituary notice explains, but his qualifications as a poet, at best a minor one, remain obscure. SOLD
5. CENTLIVRE, SUSANNA.: The Gotham Election, a Farce. London, Printed and sold by S Keimer, 1715. Small 12mo, pp [18], 25-72, disbound, very good,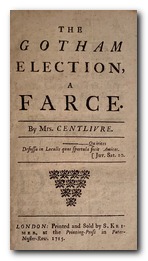 FIRST EDITION; considered the first overtly political drama, and rare in its first printing, a very cheap copy lacking two thirds of leaf 27/28 - text supplied in lose photocopy, otherwise sound. SOLD
SCARCE POETICAL WORK BY COLMAN THE ELDER.
6. COLMAN, GEORGE, THE ELDER. [TRANSLATOR]. HORACE.: [Latin Title] The Art of Poetry; an epistle to the Pisos. Translated from Horace. With notes. By George Colman. London, T Cadell, 1783. Large 4to, pp [4], ix, 40 [repeated facing], [1], lxiiii, [1], English text with Latin facing, followed by notes, bound in contemporary full calf, spine with raised bands and olive label, upper joint cracked and weak, internally fine,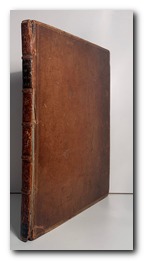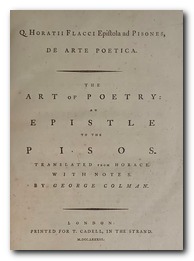 FIRST EDITION, sole separate printing of this important 18th century translation of the Art of Poetry, and one of Colman's few non-theatrical literary enterprises. £145.00
7. DICTIONARY. ENTICK AND CRAKELT.: Entick's New Spelling Dictionary, Teaching to Write and Pronounce the English Tongue...to which is prefixed A Comprehensive Grammar of the English Tongue...by William Crakelt. London, C Dilly, 1791. Square 12mo, pp xxxvi, 492, printed in double column, the preliminary table and the last leaves misbound but complete, slight cropping to a few headlines as usual, but a sound clean copy bound in slightly later green patterned binders' cloth, joints and spine ends worn, front free endpaper replaces, generally a good complete copy,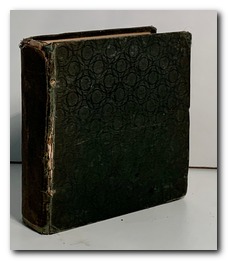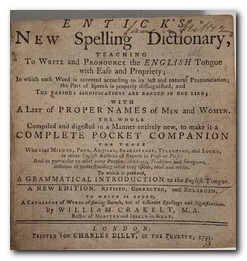 NEW EDITION, and early example of the Crakelt version first issued in 1787, a popular pocket dictionary of the 18th century 'For those who read Milton, Pope, Addison, Shakespeare, Tillotson, and Locke';"In this edition Entrick's grammar is replaced by a new one written by Crakelt, the reviser, and continues to be printed with all subsequent editions" (Alston). SOLD
8. FENELON, FRANCOIS DE SALIGNAC.: The Adventures of Telemachus the [son] of Ulysses...a new translation revised by Mr des Maizeaux. London, R Ware, 1755. Small 8vo, 2 volumes in one [as issued], pp [4], xxxxi, 207, 201, with general title page only [as issued]. frontispiece, folding map and 111 engraved plates, bound in contemporary calf, spine gilt ruled with raised bands, a little worn at head, rub to title page with loss of one word of title, else very good tight clean copy,
SECOND EDITION, a rare translation, attractively illustrated but sadly this copy lacking 2 leaves of text never bound in. A charming volume nonetheless. SOLD
FINE COPY OF HURD'S HISTORICAL DIALOGUES
9. HURD, RICHARD.: Moral and Political Dialogues between Divers Eminent Persons of the Past and Present Age, with critical and explanatory notes by the editor. London, A Millar, [and Thurlbourn and Woodyer, Cambridge], 1760. 8vo, pp xvi, 384, bound in contemporary full polished calf with red label and raised bands, minor faults only, a fine clean copy,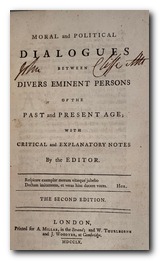 SECOND EDITION, much enlarged from the first edition published the previous year. a collection of essays in the manner of Dialogues of the Dead, the dead here often being fairly recently deceased contemporaries in the fields of literature and philosophy. The dialogue on the age of Elizabeth would lead on to his later work on chivalry and romance which would in turn prove influential. Bowyer printed this book, 1000 copies. £120.00
10. JOHNSON, SAMUEL.: The Poetical Works of Samuel Johnson complete in One Volume. A New Edition. London, W Osborne and T Griffin, 1785. Small 8vo, pp, viii, 152, both half titles present, bound in neat 19th Century half calf, spine gilt and blind with black label, ,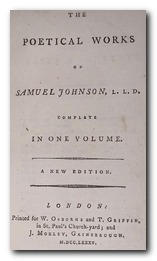 NEW EDITION, actually the second collected edition, the poems and Irene slightly rearranged from Kearsley's first printing of the same year. £45.00
EARLY CRITICAL STUDY OF SAMUEL JOHNSON'S WORKS.
11. JOHNSON, SAMUEL. ANDERSON, ROBERT.: The Life of Samuel Johnson LL.D with critical observations on his works. London, J & A Arch [and Bell & Bradfute, and J Mundell, Edinburgh], 1795. 8vo, pp [4], 307, [1], half title present, bound in contemporary polished tree calf, spine gilt ruled with black label, marbled endpapers, slight wear to upper joint but an excellent clean and attractive copy throughout,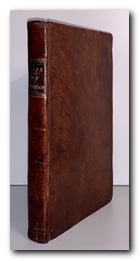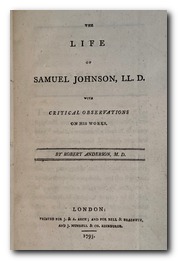 FIRST EDITION, a choice copy of this early biography of Johnson, necessarily based on published sources, but valuable for the contemporary commentary on Johnson's significance. Anderson had been editor of the British Poets series of publications and was close to the literary scene. SOLD
FIRST EDITION OF PERCY'S GREAT COLLECTION OF EARLY BALLAD POETRY.
12. PERCY, THOMAS.: Reliques of Ancient Poetry: Consisting of Old Heroic Ballads, Songs, and Other Pieces of Earlier Poets [chiefly of the Lyric Kind] together with some few of later date. London, J Dodsley, 1765. 3 volumes, small 8vo, with engraved frontispiece in volume one, a few engraved vignettes in text, engraved music sheet at the end of volume 2, complete with the errata leaf and advertisement/directions to binder at the end of volume three, bound in contemporary full polished calf, spines gilt ruled with raised bands and double red/black labels, spines a little rubbed and worn or chipped at heads, slightly worn at joints but very sound, a good clean tight set in original state,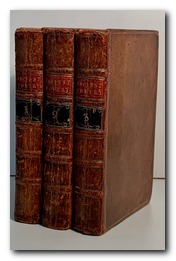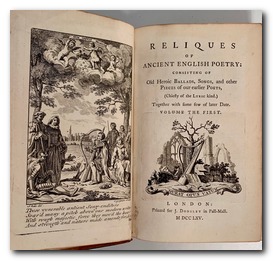 FIRST EDITION, the first attempt at a scholarly ballad collection of antiquarian examples, the result of a lifetime of collecting; a monument of 18th Century scholarship that has continued in use to this day. £350.00
PART SCOTTISH BALLAD FABRICATION.
13. PINKERTON, JOHN. [AUTHOR AND EDITOR].: Select Scottish Ballads. London, J Nichols, 1783. 2 volumes, small 8vo, with an engraved vignette on each title page, with notes and text preceded by lengthy dissertations, bound in contemporary tree calf, spines worn, both upper boards detached, internally fine, a good working or binding set,
FIRST EDITION; Pinkerton in this work tried to establish a scholarly basis for the study of Scottish ballads, in the same way Thomas Percy had done so for English but his mixture of spurious ballads written by himself with original material was detected by Ritson and he was forced to admit that the work was in part at least a fabrication. His later editorial and historical work was better regarded, however, though it has aroused much controversy since. SOLD
THREE POETICAL PAMPHLETS BOUND IN ONE.
14. POETICAL MISCELLANY SAVAGE, RICHARD ET AL.: Various Poems. The Wanderer, a moral Poem, The Triumph of Mirth and Health. And the Bastard...to which is prefixed, A Preface. London, J Turner, 1761. Small 8vo, pp ix, [3], 112, 89-91, bound with 2 other works [see below] in contemporary polished calf, spine gilt ruled with raised bands and red label entitled 'Poems', minor rubbing only, a very neat clean copy,
FIRST COLLECTED EDITION. bound with: John Armstong. The Art of Preserving Health. London, A Miller, 1757. [Fourth edition, the first in this small format]. Samuel Croxall. The Fair Circassian ...Several Occasional Poems...Seventh Edition. T Lownds, [?1745]. with 4 engraved plates, a rare printing, presumably reissuing an earlier Watts printing with 5 advert leaves at the rear. SOLD
A RARE GAISNBOROUGH PRINTING.
15. ROWE, ELIZABETH.: Friendship in Death in Twenty Letters from the Dead to the Living. To which are added, Letters Moral and Entertaining, in Prose and Verse. In Three Parts. London, W Osborne and T Griffin [ and J Mosely Gainsborough], 1784. 8vo, pp xxxv, [1], 278, title within typographical border, contemporary sheep with red label, spine slightly wormed at foot, upper board a little splayed, else internally good,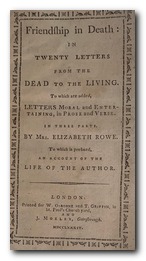 EARLY EDITION, a very rare, possible cheap provincial printing ;of this famous collection of pieces in prose and verse by this celebrated and much admired poetess of superior moral tone. ESTC records only the BL copy UK, plus 2 in US libraries. SOLD
16. RUGGLE, GEORGE.: Ignoramus. Comoedia...in Lucem Edita cum Notis Historicis et Criticis...Preponitur Vita Auctoris et Subjicitur Glossarium. London, T Payne, 1787. . 8vo, pp viii, cxxii, 319, [1], with engraved frontispiece and 2 plates, bound in contemporary calf, surface repaired to upper inner corners, neatly rebacked in gilt with raised bands, internally with minor foxing only, generally clean and sound,
FIRST EDITION, the Lincoln's Inn Library copy, with bookplate of W Coombes, doubtless a lawyer of the period who presented his copy of the famous Cambridge college farce of 1615. Being a legal satire it preserved a certain popularity amongst lawyer Latinists thereafter. The editor here, adding copious notes and life of Rggle [both in English] as well as Latin to English glossary was John Sidney Hawkins who provides much obscure scholarship on Jacobean social life. £75.00
17. SCHOMBERG, RALPH [TRANSLATOR AND EDITOR].: The Life of Maecenas: with critical , Historical, and Geographical Notes, corrected and enlarged... London, A Millar, 1766. Small 8vo, pp xvi, 148, engraved portrait frontispiece [waterstained at corner], near contemporary half calf, spine gilt, rubbed and slightly worn, upper board detached, last leaf a little stained, else a good clean copy,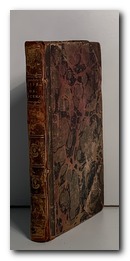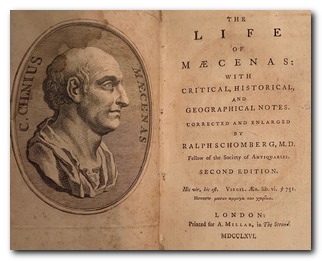 SECOND EDITION, much enlarged from Schomberg's original translation of Richter, with notes, of 1748. Both editions were printed by William Bowyer, who records 750 copies of this one. Apart from the additional notes, this edition has a fulsome dedication to William Pitt [the Elder]; whose patronage the good doctor cultivated, perhaps as physician also. He certainly cultivated Gainsborough's, who painted him in lieu of medical fees. The Annual Review was very unkind on the book, calling it 'unimportant fluff....ushered in by a dedication [to Pitt] between whom and Maecenas the editor strains hard for comparison...' The title remains a scarce one, at least in commerce. £60.00
18. SHAKESPEARE, WILLIAM.: The Life and Death of Richard III. With the Landing of the Earl of Richmond, and the Battle of Bosworth-Field. London, J Tonson, 1734. 12mo, pp 96, engraved frontispiece by Fourdrinier, disbound, small corner tear without loss of text, a good sound copy,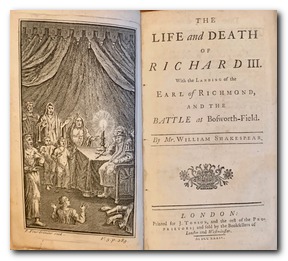 EARLY EDITION of the play, corresponding to item 147 in Ford's 'Shakespeare 1700-1740 a Collation of the Separate Plays.' [OUP, 1935]. The second of 2 Tonson issues of the same year, and the original Shakespeare rather than the Cibber adaptation £75.00
19. SHAKESPEARE, WILLIAM.: The Life and Death of King Henry the Eighth. London, J Tonson, 1734. 12mo, pp 95, [1], engraved frontispiece, disbound, a very good sound copy,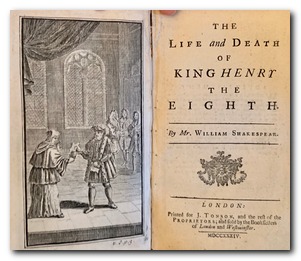 EARLY EDITION of the play, corresponding to item 120 in Ford's 'Shakespeare 1700-1740 a Collation of the Separate Plays.' [OUP, 1935]. £75.00
APPARENTLY UNRECORDED ISSUE OF THE BEAUTIES OF SHAKESPEARE.
20. SHAKESPEARE.: The Beauties of Shakspeare; selected from his Works. To which are added, the principal Scenes in the same Author. London, G Kearsley, 1784. 12mo, pp [2], xii, 396 [including 3 pages of adverts], title page engraved with small round vignette portrait, engraved frontispiece and one plate, bound in contemporary half calf, spine gilt, lacking label, worn at head, joints cracked but holding, internally sound and tight,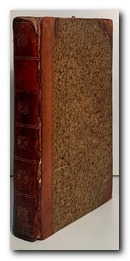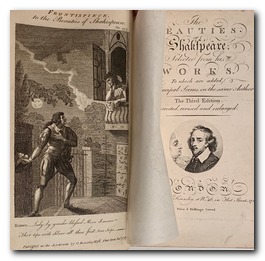 THIRD EDITION, 'corrected, revised and enlarged.' This is not the same as the Beauties of Shakespear' [no 'e' on the end] published by William Dodd in numerous editions from 1752 onwards, but a different selection by an anonymous editor; it first appeared in two editions the previous year, 1783, spelled 'Shakespeare' on the title page; all editions are rare and there seems to be more than one 'third edition' dated thus - one with 341 pages is listed in ESTC and ours corresponding to the collation of all subsequent editions there seems to record of this collation with this date, however. SOLD
21. SOUTHEY, ROBERT.: Joan of Arc. Bristol, N Biggs, 1798. 2 volumes, small 8vo, pp 257: [8], 5-271, without half ttle in volume one or portrait [as issued], neat contemporary half calf, spine gilt with raised bands and black labels, a little rubbed but very sound, a pleasant pair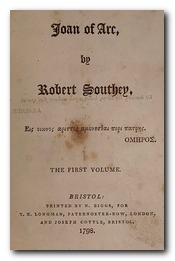 SECOND EDITION, first published in Bristol in 1796, and extensively edited and re-written by Coleridge, although his changes were later rejected. The portrait is often, as here, lackingbut otherwise a nice set with Ridgeway family bookplate. SOLD
CONTRIBUTIONS BY POPE. GAY AND OTHERS.
22. STEELE, RICHAR D [EDITOR].: Poetical Miscellanies , Consisting of original Poems and Translations by the best hands. London, Jacob Tonson, 1714. Small 8vo, pp [16], 318, engraved frontispiece and final blank, contemporary paneled calf, rebacked with new endpapers, spine gilt with raised bands and black label, light sporadic browning to text, but a good sound copy,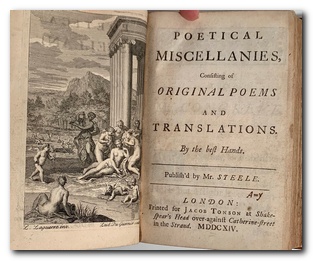 FIRST EDITION, an important anthology of new verse, including not only Steele's own contributions but also Alexander Pope the Wife of Bath, A Pastoral and other pieces, also John Gay, Panthea and Aramina, etc, as well as many lesser contemporaries. £125.00
23. SWIFT, JONATHAN.: The History of the Four Last Years of the Queen...Published from the Last Manuscript Copy. London, A Millar, 1758. 8vo, pp xvi, 392, neat modern paneled cloth with red leather label, name cut from blank portion of title page, else minor spots only, a very good copy,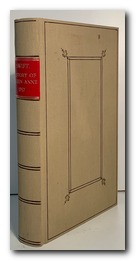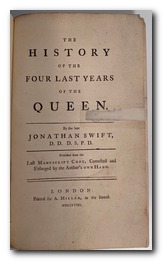 FIRST EDITION. £85.00
EXCELLENT SET OF BATHURST'S 1751 WORKS OF SWIFT.
24. SWIFT, JONATHAN.: [The Works of Jonathan Swift]. London, Charles Bathurst, 1751 [largely, others 1750-53]. 13 volumes, small 8vo, titles in red and black, comprising 11 volumes of miscellanies, plus Gulliver's Travels and Tale of a Tub. Bound in contemporary polished calf, sides with gilt fillet borders, spines gilt ruled with raised bands and red labels -several of these replaced with slightly lighter later examples, light cracks to some joints, upper joint of volume one neatly strengthened internally, minor wear only, an excellent clean sound and attractive set,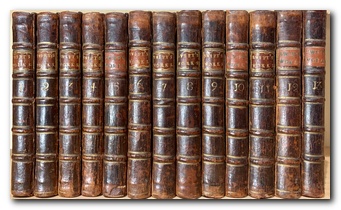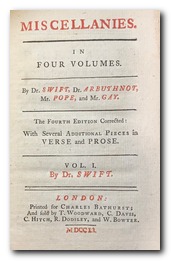 SECOND EDITION THUS, corresponding to Teerink 69 ''The [second] 1751 edition. 'Though many of the title pages....show similarity as regards 'edition' publishers and year, with the preceding editions, this is an altogether different edition.' The final two volumes comprise Gulliver's Travels, Four Parts, and The Tale of a Tub, all plates are present according to Teerink's collations, plus the 2 leaves of engraved music required in the miscellanies.. £350.00
EARLY UNABRIDGED TRANSLATIONS OF TERENCE.
25. TERENTIUS TRANSLATED GORDON.: The Comedies of Terence. Translated into English Prose. To which is prefixed some account of the author, and of the dramatic poetry of the antients by Mr Gordon. London, Thomas Longman and Charles Hitch, 1752. 12mo, pp xx, 289, [3, adverts], bound in contemporary unlettered polished calf, rubbed and slightly chipped at spine ends, joints cracked but holding, free endpapers neatly replaced, title page lightly leather stained at edges, but a good sound copy for this sort of student text book production,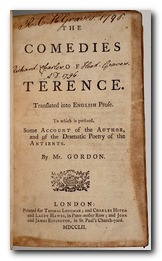 FIRST EDITION, apparently the only printing of this translation; 'Mr Gordon' is an unidentified translator who provides a long introduction at the front; it is not to be confused with the slightly earlier 2 volume adaptation for school use by Patrick. With early 1767 ownership of Morgan Graves of Pembroke College, Oxford, and later 1796 ownership of his son Richard Charles Head Graves when a student, also of Pembroke. He was the nephew of the author and critic Richard Graves [1715-1804]. SOLD
FIRST FOUR VOLUMES OF AN 18TH CENTURY STAGE PERIODICAL, ILLUSTRATED.
26. THEATRE. BELLAMY, THOMAS.: The Monthly Mirror: Reflecting Men and Manners. With strictures on their epitome, The Stage. Vol I [ -Vol IV]. London, Thomas Bellamy, [later Vernor and Hood], December 1795- December 1797. 4 volumes bound in 2, 8vo, 380 pages to each volume [507 in volume 2], plus indices, engraved frontispiece to volumes one and two with 17 plates in volume one, and 11 in volume two, mostly theatrical portraits, bound in contemporary quarter calf, spines gilt ruled with red labels, rubbed and worn at spine ends, a little cracked due to size, but holding soundly, internally fine,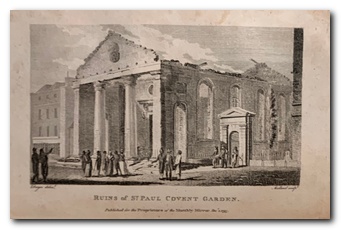 FIRST EDITION [SECOND OF VOLUME FOUR] of this popular literary periodical founded by Thomas Bellamy and edited by Edward Du Bois. It ran until 1811 and is chiefly remembered for its special emphasis upon London and provincial theater productions which are extensively reviewed, making this a primary source for the theater historian, though much original poetry is printed alongside literary reviews. The number of plates issued will vary with each copy; this one has none removed but a note inside suggests one portrait has not been bound in. A very good set of the first 24 issues. SOLD
27. WHITEHAD, PAUL.: State Dunces: Inscribed to Mr Pope. London, J Dickenson, 1733. Folio, pp [2], 17, [1], disbound, a very good copy,
FIRST EDITION, one of the several issues of this notorious and popular satire dubiously attributed to Whitehead. This issue has 17 numbered pages, the last signed 'F' [Foxon W421] £50.00
POETICAL COLLECTION INCLUDING GESSNER'S IDYLLS IN ENGLISH 1762
28. WHITEHEAD, PAUL [ PLUS GESSNER AND NEVILE].: Satires Written by Mr Whitehead. BOUND WITH: Rural Poems Translated from the Original German of M Gessner. BOUND WITH: Imitations of Horace by Thomas Nevile. 'Islington, neat the three pumps, 1748'/ London, T Becket and P de Hondt, 1762/ London for T Thurlbourn, Cambridge, 1758. 3 works bound in one volume, 8vo, bound in contemporary quarter calf, rubbed and worn but sound, internally clean. This interesting collection comprises the 1748 piracy collecting Whitehead's three popular satires, viz ' Manners, The State Dunces and Honour, each with title pages, collation: pp 52 including half title [actually collective title]. The translation of Gesner is complete with half title and engraved frontispiece and final advert leaf; it presents the first translation of Gesner's famously influential Idylls into English, part poetry but largely prose poems as originally presented in the German.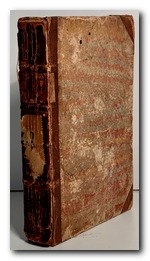 They would prove hugely popular in England, and Mary Collyer having published an inept and distorted translation of The Death of Abel in 1761, may well have had a hand in the translations here. Nevile's Imitaions of Horace, the final work here, is dedicated to fellow classicist Richard Hurd of Cambridge, and lacks the fly title to the fourth book with consequent loss of Latin text on verso, supplied here in a neat contemporary hand [the book was gifted to one J Bridge by a Rev M Cott]. £120.00
FIRST COLLECTED EDITION OF SAMUEL WHYTE'S POEMS, DUBLIN 1795.
29. WHYTE, SAMUEL.: Poems on Various Subjects, ornamented with plates, and illustrated with notes...the Third Edition carefully revised...by Edward Athenry Whyte. Dublin, Printed by Robert Marchbank, and sold by Byrne [etc], 1795. 8vo, pp viii, viii, iii-xi, [1], ix-xl, 365 (i.e. 387), [1], xli-lxxx, [2], \2341-342, [6, adverts], with 4 [of 5 ] plates as listed including portrait frontispiece, engraved title to 'The Theatre' and 2 other plates, but without the ballooning plate, apparently not issued. Bound in contemporary mottled calf, sides gilt ruled, the spine gilt decorated with black label, with patches of working to the surface leather, more pronounced to lower board at joints, not affecting the text which is almost clean and bright throughout, apart from the leather dame a very sound tight and attractive copy,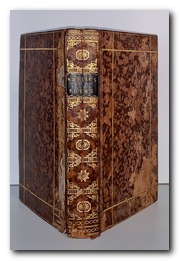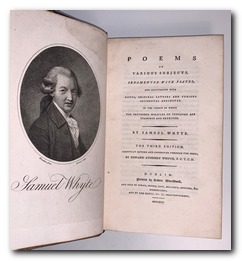 THIRD EDITION, but in actuality the first collected edition of this remarkable collection of poetry and prose by the famous Dublin schoolmaster intimately associated with the family of Thomas Sheridan. An attractively printed production for subscribers as listed at the front, and apparently given away by the author to his best pupils at a prize giving ceremony. Of the 3 copies described in Trinity College Dublin library none have the balloon plate, and in bindings similar to ours, said to be by Marchbank. This copy bears the Penrhos bookplate of the Spencer family. SOLD
FIRST COLLECTED EDITION OF WYCHERLEY'S PLAYS 1713.
30. WYCHERLEY, WILLIAM.: The Works of the Ingenious Mr William Wycherley Collected into One Volume containing Plain Dealer, Country Wife, Gentleman Dancing-Master, Love in a Wood. London, Richard Wellington, 1713. 8vo, pp [16], 435, [1], with general title page and separate title pages to the plays dated 1712, bound in contemporary paneled calf, spine plain with raised bands, worn at spine ends, cracked at joints but holding well, text lightly browned or foxed in places as usual, but a good sound unsophisticated copy,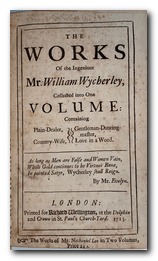 FIRST COLLECTED EDITION of Wycherley's four dramatic pieces, and as such a landmark publication in Restoration drama. With the 1790 signature of William Scrope, perhaps the sporting writer of some fame, and later booklabel of Admiral Lord William Kerr. £225.00