1. CHATTERTON. GREGORY, G.: The Life of Thomas Chatterton, with Criticisms on his Genius and Writings, and a Concise View of the Controversy concerning Rowley's Poems.
London, G Kearsley, 1789. 8vo, pp vi, [2], 263, [1, adverts], engraved frontispiece facsimile of a Chatterton manuscript contemporary sheep, ruled in gilt to spine with black label, joints cracked but sound, top corners a little worn, but a very good decent copy,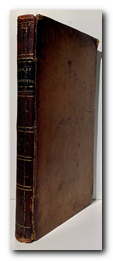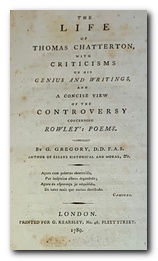 FIRST EDITION; pioneering biography by an early follower; at this stage of the mystery the existence of Rowley was at least in doubt, as clearly emphasised here. £85.00
2. COOPER, JOHN GILBERT.: Letters concerning Taste. The Fourth Edition. To which are added, Essays on Similar and other Subjects. The Second Edition. By the Author of the Life of Socrates.
London, J Dodsley, 1771. 8vo, pp [16], 220, with engraved frontispiece serving also as half title, bound contemporary tree calf, plainly rebacked in early calf without lettering, a serviceable job only, but internally clean and sound, a very good working or reading copy,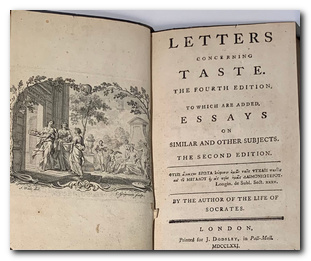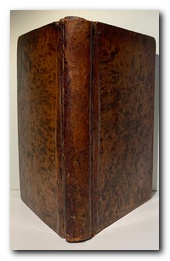 FOURTH EDITION, reprinting the third of 1757 in which the two collections were first put together thus. All editions are scarce of this curious and original work on aesthetics which, like Burke's treatise, is oft quoted though little read. £65.00
3. PIGOTT, CHARLES.: The Female Jockey Club, or a Sketch of the Manners of the Age.
London, D I Eaton, 1794. 8vo, pp xxxviii, [2], 200, bound in contemporary quarter calf over marbled boards, spine gilt ruled with red label, a little rubbed to sides and wormed to joints, but a sound clean and tight copy internally, and overall very good,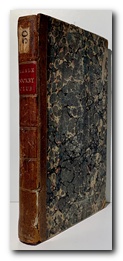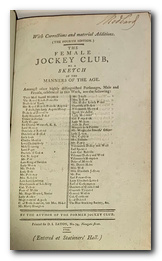 FOURTH EDITION 'with corrections and material additions', although how different from the earlier editions of the same year is not known to us. , A curious but very popular satirical collection of prose parodies of the women, and sometimes men, of English upper class society. With signature of . J Rodbard on the title and ?his identification of the characters in pencil on the contents leaf. £95.00
4. RAY, JOHN.: A Compleat Collection of English Proverbs; Also the most celebrated Proverbs of the Scotch, Italian, French, Spanish And other Languages...To which is added...A Collection of English Words Not Generally Used.
London, W Otridge [and others], 1768. 8vo, pp xv, [1], 319, xii, 150, separate title page to the second part, bound in contemporary full speckled calf, spine gilt ruled with raised bands and red label, short light cracks to joints, mild wear o spine ends, but a very good sound clean copy in original state,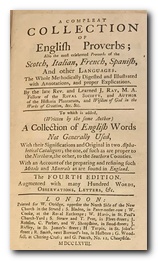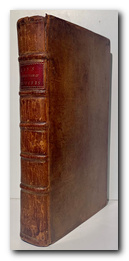 FOURTH AND BEST EDITION, based upon the 1737 first combined edition, with the addition of 'many hundreds of words, and the edition generally considered the best, as it includes material [but by another hand] not in the previous editions. Ray's in the largest and most complete of early collections English proverbs, and his English Words not Generally Used includes Northern and Southern dialect words, as well as 'an Account of the preparing and refining such Metals and Minerals as are found in England.' A very pleasing copy of this famous work. £120.00
5. SMITH, CHARLOTTE.: Elegiac Sonnets and Other Poems. WITH: Elegiac Sonnets...Vol II.
London, Cadell, Davies, 1797. 2 volumes, small 8vo, pp [4], xii, [4], 106, [2, adverts]: [16, including list of subscribers], xv, [5], 117, [3, adverts], half title present in volume one, portrait in volume 2, 9 engraved plates after Corbauld, bound in contemporary full tree calf, spines gilt, a little rubbed with 3 of the 4 black labels missing, minor faults only, a fine clean set internally,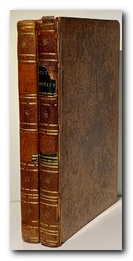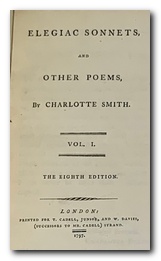 FIRST COMPLETE EDITION, comprising EIGHTH EDITION OF VOLUME ONE, FIRST EDITION OF VOLUME TWO. Volume one includes the famous preface to the 6th edition, detailing her choice of new poems, and angrily railing against those 'gentlemen' who had deprived her of a share in her grandfather's estate. £195.00