1. APPIANUS OF ALEXANDRIA.: The History of Appian of Alexandria in Tow Parts. First Consisting of the Punick Syrian...Hannibalick, Wars. The Second Containing Five Books of the Civil Wars of Rome. Made English by j D. London, John Amery, 1679. Tall folio, pp [10], 251, [1], 273, [1, adverts], title in red and black, bound in contemporary ruled calf, neatly rebacked with old red label laid down, slight worming to inner gutter of last few leaves, not touching text, lacking the dedication leaf after the title [apparently not bound in] else a very good crisp copy,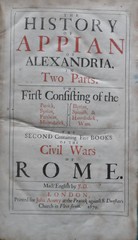 FIRST EDITION IN ENGLISH, the first complete translation of Appian into English, by John Davies; parts had been translated in the 16th Century but neglected thereafter this version was a standard and reliable one for the succeeding century. With early bookplate of Sir Richard Grosvenor, Bart, of Eaton, Cheshire. £300.00
2. ARNDT, JOHANNES.: Of true Christianity four books. : Wherein is contained the whole oeconomy of God towards man; and the whole duty of man towards God. Written originally in High-Dutch, by the most Reverend John Arndt, ... Published in English in the year MDCCXII: London, Joseph Downing, 1720. Part one only [of 2], comprising books 1 and 2, 8vo, pp lxiii, [1], 569, [5], with engraved frontispiece and 1 plate, bound in contemporary unlettered calf, spine gilt ruled with raised bands, short crack to upper joint, chipped at head of spine, else a very good sound copy,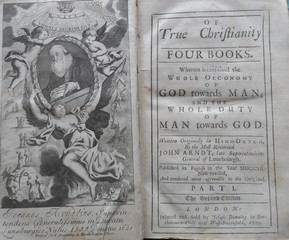 SECOND EDITION OF THIS TRANSLATION, the first part only, translated by Anthony William Boehm, an important text in mystical Lutheran theology. The second part did not appear until 1744, hence this first part often appears on its own - though it might also be matched with the first edition of the second part which had appeared some years earlier. With the Seri Sed Serio 18th Century Kerr family bookplate. £150.00
3. BEDE, VENERABLE.: Opera; Theologica, Moralia, Historica, Philosophica, Mathemtica & rhetorica....Vetus et Novum Testamentum Explanationibus...Historiis Anglorum... Cologne, Wilhelm Friessum jun, 1688. 8 volumes bound in 4, tall folio, wood engravings and maps in text of volume one, also a few pages of red and black printing, extra engraved title page in volume one, index in volume 8, sturdily bound in contemporary full calf, spines gilt with raised bands, a little worn or chipped at spine ends, also slightly rubbed but very sound and strong, light occasional bronwing of text as usual, but a generally very good attractive set, SECOND EDITION THUS, mostly reprinting the first complete edition of 1612 which remained the standard scholarly text until the mid Nineteenth Century when several of the works printed here were judged to be of doubtful authenticity. £850.00
4. COCHRAN, SIR ROBERT.: A Detection of the Falshood, Abuse, and Misrepresentations in a late Libel entitled The Life of Sir Robert Cochran, Prime Minister of Scotland to James the Third. London, T Cooper, 1735. 8vo, pp 60, disbound, in good state, FIRST EDITION; covert defense of Walpole in the guise of Scottish medieval history. £25.00
5. DRAMA. WHITEHEAD, WILLIAM.: The School for Lovers, a Comedy. London, R & J Dodsley, 1762. 8vo, pp [8], 86, [2], disbound, very good, , FIRST EDITION. £20.00
6. FOOTE, SAMUEL.: The Lame Lover. A Comedy. London, P Vaillant, 1770. 8vo, pp [6], 74, disbound, FIRST EDITION. £20.00
7. GALE, THOMAS. [EDITOR].: Historiae Britannicae, Saxonicae, Anglo-Danicae, Scriptores XV. Ex vetustis codd. Mss. editi Opera Thomae Gale Th. Pr. Præfatio ostendit ordinem. Accessit rerum & verborum index locupletissimus. Oxford, Sheldonian Theatrem 1691. Folio, pp [22], 7, [1], 39, [3], 40-41, 45-46, 55-216, 218-225, 225-796, [44] , bound in contemporary paneled calf, leather restored, spine ends chipped, else a sound copy, FIRST EDITION, the third of Gale's collections of Latin histories, all issued separately. £100.00
8. GODWIN, WILLIAM [TRANSLATOR].: Memoirs of the Life of Simon Lord Lovat; Written by Himself, in the French Language; and Now First Translated, from the Original Manuscript. London, for George Nicol, 1797. 8vo, pp [6], 468, half title present, marbled edges, bound in contemporary half calf, upper board detached, else sound and clean, FIRST EDITION; in 1783 john Murray paid the struggling young author William Godwin to translated Lovat's 'Memoires' from the original French, however it did not appear until this edition in 1797, transferred by then to a different publisher. £35.00
9. GOLDSMITH, OLIVER.: The Life of Richard Nash, of Bath, esq; Extracted principally from His Original papers. London, J Newbery/ W Frederick, Bath, 1762. 8vo, pp [2], vi, 234, [4, adverts], portrait frontispiece, uncut in original plain cream boards which are browned or soiled and with lower half of spine paper lacking, internally with light foxing or soiling, but a very good unsophisticated copy,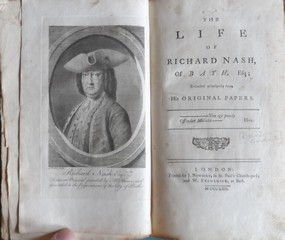 FIRST EDITION, first issue with C6 a cancel as usual, but with Williams textual points [p 126]. Very rare uncut in boards, and with the remarkable 1789 bookplate of Thomas Wentworth of Bretton Hall, Yorkshire, 5th Baronet [1726-92]., a man not known for his literary interests. £185.00
10. HARBIN, GEORGE.: The Hereditary Right of the Crown of England Asserted: the History of the Succession since the Conquest clear'd and the True English Constitution vindicated from the misrepresentation of Dr Higden's View and Defence. London, Richard Smith, 1713. Folio, pp [8], 274, lxiii, [5, adverts], bound in contemporary gilt paneled calf initialed 'R.M.' skillfully relaid onto later boards,, sometime neatly rebacked spine gilt with red label, edges gilt, title and first leaf neatly strengthened in fore-margin, but a very good clean and attractive copy,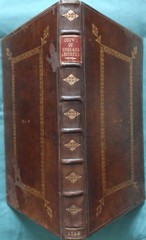 FIRST EDITION of this notorious attack on the principle of "Power in Possession" and defense of hereditary "Right in Monarchy" which was seen as an attempt to undermine the constitutional basis of the Crown. The book was suppressed by the authorities and its supposed author, Hilkiah Bedford fined and imprisoned for three years, though his fellow non juror George Harbin subsequently admitted its authorship. As often Harbin's name has been added to title page in an early hand, with 'nonjuror' added, strangely enough crossed out and 'Herbert' added. £275.00
11. HOME, JOHN.: Douglas: A Tragedy. As it is Acted at the Theatre-Royal in Covent-Garden. London, A Millar, 1757. 8vo, pp [8], 70,, disbound, a very good copy, FIRST EDITION. £15.00
12. IRELAND. CAMPBELL, THOMAS.: Strictures on the Ecclesiastical and Literary History of Ireland till the Introduction of the Roman Ritual, and the Establishment of Papal Supremacy by Henry II. London, G G J and J Robinson, 1790. 8vo, pp [4], vii, [1], 418, with half title, bound in contemporary polished calf, spine gilt ruled with black label, a little faded to the spine, but a very good copy throughout, FIRST LONDON EDITION, published shortly after the Dublin edition of the previous year, and dedicated to Burke, who lent manuscripts for the work and advised its author to be 'as brief as possible upon everything antecedent to Henry II.' 'The book is controversial in tone, and is directed against O'Conor, Colonel Vallancey, and other antiquaries.' Signature of Thomas Lewis on the title page, £120.00
13. IRELAND. CLARE, JOHN EARL OF.: The Speech of the right Honourable John, Earl of Clare...in the House of Lords of Ireland on a motion made by him, on Monday February 10, 1800. Dublin J Milliken, London reprinted J Wright, 1800. 8vo, pp [2], 101, [1], [2, adverts], disbound from a collection, fine, FIRST LONDON EDITION. 'In the end, FitzGibbon's views won out, leading to the Union of Ireland with Great Britain to form the United Kingdom of Great Britain and Ireland without any further privileges for Ireland's Catholic majority' £45.00
14. IRELAND. GRATTAN, HENRY.: An Answer to a Pamphlet, entitled The Speech of the Earl of Clare on the subject of a Legislative Union between Great Britain and Ireland. London, G G and J Robinson, 1800. 8vo, pp 48, disbound, a fine copy, FIRST LONDON EDITION. £45.00
15. IRELAND. JEBB, RICHARD..: A Reply to a Pamphlet entitled Arguments for and Against Union. Dublin printed, London reprinted for J Debrett, 1799. 8vo, pp iv, 67, [1, adverts], disbound, a fine copy, FIRST LONDON EDITION. ' [Jebb] was a moderate opponent of the Act of Union 1800, although in his pamphlet "Arguments for and against the Act of Union" he did endeavor to be fair to both sides of the debate.' £35.00
16. KIRKPATRICK, JAMES.: An Historical Essay Upon the Loyalty of Presbyterians in Great Britain and Ireland from the Reformation to the Present Year 1713 Belfast [?James Blow], 1713. Small 4to, pp xv, [1, errata], 564, [10], bound in contemporary paneled sheep, raised bands with brown label, a few page numerals slightly shaved at fore-edge due to placement, natural paper flaw with loss of one word to a corner, else a very good crisp clean copy, FIRST EDITION. Includes a 'Prefatory Address to all her Majesty's Protestant Subjects...against the Pretender...' a work undertaken to meet the desire of the general synod to possess a history of their church, and specially called for by the persistent attacks of Tisdall, vicar of Belfast, on the Presbyterian body. It preserves many valuable facts and documents, and gives a good idea of the state of public sentiment in Ireland in the days of Queen Anne - DNB. £150.00
17. LAW, WILLIAM.: A Serious Call to a Devout and Holy Life. Adapted to the State and Condition of All Orders of Christians. London, William Innys, 1732. 8vo, pp vi, 499, [3, adverts], bound in contemporary gilt paneled black morocco, plainly respined in morocco and strengthened to inner joints, edges gilt, internally a fine clean copy throughout,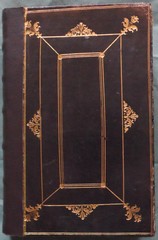 SECOND EDITION, from three years after the first, described as 'corrected' on the title page, but line for line identical save perhaps typographical errors corrected. Law's famous treatise would provide a model for all subsequent devotionals without being superseded by them. This example is in a beautiful presentation binding sadly ineptly restored [hopefully] by an amateur in recent times, and hopefully without destroying the original spine which lays hidden beneath the overlaid new one The ownership of Anthony Gibson 1740 is further defined by the inscription 'The gift of the Honble Mrs Ann Hattone' , perhaps an interesting provenance as this is most likely the Anne Whatnot [d. 1743] married to the second Earl of Nottingham Daniel Finch, and daughter of Sir Christopher Whatnot, Presentations such as this to friends and servants of the nobility and peerage were common at the period, especially works of spiritual guidance. A later recipient of this copy was Bishop Peter Walker who died in 2010. £145.00
18. LIBRETTO. BICKERSTAFFE, ISAAC.: Love in a Village; a Comic Opera. As it is Performed at the Theatre-Royal in Covent Garden...Regulated from the prompt-book by Permission of the Managers, By Mr Wild, Prompter. London, ,T Caslon, 1776. 8vo, pp [2], 76, [4], disbound, engraved frontispiece, a very good copy. Music by Thomas Arne. £25.00
19. LUCAN, M.ANNAEUS.: De Bello Civili Cum Hugo Grotii, Farnabii notis integris & Variorum selectisi, Accurante Corn. Schrevelio. Amsterdam, Officina Hackiana, 1669.. 8vo, pp [16], 614, [146], engraved title page, folding engraved map, bound in early 19th century gilt paneled vellum, spine gilt with title in manuscript, a fine clean copy throughout,
SECOND SCHREVELIUS EDITION, FIRST PRINTED, reissue of the edition edited by Hugo Grotius and previously Thomas Farnaby, as issued by Elzevir in 1658. An excellent and attractive copy of this classic standard edition. £85.00
20. MACROBIUS. ORRERY PROVENANCE.: Opera. Accedunt Notæ integræ Isacii Pontani, Joh. Meursii, Jacobi Gronovii Doude & Driehuysen, Leiden 1670 8vo, pp [32], 704, [68], fine engraved extra title page, woodcut diagrams in text, bound in near contemporary polished calf, spine gilt with raised bands, lacking one of its two olive labels, light cracks to joints else a fine clean copy, FIRST GRONOVIUS EDITION, the most important variorum edition of the neo-platonic geography of Macrobius to date, JOHN BOYLE'S COPY, signed 'Orrery' on the endpaper, with library shelfmark, dated by him 1737 and with his bookplate it was clearly acquired after his father's death in 1731 when only part of the notable family library was bequeathed to the son who went on to collect and replace many of his father's lost titles. As close associate of Swift, Pope and Johnson, as well as having literary pretensions of his own, both as writer and translator, the John Boyle provenance is of considerable interest. £200.00
21. MANUSCRIPT DRINKING SONGS.:: Recueil d'airs a Boire de Differents Auteurs. Copies en 1751. [French, Mid 18th Century. 8vo, calligraphic title page and 209 [lacking pages 71-74] pages of printed staves filled in manuscript, some blanks at the end, followed by a neat alphabetical index, with circa 100 drinking songs, notated tune only in the bass clef with the words, a neat calligraphic manuscript with the notation in a professional musical hand, bound in contemporary polished calf, marbled endpapers, spine gilt, all edges gilt, lacking label, a little worn at spine ends and cracked at joints but very sound and clean throughout. Avery attractive example written on heavy paper, the ink slightly faded to sepia but very legible.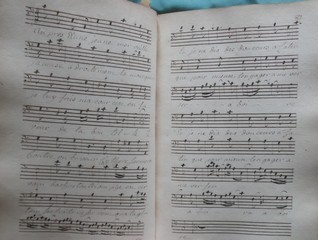 These collections, based upon printed sources, were popular from the 1690's onwards, with manuscript compilations of this kind [omitting the 'serious' songs of the printed collections] had a very practical use for male convivial drinking parties of the period. £375.00
22. MORERI, LOUIS.: The Great Historical, Geographical and Poetical Dictionary; being a Curious Miscellany of Sacred and Profane History.....The Second Edition Revis'd...by Jer Collier. London, Henry Rhodes etc, 1701-.1727. 4 volumes [ including 2 volume supplement] Large thick folio, printed in double column, title in red and black, engraved portrait of Collier, bound in contemporary paneled calf, spine gilt with raised bands, joints cracked through but holding securely on cords, wear to spine ends and labels lacking, internally with just a little brownign to certain gatherings else fine and fresh throughout, SECOND EDITION IN ENGLISH, often referred to as Collier's Dictionary, much expanded from Moreri's original of 1694 with a 2 volume suppliment. and appendix both by Collier, the first two volumes based loosely on Moreri's none too reliable work in French with considerable additions. It was, perhaps, the first general encyclopedia to be published in England. From the library of the dictionary collector, artist and writer, Desmond Morris. £400.00
23. MUSIC. WALKER, JOSEPH C.: Historical Memoirs of the Irish Bards. interspersed with anecdotes and occasional observations on the Music of Ireland. Also an Historical and Descriptive Account of the Musical Instruments of the Ancient Irish. London, T Payne, 1786. 4to, pp xii, 166, 124, portrait frontispiece of Cormac Common, engraved head and tailpiece, a few engravings in text, engraved diagrammatic plate at the end [usually folded], bound without the 2 pages of engraved music in contemporary full tree calf, the sides richly gilt floral bordered with corner scallop shells, spine gilt with double raised bands and double brown labels, a little rubbed to spine and slightly worn at joints, but still in very good state,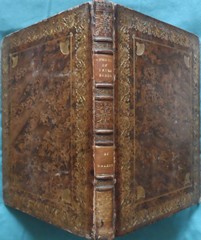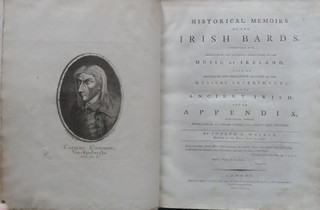 FIRST LONDON EDITION, from the sheets of the Dublin of the same year; the binding of this celebrated pioneering study is exceptional and perhaps the work of an identifiable binding. The defects to the book, as noted, relate to the 2 leaves of engraved music, which should be bound as a further appendix at the end, but were here clearly not bound in, with their catchword neatly excised and repaired by an early bookbinder. The book is in otherwise unrestored state, with name at the front of R W Wandley Griffin. given after, it appears, to E J Dent, Professor of music at Cambridge. £350.00
24. NAPOLEONIC WARS.: Observations on the Political State of the Continent, should France be suffered to retain her immense acquisitions, in which is reviewed, her whole system of aggrandizement, and the Probable Advantages which She will Derive ... London, J Debrett, 1799. 8vo, pp viii, 147, [1], without the half title and disbound from a collection but with the original half calf boards, internally fine, FIRST EDITION, a very scarce but anonymous account of Europe under Napoleonic rule, with accounts of actions of the French army, the removal of works of art etc. An anonymous work, but dated from Westminster December 12 1798. £60.00
25. PEIRCE, JAMES.: A Vindication of the Dissenters : in answer to Dr. William Nichols's Defence of the doctrine and discipline of the Church of England Written first in Latin, and now translated into English, with large additions ; London, John Clark, 1717. 8vo, pp [44], 288;287, [1], bound in contemporary unlettered paneled calf, lower joint sometime early repaired, light browning, small adherence spot to one leaf else a very good copy, FIRST EDITION IN ENGLISH; Peirce was a prominent and clever nonconformist who ran into problems with his controversial views about this time. Having written this extensive three part historical apology for Dissenters in Latin in 1710 he translated it into English, including an interesting chapter on the singing of church music. 'a very able digest of nonconformist history and nonconformist argument, marked by acuteness and dignity. The theology of the second part is strongly Calvinistic. Peirce was sensible of the distinction which his book brought him, and this gained him enemies.' - DNB. £60.00
26. PERIODICAL. JOHN WILKES [ET AL].: The Political Register and Impartial Review of New Books for MDCLXIX. [Number XXII - XXIX]. London, January-August 1769. 8 issues bound in 2 volumes, 8vo, with the title page of volume 4 at the front of one, another [amended] title page at the front of the second volume, volume four complete with index and 6 caricature plates, volume 5 first 2 issues only with 2 plates, bound in late 19th Century half calf, spines gilt with raised bands and brown labels, a fine clean pair,
FIRST EDITIONS of a significant and extremely rare political journal of the period, including many extensive articles on Wilkes, the Middlesex elections and disputes with America. The latter includes a reprint, perhaps the first in England, of Richard Bland's highly influential 1767 pamphlet ' 'Enquiry into the Rights of the British Colonies' which appears in the January issue and was reissued by a London publisher, John Almon, editor of this journal, later the same year as this. Like the Oxford Magazine this one features political caricature - often rare and obscure. £150.00
27. POMPONIUS MELA.: Libri Tres de Situ Orbis. Cum Observationibus Isaaci Vossii. Franekerae : apud Leonardum Strickium 1700 8vo, pp [14], 419, [61], 70, extra engraved title page, 7 leaves of woodcut diagrams inserted as plates, bound in contemporary plain vellum, titled in manuscript to the spine, light soiling to spine else a fine clean copy throughout,
SECOND VOSSIUS EDITION, following the first of 1662; an attractive copy of this well printed Dutch edition of this early geographical survey of the world in Latin, written in the First century AD. £145.00
28. POPE, ALEXANDER.: The Beauties of Pope; or, useful and entertaining passages selected from the works of that admired author, etc. London, G Kearsley, 1796. 2 volumes in one, 8vo, pp viii, xvi, 320; iv, 372, bound in contemporary polished calf, spine with raised bands, lacking label, upper joint cracked but sound, a very good clean tight copy, FIRST EDITION THUS, a much expanded version of a work originally issued by Kearsley in a single volume in 1783, this edition unlike the first requiring no portrait but with an additional column, effectively a new work of popular poetical taste with occasional prose. ESTC records only 2 copies UK, though several more outside. £20.00
29. SCOTT, JONATHAN.: Tales, Anecdotes and Letters Translated from the Arabic and Persian. Shrewsbury, J & S Eddowes for Cadell & Davies, London, 1800. Small 8vo, pp [4], 446, [2, adverts], bound in contemporary half calf, spine rubbed and lacking label, short joint cracks, but a very sound clean copy,
FIRST EDITION; Scott's Shrewsbury printed collection of tales chiefly from the Arabian Night's as collected and translated from a manuscript fragment in the hands of a fellow orientalist, was surpassingly popular. and presents a new aspect of 18th Century oriental interest as derived from newly discovered manuscript sources. £150.00
30. VELLUM BINDING. KNOX, VICESSIMUS.: Essays Moral and Literary. London, Charles Dilly, 1784. 2 volumes, 12mo, pp [12], 360: [8], 396, [4, adverts], with an engraved frontispiece in each volume, finely bound in ?Irish full vellum, sides with single gilt fillet borders, the spines ornately gilt decorated with double red/olive gilt decorated lettering and numbering pieces, a tiny minor corner chip to one, light dust-soiling and splaying to the boards, internally with a little scattered foxing, else a fine clean set,
FOURTH EDITION; a popular collection of 179 short aphoristic essays aimed at the moral and educational guidance of the young. They were often presented as presents, here in remarkably attractive vellum bindings of the period, probably Irish, with green dyed edges. £125.00
31. WOLLASTON, WILLIAM.: The Religion of Nature Delineated. London, Re-Printed in the year 1724 by Sam Palmer, 1724. . 4to, pp [2], 218, bound in contemporary blind paneled calf with red label and raised bands, joints cracked but holding, a clean sound copy,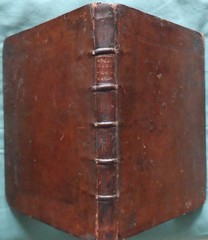 FIRST TRADE EDITION, published for private circulation only by Wollaston in 1722. There are several issues of the first trade printing, this one without the contents leaves at the end, but with both title pages, one with, one without, Samuel Palmer's and Lintot, Osborn and Innys sold by imprint.. The printing press device and Greek quotation appears unchanged on both. 'Due to its influence on eighteenth-century philosophy and his promotion of a Natural Religion, the book claims for Wollaston a ranking as one of the great British Enlightenment philosophers, along with John Locke, George Berkeley, and David Hume. It contributed to the development of two important intellectual schools: British Deism, and the pursuit of happiness moral philosophy of American Practical Idealism which appears in the Declaration of Independence' This very pleasing copy carries the early ownership of H Randolph of Christ Church College 1766. [an earlier ownership of R Triplow deleted] and a long quotation from Tillotson on the endpaper. £350.00